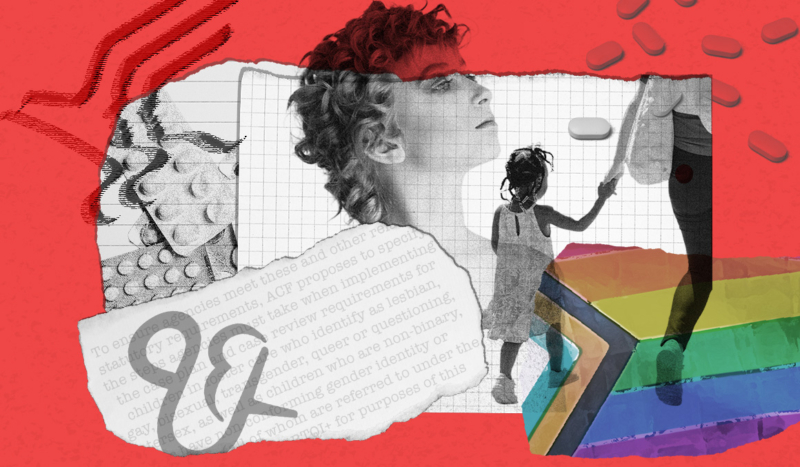 CV NEWS FEED // An agency in the U.S. Department of Health and Human Services has proposed a new rule that would prohibit families who do not support LGBTQ ideology from caring for LGBTQ-identifying foster children.
According to the Social Security Act, federally funded foster care agencies must provide "safe and proper care" for foster children. The United States Administration for Children and Families (ACF), a division within HHS, proposed that foster families meet three specific criteria to ensure that LGBTQ-identifying children are in a "safe" and "nurturing" home. 
The first requirement stipulates that a foster family must "establish an environment free of hostility, mistreatment, or abuse based on the child's LGBTQI+ status." Under the umbrella of "hostility," "mistreatment" and "abuse," ACF includes "unreasonably limit[ing] or deny[ing] a child's ability to express their sexual orientation, gender identity, or gender expression," as well as any attempt to change a child's "sexual orientation."
The proposal rejects the practice of "conversion therapy," which is a series of therapy sessions aimed at better understanding and adhering to one's biological sex.
Secondly, foster families for LGBTQ-identifying children must be trained "to be prepared with the appropriate knowledge and skills to provide for the needs of the child related to the child's self-identified sexual orientation, gender identity, and gender expression."
The proposed rule points foster parents towards "evidence, studies, and research about the impacts of rejection, discrimination, and stigma on the safety and wellbeing of LGBTQI+ youth." The proposal also directs them towards a LGBTQ foster training provided by the National Sexual Orientation and Gender Identity and Expression Center, which is funded by the ACF Children's Bureau. 
The third requirement says that the foster family "will facilitate the child's access to age-appropriate resources, services, and activities that support their health and well-being." Under this requirement, "resources, services, and activities" include behavioral health supports, providing LGBTQ-identifying mentors, peers, and affinity groups.
The proposal says that the proposed project would cost over $40 million in order to recruit LGBTQ-friendly providers and foster families.
The ACF does not address whether puberty blockers, "gender-transition" hormones, or "gender-affirming" surgeries are considered appropriate for LGBTQ-identifying foster children. However, the Department of Health and Human Services, of which ACF is a part, released a document in 2022 promoting "gender-affirming care."
The Federalist Society, a group focused on legal order, wrote in an analysis this week that biological parents are also not addressed in the proposal. It is unclear if the parents would have any authority over the LGBTQ activities or services provided to their child while in foster care. 
The ACF claims that the proposal will "reduce the negative experiences of [LGBTQ] children by allowing them to have access to needed care" and benefit the children through "nurturing" and LGBTQ-friendly environments caregivers.
What the proposal does not mention, however, is that the requirements for fostering LGBTQ-identifying children greatly limit the number of available foster families. According to the Federalist Society, foster parents who fail to meet the requirements often do so because they hold religious beliefs about sexuality and marriage, begging the question of whether the proposal discriminates against religious foster families.
The ACF has not responded to a request for further comment.