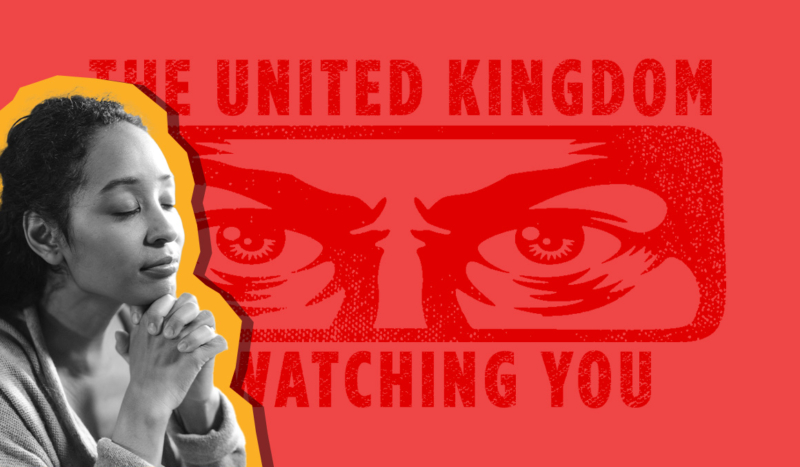 CV NEWS FEED // Police officers in the United Kingdom targeted a woman for praying silently outside of an abortion clinic in their latest prosecution of "thought crimes."
On October 18, West Midlands Police officers in Birmingham, England, approached Isabel Vaughan-Spruce in the legally established "buffer zone" of an abortion clinic and informed her that she would be fined for her actions outside the clinic. Vaughan-Spruce's only "actions," however, were standing and praying silently outside the abortion clinic.
"The UK government urgently needs to clarify that silent thoughts can never be illegal – even if those thoughts are in disagreement with the views of the State. This is the third time I have been treated like a criminal for peacefully, silently, and imperceptibly praying for women who are likely facing one of the worst days of their lives," Isabel Vaughan-Spruce said to Alliance Defending Freedom UK (ADF UK).
In November of 2022, Vaughan-Spruce was arrested for praying in a "buffer zone," where "authorities have banned any 'expression of approval or disapproval of abortion', including through prayer," ADF UK reported. The City Council fully acquitted Vaughn-Spruce's case in March after no evidence of a crime was found. Two weeks later, she was arrested again for praying silently outside a clinic. She was acquitted once more. 
Meanwhile, the Birmingham City Council declared itself bankrupt in September and announced that it would cease all non-essential spending. 
"To think that our already stretched policing resources are being squandered on silent prayers this month – at a time when significant demands are being placed on police forces – is remarkable," said Lorcàn Price, Barrister and Legal Counsel for ADF UK.
"In the same week that officers have been criticized for failing to adequately police glorification of terror, they apparently had no hesitation to investigate what groups a Christian is a member of and the subject of their prayers," Price said.
Vaughan-Spruce recorded the October 18 incident and ADF UK obtained the video on October 26. In the video, the officers subjected Vaughn-Spruce to a number of questions about her presence outside the clinic. 
The officers cited a buffer zone regulation that prohibits any protesting outside of the clinic–to which Vaughan-Spruce repeatedly said that she wasn't protesting, only praying.
The officer then asked, "are you praying for the lives of unborn children?"
Vaughan-Spruce responded, "It's a little bit leading, but no, I am not."
"The buffer zone regulation has already sought to prevent me and others from counseling women desperately in need of help," Vaughn-Spruce explained to ADF UK. "And now, authorities are trying to remove my ability even to pray for these women. To fine somebody simply for their thoughts is grossly Orwellian and an insult to the freedoms that Britain is meant to protect."
"Can your action be carried out elsewhere?" the officer asked in the recorded exchange.
"I can pray elsewhere, but I want to pray here today," Vaughan-Spruce responded.
The officer informed Vaughan-Spruce that she was breaching a Public Space Protection Order (PSPO), which prohibits protesting in the designated space, and would issue a fine.
"If you believe that you are present to protest in any form," the officer continued, "obviously we are going to need to issue you with a fixed penalty notice," explaining that Vaughan-Spruce failed to comply with the PSPO. Vaughan-Spruce again said that she was not there to protest, only to pray.
Following the incident, the Birmingham City Council declared that they would not pursue the fine this time but warned that they would in the future.