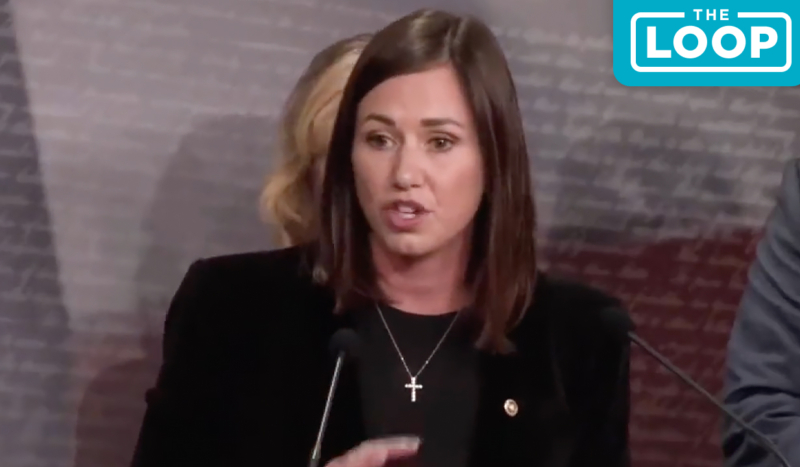 Rarely does a political leader say something that makes me stop and listen.
Today Senator Katie Britt, R-AL, did just that.
For Catholics, the issue of immigration has long been a source of frustration and division. Donald Trump was repeatedly shamed as "racist" and "evil" for wanting to enforce our border laws and end illegal immigration. Many priests, bishops, and even the Pope publicly ripped Trump for wanting to "build the wall" and step up enforcement against cartels and those exploiting our laws.
Today the humanitarian cost of illegal immigration makes Trump look like a saint.
Don't believe me? Watch this powerful speech from Sen. Britt today:
The facts are plain. The reckless policies of the Biden Administration have created a humanitarian crisis that is reaching apocalyptic proportions, where even our northern, deep blue cities are feeling it.
Even some Democrats are starting to admit it. The El Paso,TX, Democratic mayor said this week his city is "at a breaking point." The mayor of New York City recently said the migrant crisis will "destroy New York City."
The truth is, we have a lawless, open border. And that's something no Catholic should support.
Remember AOC posing for the media? Or the pictures of hundreds of children in cages in 2018? Don't forget the time pundits from MSNBC were quoting the Bible, the New York Times ran an editorial on the meaning of "pro-life," and Planned Parenthood lectured us on the cruelty of separating parents and children.
Well, there are still children stuck at the border, beneath highway overpasses, or worse… In fact, under Biden's watch over 85,000 unaccompanied minors have been "lost" and are now somewhere inside our country prey to exploitation and trafficking. And yes, there are far more kids in "cages" today than there were under President Trump.
But where is the outcry now?
Where's the "outcry" against the Biden administration?
The situation on our borders and in our immigration system is anything but dignified right now.
It's disgusting and it's unsustainable.
Congress must show real leadership and respond. There are efforts happening even today to authorize more funding for border security as part of the budget negotiations in Washington D.C. But a change in policy? No chance. Why? Because Democrats in Congress and the Senate prefer the status quo.
Every time any attempt to prioritize border security is proposed, the shaming begins. Why do you hate immigrants? Are you racist? Haven't you read the Bible? Welcome the stranger, you bigot!
Even our simple request last year seeking answers about how our government is working with the U.S. Bishops and Catholic Charities at the border was condemned. How dare we ask questions! Pray, pay, and obey.
Meanwhile the chaos grows worse by the day. Sex trafficking is skyrocketing. Pregnant mothers and children are dying…
And the cartels are getting richer and richer.
I'm done apologizing for asking the hard questions. Even of our Church leaders. Catholics in good conscience have every right to demand that our border be secured, that the incentives to illegally enter our country be stopped, and that the cartels be treated like the worst kind of foreign criminals that they are.
Securing the border is not immoral!
Refusing to do so is the moral catastrophe.
And it's merely a necessary first step.
America can be a welcoming country and still uphold our laws and respect our border. We are regularly told that "immigrants enrich us." This is true. But illegal immigration only enriches the cartels and those exploiting the refusal to enforce our laws.
The status quo must end.
I don't hold out much hope until there is real change in the White House.

But I do know this – we can't have solidarity with lawlessness.