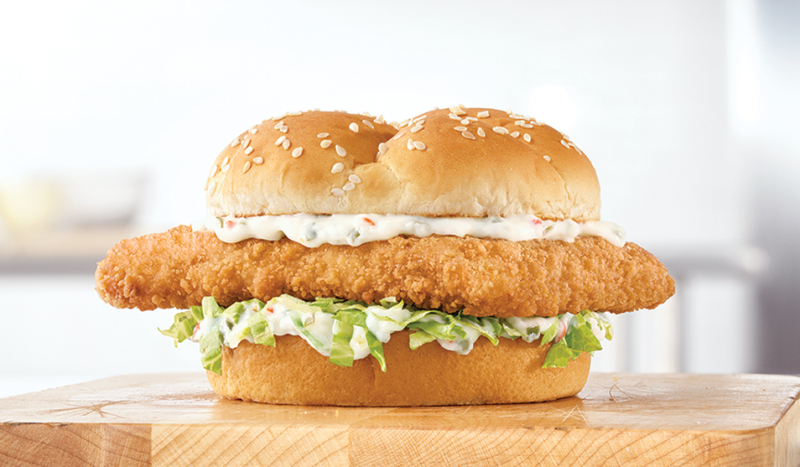 Arby's Crispy Fish
Hard to believe it's already the second Friday of Lent. Another week or two and it will be time to take down the Christmas lights and put the Nativity scene back in the garage.
But until then, we have fasting to do, abstinence to perform, almsgiving to…give, I guess…and fish sandwiches to eat.
Before we get to the sandwich for this week, a word about advertising. One of the joys of living in a postmodern consumerist hellscape is reading the little blurbs that fast food restaurants come up with to describe their latest menu items. They're a genre of literature in their own right, and invariably contain words like "fresh," "artisan," "succulent," and if you're lucky, "queso."
The idea is to get you, the customer, to think you're paying $4.29 for a once-in-a-lifetime culinary masterpiece. In the ad world, they call this "puffery." In the being fat world, we call it "setting the mood."
Hence, McDonald's fish sandwich is "wild-caught…sourced from sustainably managed fisheries." You can get a "wild-caught Alaskan pollock filet" from Wendy's. And believe it or not, the Popeye's fish sandwich you had last week was "caught in the icy waters of the Pacific."
Mmm…makes you want to have another one, right?
This is how Arby's introduces its Crispy Fish sandwich:  "Put away your fishing boat and rubber fishing pants."
We are not making this up.
Look, we know what you're thinking — this is just like the scene in the Gospel when Jesus tells the Apostles to put away their rubber fishing pants and become fishers of men. And yeah, that's correct. Kudos to Arby's for taking it to another level and making us reflect on the Bible while we choke on huge bites of fried carbs that just jumped out of the icy waters of the Pacific. Whoever came up with this blurb (maybe it was Arby) — you really outdid yourself, and we haven't even started talking about your sandwich.
So, the sandwich. It's good. One of the first things you notice is that it has lettuce, an item not featured on many of the other contestants. But be warned, these are not crisp leaves, lightly balanced twixt bun and filet and crunching with each bite. It's shredded, and it's buried underneath the fish. Some people have no problem with this (any lettuce is good lettuce, say people like this). Other people consider it misdemeanor terrorism. But who are we to judge?
The fish itself is flavorful and, as promised, crispy. And for those with kids, the absence of a spice factor is more than welcome, as is the manageable size. Not that it's small, because it isn't. It's a healthy size, but it's well constructed for ease of use and overall performance.
The tartar sauce is well-executed, although if you're an extra tartar sauce kind of person (and if we're all being honest, who isn't?) you may want to get your hands on a few extra tubs of the good stuff before you pull away from the drive-thru.
Overall, a respectable fish sandwich all around. If there's anything to critique, the fish was a tad on the dry side. And the sesame seed bun had just a hint of chewiness to it. Again, for some people these things could be a plus.
In any event, they shouldn't dissuade anyone from trying the Crispy Fish sandwich from Arby's. When it's all said and done, a solid option for tonight's dinner.

Grade: B