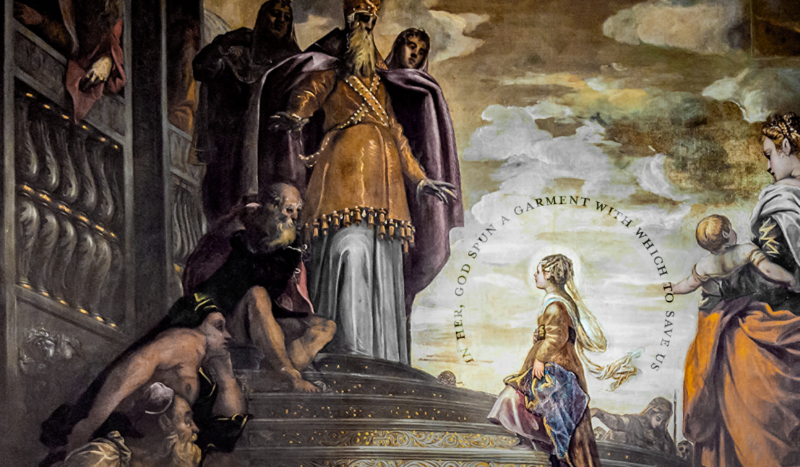 CV NEWS FEED // Every November 21, the Catholic Church commemorates the Memorial of the Presentation of the Blessed Virgin Mary in the Temple, though the history of the feast is quite rocky.
According to tradition, Mary's parents brought her to the Temple to consecrate her to God. The feast honors the devotion of Mary's parents, Joachim and Anne, and also honors Mary's purity. The Church also sets aside a specific feast honoring Joachim and Anne on July 26 every year.
The Church's historical knowledge of the feast dates back to the apocryphal gospels, which the Church does not consider to be part of the canon of scripture. A legend in the Protoevangelium of James (from the 2nd century) tells the story of a three-year-old Mary visiting the temple in Jerusalem, where her parents dedicated her to the service of God and to consecrated virginity. Joachim and Anne consecrated her in fulfillment of a promise they made to God following their long struggle with childlessness.
However, the feast ultimately signifies Mary's lifelong devotion to God and her own sacredness as a vessel for the Son of God.
"The Church wants to emphasize not so much the historical event in itself, of which there is no trace in the Gospels, but the total gift that Mary made of herself," stated Vatican News.
The celebration was first documented in the Byzantine Catholic Church in the 11th century but was purportedly celebrated beginning in the sixth century. Pope Gregory XI introduced it into the Roman Catholic Church in the 15th century. However, some monasteries likely celebrated the feast in the 9th century, and in the 6th century, Emperor Justinian I dedicated the Basilica of Saint Mary the New in Jerusalem in honor of Mary's presentation in the temple.
In the mid-16th century, Pope Pius V removed the feast from the calendar, only for Pope Sixtus V to add it back in 1585.
The church also celebrates World Day of Cloistered Life on November 21, a feast that Pope Pius XII began in 1953.