Support fellow Catholics this Christmas
This Advent, keep your Christmas shopping close to the heart of the Church with the CatholicVote Gift Guide. We've selected our favorite Catholic-owned businesses and products that are 100% worthy of your support!
Not only that, but each of these businesses is known for the excellence of its products and the loyalty of its customers. So you can truly give the best gifts while also uplifting your fellow Catholic artists, authors, and entrepreneurs!
---
The Wisemen Who Found Christmas, by Raymond Arroyo
Sophia Press is a trusted publisher of inspiring and solidly Catholic books for all ages. This Christmas, gift their latest children's book to the little ones in your life! In this thrilling, visual adventure capturing the wonder of the Christmas season, New York Times bestselling author Raymond Arroyo shares the hidden story of the mysterious Magi, who risked everything to discover the truth.
The Christmas Shop at Rugged Rosaries
We love partnering with Rugged Rosaries because we always get phenomenal feedback: these are truly unbreakable gifts! Check out Rugged Rosaries' own unique Christmas gifts for Catholic friends, family, and loved ones. This year they've curated a limited-time selection of Christmas-themed rosaries, chaplets, and more! Please shop early for best availability and selections.
The Imitation of St. Joseph from TAN Books
TAN Books has beautifully-bound, heirloom editions of Catholic classics! This Christmas, we recommend giving the man in your life The Imitation of St. Joseph. Each age has its heresies, and ours is a hatred of origin, of fatherhood. In response, the Church has been fixing her light on Saint Joseph. Fr. Matthew Kauth opens our eyes to what Joseph saw so that we might imitate what he imitated.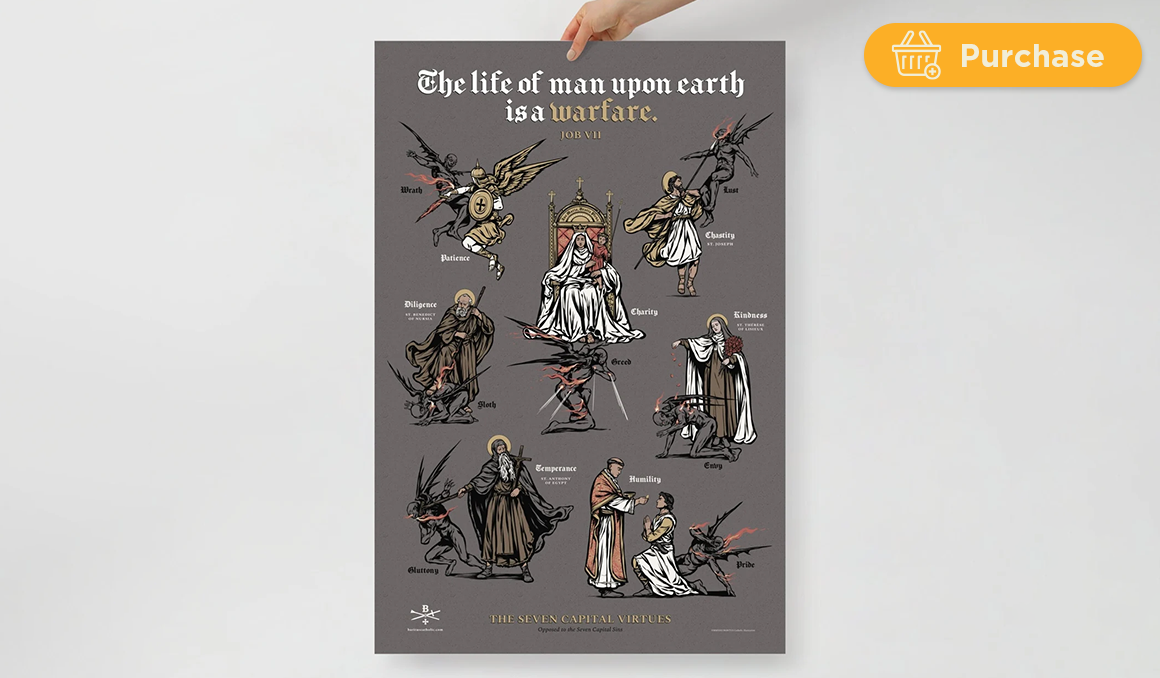 Spiritual Warfare Poster by Baritus Catholic
Take Catholic inspirational art to a new level of grit with a gift from Baritus Catholic. We love this poster for your young boys or teenagers! The art depicts the theme from Job that "the life of man upon earth is a warfare." This representation of the realities of spiritual warfare shows the seven capital virtues that oppose the seven deadly sins, and the intercession of Mary and the saints, our Guardian Angels, and the sacraments as weapons in the war.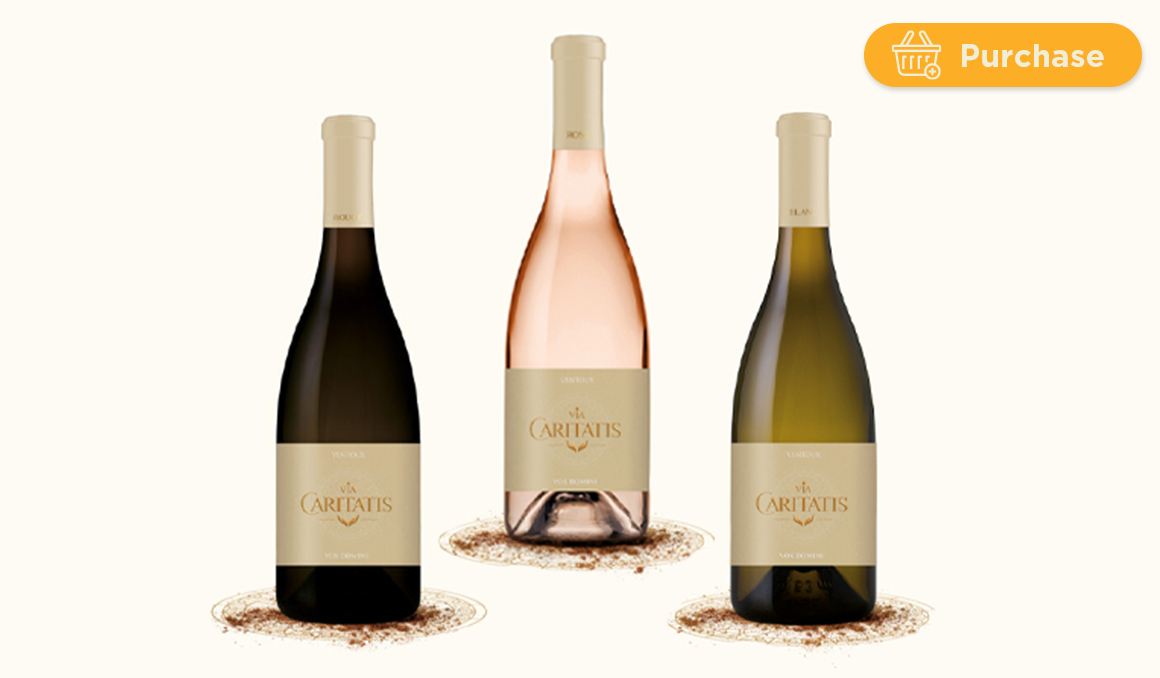 Assorted Wines Gift Boxes by Earth Labora Handcrafted Wines
For more than 700 years, the monks and nuns from the Benedictine Abbey of Le Barroux have plied their trade at winemaking to support their lives of prayer and service. In the Via Caritatis Vineyard, they remain committed to excellence, responsible stewardship of nature, and the faithful continuation of their ancient legacy. The result? Some of the finest wine France has to offer – the perfect Christmas gift with which to bless your loved ones or Catholic religious friends.
Coffee Gift Sets from Catholic Coffee
Any Catholic Coffee lover will be overjoyed at a gift set from Catholic Coffee, featuring a 12oz bag of their delicious roasts and insulated travel mug. You can pick from Our Lady of Mt. Carmel, St. Patrick, St. Michael, St. Padre Pio and many more. Catholic Coffee roasts, packages, and ships all their products right here in the USA!
The Carry Your Cross Winter Collection
Great apparel and accessories for your Gen Z teens and 20-somethings! Using media, apparel, and partnerships, Carry Your Cross aims to spread the message that embracing suffering and carrying your cross builds virtue, teaches you how to love, and leads you on the path of Christ. Support a great ministry by wearing this on-trend gear!
The Guadalupe Premium Tee from Totally Catholic Tees
Totally Catholic Tees has apparel for all ages. For Christmas, try the perfect cotton tee featuring the perfect woman! Give the gift of the Guadalupe T-shirt to your favorite Catholic this Christmas! Or take your family photo in matching tees that honor the Queen of all Families!
Beautiful Rosaries for Her from Refuge Rosaries
This handcrafted, unique Catholic rosary honors Our Lady of Guadalupe and is made with 8mm dyed blue beads and 10mm natural pearl beads. The beads are strung and knotted on microcord (the slimmest type of paracord!) for durability. Bound to leave the woman in your life speechless!
Nativity Search-and-Find Giant Floor Puzzle from Shining Light Dolls
Shining Light Dolls is a go-to for kid and baby gifts. For Christmas, here's a game families can play together! Complete the puzzle, then find all the different images on the border! Search-and-find games are a great way to improve memorization skills, increase vocabulary, and exercise the brain with screen-free fun.
This beautiful silicone rosary is sure to bring joy to your home. An earthy-toned teething toy, the rosary is not only soothing for your little one but it will also help to inspire them early with a love for the rosary.
The Daughter of the King Collection from Lily and Lamb
A stunning new collection from Lily and Lamb includes blankets, journals, jewelry, and more for your elementary or middle-school girl! For boys, check out the "Life in Christ is a Wonderful Adventure" collection as well!
LOOP readers, enter the code CATHOLICVOTE10 at checkout for 10% off your entire order!