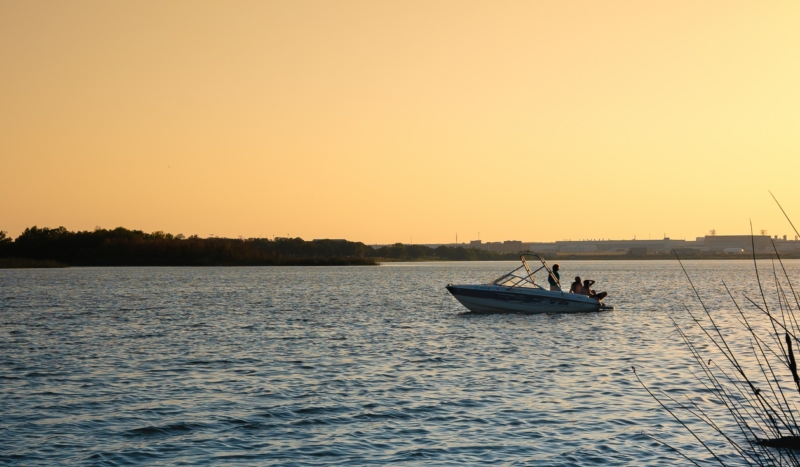 The bishop of Beaumont sailed down a Texas river with the Blessed Sacrament in a Eucharistic flotilla procession last week, giving Catholics on the shoreline the opportunity to spend time in adoration.
On September 16, Bishop David Toups, along with Fr. Sinclair Oubre, diocesan director of maritime ministry Stella Maris, led several boats in a Eucharistic flotilla procession on the Neches River in Beaumont. The Blessed Sacrament remained in the boat, exposed in a large monstrance, at each of four stops along the river.
When Oubre suggested the event to Bishop Toups, the bishop "immediately wanted it to be the official diocesan Eucharistic Revival event of 2023."
Around 450 people participated, Oubre told CatholicVote. The participants would gather on the shore at each stop to pray. They adored the Blessed Sacrament with the bishop, who led the crowd in a decade of the rosary, hymns, and a novena prayer to Our Lady Star of the Sea.
Oubre said that the gospel of John, chapter six came to mind in thinking about the maritime procession. "Jesus feeds the crowd, and then He gets on the boat, goes to Capernaum, and the crowd races around to find Him," he explained. There, Jesus gives the Bread of Life discourse. "And in that case, truly Jesus came by boat to the shore, and met the people."
The procession was "doing the very same thing at those four stops on Saturday—Jesus coming in the boat to the people," Oubre reflected. He added that there was a notable difference between the maritime procession and the moment in John, chapter six, where people respond to Jesus, "What do you mean, I have to eat your body and drink your blood?"
"Those who were at the park," Oubre said, "were the ones that were hungry to meet Jesus in the Eucharist, and to be fed by His presence."
When deciding on the Eucharistic Revival event for the diocese, Oubre drew inspiration from Eucharistic flotilla processions in Louisiana dioceses. Oubre suggested the flotilla due to the summer's extremely hot temperatures and concern for attendees' safety in the heat.
Oubre drew on tips provided by the Bayou Eucharistic flotilla in Louisiana, and on his connections through the maritime ministry to plan out the stops. The stops, including at a boat towing company and a marine fueling company, agreed to help.
"We have received really appreciative statements, especially from the towboat people and the marine fueling as far as how nice the whole thing was," Oubre said.
The diocese is already planning to have another Eucharistic flotilla procession next year.
"I think that really summarizes what the event was: the Sea of Galilee, Jesus getting in the boat, going to Capernaum, the crowd meets Him, and then He [gives] the Bread of Life discourse," Oubre said.
Oubre said those who attended adoration from the shoreline "didn't walk away [saying], 'This is a hard teaching.' Rather, they were hungry for it."