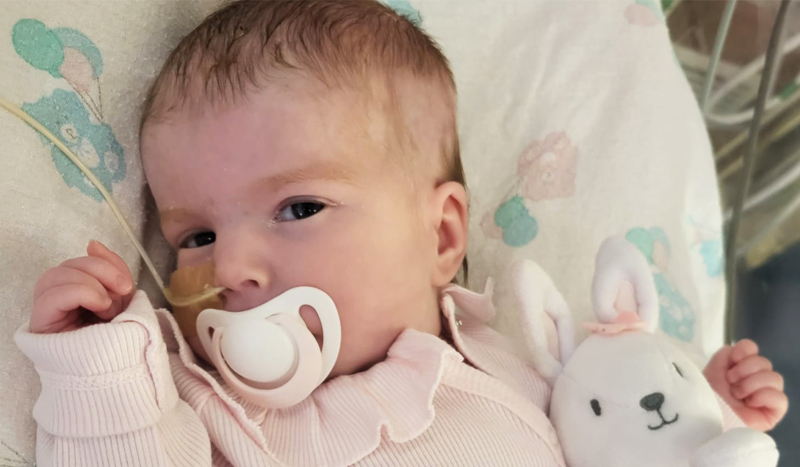 CV NEWS FEED // Italy granted citizenship this week to an eight-month-old girl with a terminal illness after a judge in Britain ordered her removed from life support.
Baby Indi Gregory has a rare metabolic disorder called mitochondrial disease, which means her cells cannot produce enough energy for her to function on her own. She is currently on life support at a hospital in Britain. The High Court of London ruled that it would be in Gregory's "best interests" to have her life support withdrawn. 
Last week, the Vatican's pediatric hospital, Bambino Gesu, offered to accept Gregory for treatment. On Monday, November 6, Italian Prime Minister Giorgia Meloni granted her Italian citizenship. The Italian government also offered to pay for any treatment "that is deemed necessary" in Italy.
"They say there isn't much hope for little Indi, but until the very end, I'll do what I can to defend her life," Meloni stated on social media. "And to defend the right of her mama and papa to do all that they can for her."
However, the infant is currently prohibited from being transferred to Italy for treatment.
Two days after a hearing in Britain on November 2 that authorized medical professionals to withdraw Gregory's life support, Justice Robert Peel denied an appeal from the child's parents seeking permission to transfer her to the Vatican's pediatric hospital for further treatment. 
"Peel ruled that nothing had changed since an earlier ruling that authorized the withdrawal of life-supporting invasive treatment," ABC News reported November 6:
The judge said his decision was based on findings that Indi had little awareness of what was going on around her and an "extremely limited quality of life," combined with evidence that she experienced frequent pain as a result of her treatment.
Peel said that a transfer from Britain to Italy might increase Gregory's "distress and suffering." He wrote in the decision: "I am satisfied that the proposal for a transfer to Rome would not be in IG's best interests."
Christian Concern published the document ordering Gregory's removal from life support on October 13. In the document, Peel wrote: 
Currently [Indi Gregory] shows little awareness of the world around her… She does not fix or follow with her eyes, or smile. She is able to wriggle arms and legs spontaneously but not purposefully. She does not engage meaningfully with the world. IG has been observed holding her mother's finger, which Dr E describes as a reflex movement. She has extremely limited quality of life.
Gregory is currently receiving treatment at Nottingham's Queen Medical Center (QMC). During a protest outside QMC on Sunday, Indi's grandmother, Nicola Thomas, told BBC News that the family is "heartbroken." 
"We want Indi to live. We want justice for her. We just keep getting refused and I don't see why we should," Thomas said. "There's definitely hope. We're still going to fight. We're going to keep going until there's no more fight left."
Gregory and her family are represented by attorneys with Christian Concern and its sister organization, the Christian Legal Centre. 
A Christian Concern spokesman told BBC News that the family's lawyers are now working on next steps. 
This is one of several instances in which the UK has prohibited a patient from transferring to another country for medical care. Earlier this fall, UK citizen Sudiksha Thirumalesh, who also suffered from a rare mitochondrial disease, wanted to seek experimental treatment in Canada. 
High Court Judge Jennifer Roberts ruled that Thirumalesh did not have the capacity to make life-or-death decisions, despite the fact that she was fully conscious. Thirumalesh died at age 19 in September.
Other UK citizens, such as 23-month-old Alfie Evans and 11-month-old Charlie Gard, have lost their lives to mitochondrial diseases after the UK prohibited them from receiving further treatments at home and abroad.