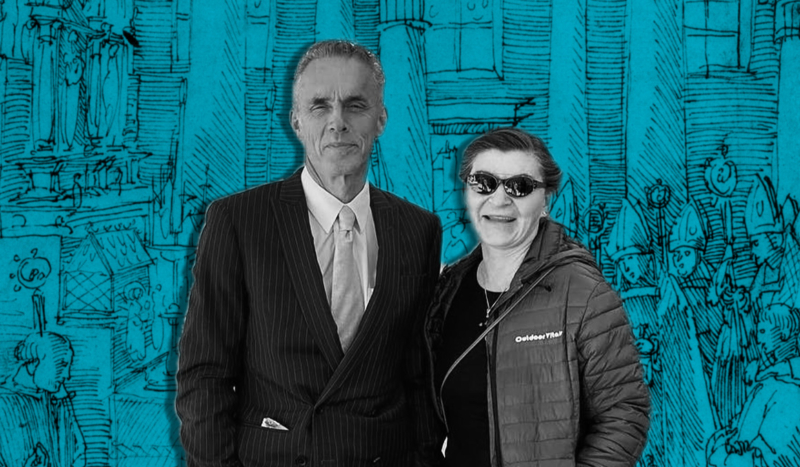 CV NEWS FEED // Tammy Peterson has announced that she has begun the process of becoming Catholic and will be initiated into the Catholic Church next Easter.
In an interview with The Catholic Register, the wife of Canadian psychologist Jordan Peterson discussed her journey of faith and shared that she has begun R.C.I.A. (Rite of Christian Initiation of Adults).
The 62-year-old hostess of "The Tammy Peterson Podcast" grew up as a Protestant. Peterson says she has memories of her 104-year-old Polish Catholic great-grandmother praying the rosary, but her own search for God and the meaning of life really began in the midst of serious health issues in 2015.
After a medical scan and biopsies of her kidney, Peterson's doctor delivered the news that she had renal cell carcinoma, a type of kidney cancer. He gave her ten months to live.
Despite surgeries to remove the tumors and countless tests, Peterson's health worsened to the point that she weighed only 90 pounds and suffered significant hair loss.
Peterson credits the prayers and support of her dear friend Queenie Yu for her perseverance and strength during that time.
Yu is a Catholic convert, and brought Peterson a rosary blessed by the pope, a pamphlet on how to pray the rosary, and an image of Our Lady and the infant Jesus.
For the next five weeks, Peterson and Yu prayed the rosary together every day in the hospital.
Peterson later remarked to Yu that "through my illness, I found God and what could possibly be better than knowing your own Creator?"

Peterson also reflected on the role of prayer at the time, which "would alleviate some of the pain."

"I'd wake up at night and I'd pray the Lord's Prayer until I went back to sleep. I didn't allow myself to worry," she said. "I pretty much prayed all night unless I was sleeping."
Her prayers and the prayers of others brought about miraculous effects. On the fifth day of a novena to St. Josemaria Escriva, when Peterson had a surgery scheduled to address a complication relating to her cancer, her doctors discovered that the lesser medical issue had resolved itself. Her surgery was canceled and she was discharged from the hospital.

The National Catholic Register reports that before their wedding Tammy and Jordan both committed to a marriage anchored in truth.

Jordan said of his wife's conversion: "This is an extension, what's happened to her in recent years, of that vow she took when she first decided we were going to get married. It's a crucial thing to commit to the truth."

When asked whether he supports his wife's decision to become Catholic, Jordan responded: "It's more than that. She's trying to aim up. If you love someone and they're trying to aim up, you're damn happy about that."