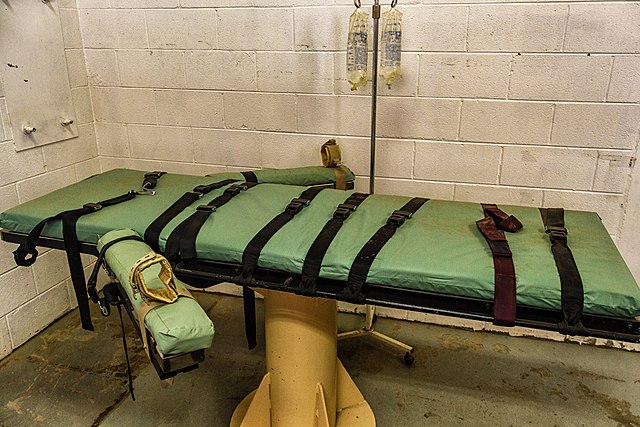 CV NEWS FEED // The Supreme Court on Wednesday night postponed the execution of a Texas man over complaints that the state has violated his religious freedom.
John Henry Ramirez, 37, who murdered a convenience store worker in 2004 for $1.25 during a string of drug-soaked robberies, received the last-minute reprieve on the night of his execution after filing an emergency complaint that his religious freedom had been violated by a rule that his Baptist pastor could not touch him on the shoulder and pray out loud as he died by lethal injection.
The Supreme Court's decision to take up the question of death row inmates' religious rights follows a two-year period where several similar complaints have been filed.
Compared to earlier cases, Ramirez's case looks more specifically at the type of spiritual aid a clergyman may render. In the complaint, Ramirez argues that the Baptist tradition requires his pastor Dana Moore should be able to touch him and pray extemporaneously as he receives the fatal needles, and that the state's refusal to accommodate this request violates his First Amendment freedom.
"It is hostile toward religion, denying religious exercise at the precise moment it is most needed: when someone is transitioning from this life to the next," said Seth Kretzer, Ramirez's lawyer, in court documents.
Kretzer called the state's refusal to let Moore exercise his pastoral duties "a spiritual gag order."
At the end of a three-day drug binge with two women, Ramirez stabbed 46-year old Pablo Garcia 29 times in Corpus Christi, then fled to Mexico where he was arrested for extradition three and a half years later.
A district court judge and the U.S. 5th Circuit Court of Appeals had both rejected Ramirez's appeal before the Supreme Court intervened around 10 pm Eastern Time on Wednesday, three hours into the scheduled execution period.
File photo of lethal injection table (Ken Piorkowski, Wikimedia/Creative Commons)