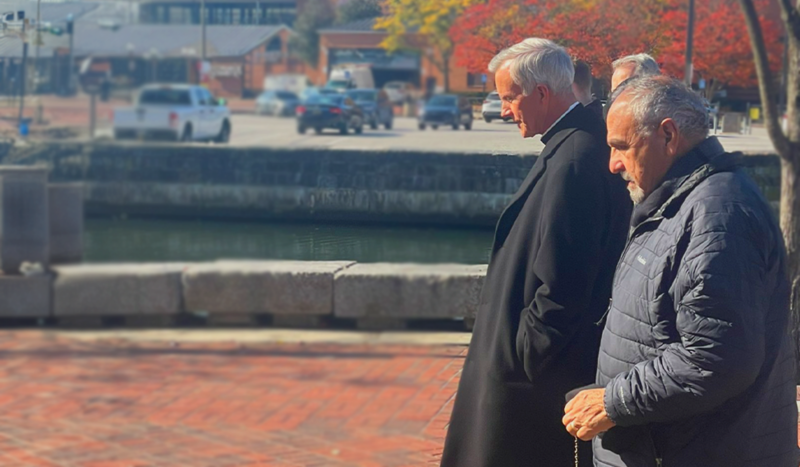 CV NEWS FEED // Two days after Pope Francis relieved Bishop Joseph Strickland of pastoral governance of the diocese of Tyler, Texas, Strickland was spotted praying the rosary outside of the United States Conference of Catholic Bishops' Fall plenary meeting.
On Monday, a picture of Strickland praying the rosary with a small group of men outside of the USCCB's conference hotel in Baltimore made the rounds on social media.
Strickland told the Pillar that he had already purchased a plane ticket, so he decided to travel to Baltimore.
"In the great mystery and plan of God, I'm just here to pray," said Strickland.
Strickland said he will not be attending the USCCB conference but will attend separate meetings.
Strickland is under no known restrictions preventing him from attending the Fall meeting, according to J.D. Flynn, editor-in-chief at the Pillar.
During Tuesday's lunch break, Flynn tweeted pictures of Strickland praying with and blessing people outside of the conference hotel.
Multiple people were wearing shirts and holding signs expressing support for the ousted bishop.
On Saturday, the Vatican announced that Pope Francis had relieved Strickland as the Bishop of the Diocese of Tyler, Texas. The Vatican did not provide a reason for Strickland's dismissal.
Cardinal Christopher Pierre, Apostolic Nuncio to the United States, announced that Pope Francis had appointed the Most Reverend Joe S. Vásquez of Austin as the Apostolic Administrator sede vacante of Tyler.
Strickland remains incardinated in the Diocese of Tyler, effectively operating as a retired bishop, despite being only 65 years-old.
Bishops are required to submit letters of resignation once they turn 75, and the pope can accept their retirement at any point.
Over the past year, Strickland stirred controversy after he tweeted that he "rejects" Pope Francis' "program undermining the Deposit of faith."
Shortly afterward, the Vatican ordered an Apostolic Visitation of the Diocese of Tyler, investigating claims of financial mishandling and high staff turnover due to Strickand's leadership.
The Pillar reported in September about a closed-door meeting about Strickland between Pope Francis, Cardinal Christopher Pierre, and Cardinal Robert Francis Prevost, O.S.A., head of the Dicastery for Bishops.
"There is the matter of the public scandal from all these comments about the pope and the synod, but there are also real problems in the diocese. Those were the focus of the visitation; there are concerns in the diocese about governance, about financial matters, about basic prudence," a Vatican official told the Pillar in September.