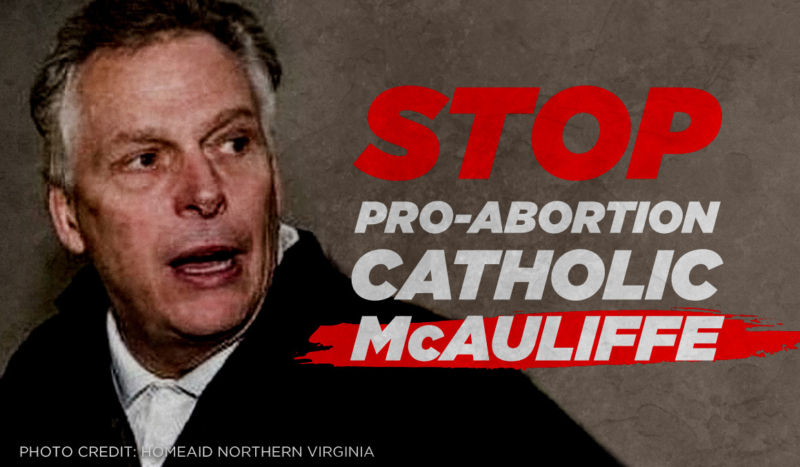 Does the name Terry McAuliffe sound familiar?
He makes Joe Biden look like a true "devout Catholic."
McAuliffe is the Democratic candidate running for governor in Virginia — again (after previously serving from 2014 – 2018). The Virginia election will take place this November, with early voting starting today.
Your CV team has been planning for this race for months and is already mobilizing…
Here's what you need to know:
McAuliffe calls himself a "very strong Catholic." Yet he supports abortion on demand, for any reason. He agrees with the current Democratic Governor Ralph Northam, who notoriously said a decision about whether to kill a child could be made even after a child is born. But it gets worse…
McAuliffe has promised to enshrine Roe v. Wade in Virginia law in order to block any pro-life Supreme Court decisions next year. Just last week he held a campaign event … at an abortion clinic. An abortion clinic!
He also pledged to repeal Virginia's conscience clause, which allows Catholic charities to place children into foster homes, or put them up for adoption with families that share our moral beliefs. In other words, he'd force the Church to place vulnerable kids into homes with no mother or no father.
McAuliffe is a graduate of the Catholic University of America. Yet he's been banned from speaking at his Catholic high school, and this summer was ripped by the Virginia Catholic Conference for his promise to punish Catholic charities.
And the list goes on…
McAuliffe has a long history in politics. He raised millions of dollars in dark money for Bill Clinton. In return, Clinton put McAuliffe in charge of the Democratic National Committee. Later, when Hillary Clinton first ran for president, McAuliffe was the chairman of her failed campaign.
You'd be hard-pressed to find another character with more sleaze, or a candidate more loyal to the pro-abortion movement than Terry McAuliffe. 
CV is dedicated to defeating Terry McAuliffe. Early voting starts today.
Can you chip in $15 or more to help us?
Here's the scoop on what we're doing:
The election for governor of Virginia is just 45 days away.
Your CatholicVote Action Network is already on the ground. We've recruited over 100 volunteers (and we're still growing!), and have identified over 250,000 Mass-attending Catholic voters that we plan to personally call, email, and text to make sure they get the truth — and VOTE!
We've got digital ads ready to go, along with a voter guide for Catholics to share. And it all starts today. Which is why we could really use an extra boost from you right now.
IMPORTANT: The election for governor of Virginia is always held 12 months after the presidential election. Because of Virginia's proximity to D.C., the results are often viewed as a test of the new president's popularity. Biden's approval rating is now plummeting, and the latest polls in Virginia show this race a virtual tie. The Virginia election in November will be the first big high-profile referendum on the Biden presidency.
That's why this race has national importance — especially for us Catholics.
Virginians will have the opportunity to reject transgender bathrooms, racism in our schools, and one of the most radical pro-abortion Catholics in America.
McAulliffe's challenger, Republican candidate Glenn Youngkin, is pro-life. He has said: "As the next Governor of Virginia, I will proudly stand up for the unborn and their mothers. I believe life begins at conception. My views are formed not only by my faith, but by science as well." And he's promised to end all taxpayer-funding for abotion.
This race is winnable.
And we can make the difference!
Let's make sure Catholics know the truth about Terry McAuliffe — and get out and vote!
---
P.S. Several years ago McAuliffe described himself as a "strong Catholic." "I go to Mass with my family every Sunday," he has said. "I receive Communion every Sunday." We can't control what happens in Church. But we can control what happens at the ballot box.  

Want to really help us do our job? Join the CV Champions Club. For just $10 a month, your support makes all of our work possible — not just now — but every month. We can't do this without you.