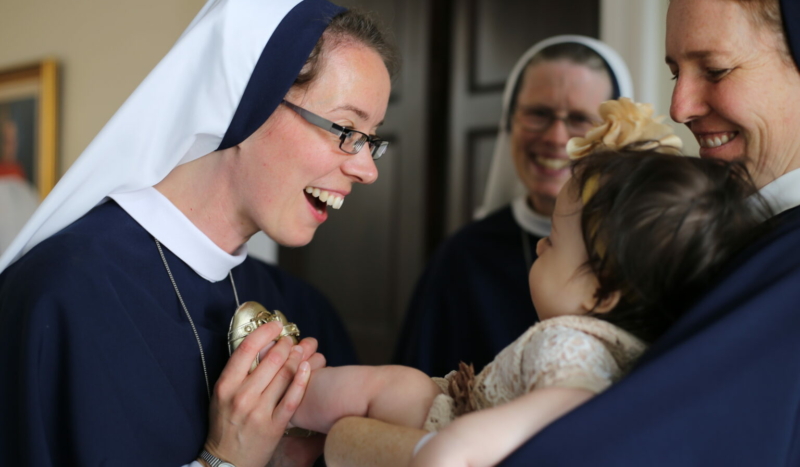 CV NEWS FEED // A group of Catholic religious sisters just won a lawsuit against New York State, preventing the government from accessing the internal documents of pregnancy resource centers.
A law, passed in 2022, allowed the state government to view the internal policies and documents of pro-life pregnancy resource centers, even forcing clinics to share information about individual women visiting the clinic. 
The Sisters of Life were represented by the religious liberty law firm Becket in the case Sisters of Life v. McDonald.
A court upheld that the sisters are free to live out their mission through pro-life ministry without fear of the government investigating their private information, and likewise that pregnant women seeking help should not have to fear government investigation. 
"As Sisters of Life, it's our privilege to walk alongside each woman who comes to us and to stand in solidarity with her, helping her to move in freedom, not in fear," said Sr. Maris Stella, Vicar General of the Sisters of Life in a November 8 press release. "We are grateful for this victory, which protects our right to continue to uphold and defend the beauty and strength of women."
She continued:
In over 30 years of serving women in the State of New York, we have learned that what a woman really needs is to be seen, heard, and believed in, which is why we are committed to providing the necessary emotional, practical, and spiritual support for her to flourish. We are called to bring hope, comfort, and joy to women who feel they have nowhere else to turn. The judge's order will protect us as we continue our ministry.
The late New York archbishop John O'Connor founded the Sisters of Life in 1991. Their primary mission is to help pregnant women in need. Becket, a religious liberty law firm, argued the case on their behalf.
"This order is a win for the Sisters and the women they serve," said Mark Rienzi, president and CEO of Becket. "The government never should have enacted this law, and we are thrilled that it ends with a federal court order that the State should just leave the Sisters alone while they do their important work."