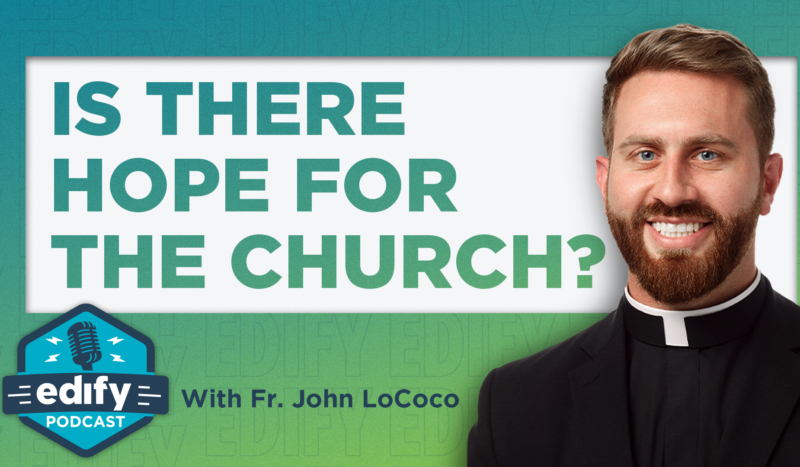 Sometimes it seems like we're losing the war.
For our country.
For precious souls.
And at times like these, it's so important to stay focused and grounded in hope that God will give us the means to attain the aim of all our efforts: salvation in Christ.
This week, we also saw good news in the Church here in our country. The bishops asked us to celebrate "Vocations Week." For most of my life, the story on that front has been one of priest shortages and managing decline. But now? We have evidence that the tide is turning in many dioceses.
Vocations Ministry reported this week that out of 175 dioceses in the U.S., 66 are ordaining more than enough priests each year to maintain current numbers.
So, you ask, why is the priesthood growing in some dioceses and not in others? We have a must-listen podcast for you.
EDIFY's Mary FioRito interviewed a young director of vocations, Fr. John LoCoco of the Archdiocese of Milwaukee. His diocese has ordained 14 priests in the last two years… and he shares how God is moving among the young men he talks to every day.
>> LISTEN TO FR. LOCOCO HERE <<
And you know what? We also saw encouraging numbers from The Catholic Project this week. Their survey shows that in the last 60 years the percentage of Catholic priests who consider themselves theologically "progressive" has precipitously decreased, while the proportion of more orthodox priests is on the rise – among the youngest priests!
This is a very, very good thing.
>> HEAR FR. LOCOCO'S THOUGHTS ON WHY <<
So, will priest numbers continue to decline overall in some dioceses? Sure. But as the culture grows darker, we're seeing real evidence that the priesthood today is stronger than it's been in years. More faithful.
And their ranks are growing.
So this is no time for despair. Whatever happens at the polls, something great is stirring in the heart of the Church. Let's continue to pray for good and holy priests and bishops. Because strong shepherds means a stronger Church.
And a stronger Church will turn this country around.
P.S. Know a priest or fellow Catholic who's discouraged about the state of vocations? SHARE the EDIFY podcast with them now!