Last July, Pope Francis made his first papal trip outside of Rome to the Italian island of Lampedusa: a narrow slab of rock 70 miles off the Tunisian coast and a major point of entry to the EU for migrants (mostly illegal) fleeing poverty, violence and, upheaval in East Africa, North Africa, and the greater Middle East. He laid a wreath that day to commemorate those who had recently died seeking a new life in Europe. At an open-air Mass, he spoke in his homily of the terrible price migrants and refugees often pay in pursuit of a better life and expressed his wish that such tragedies would end:
Immigrants dying at sea, in boats which were vehicles of hope and became vehicles of death. That is how the headlines put it. When I first heard of this tragedy a few weeks ago, and realized that it happens all too frequently, it has constantly come back to me like a painful thorn in my heart. So I felt that I had to come here today, to pray and to offer a sign of my closeness, but also to challenge our consciences lest this tragedy be repeated. Please, let it not be repeated!
But it has been repeated, and with appalling regularity. A few months after Pope Francis' visit, a small boat carrying more than 500 people was only a few hundred yards off the coast of Lampedusa when it lost power, caught fire, and sank. More than 360 people died.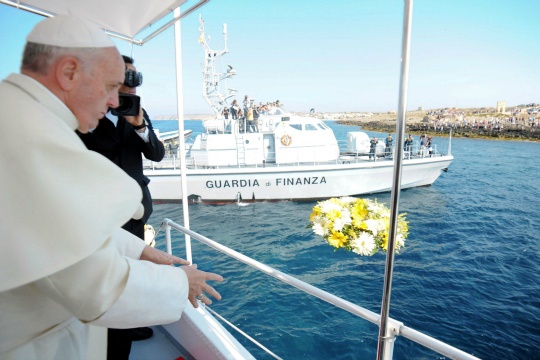 Last week came reports of worse—not just a tragedy, but a massacre—some 500 people drowned off the coast of North Africa; murdered, it seems, by the traffickers they had paid (sometimes thousands of dollars per person) to smuggle them to Europe. Fewer than a dozen people survived the wreck. As many as 100 children are among those lost to the sea.
The International Organization for Migrants (IOM) recounts the survivors' tale:
The survivors told IOM Tuesday that they already had been forced to change boats three times.  When they refused a fourth switch—because they felt the smaller vessel was unsafe—a violent argument ensued. The smugglers threatened that if the passengers did not board the smaller boat they would be returned to Egypt, the survivors told IOM. The migrants persisted saying they would rather return than board the smaller boat.
At this stage, according to testimony from four of six survivors, the ten smugglers, said to be Palestinian and Egyptian, began yelling and throwing sticks at the migrants.
The smuggler's vessel approached the boat with migrants some of whom managed to jump into the smaller boat.  Witnesses say the smugglers forced them in the water and then rammed the bigger boat.  It began to sink immediately while the smugglers stayed in the area until they were certain that the migrant's vessel had sunk, witnesses said.
"After they hit our boat they waited to make sure that it had sunk completely before leaving. They were laughing" one of the survivors told IOM.
According to IOM, almost 3,000 migrants have died in the crossing from North Africa to Europe this year alone. As autumn comes on, and seas grow more dangerous, that number is sure to climb.
The murder of 500 men, women, and children received hardly a mention in the American press. It is just one more terrible story competing for headlines and airtime with so many others. Yet so many gloomy threads are woven into this tragedy that it's hard to ignore—the unholy alliance of organized crime and human trafficking, the sectarian war and grinding poverty that drives these migrants to such desperation, the uncomfortable parallels to the crisis on our own borders.
In his homily at Lampedusa, Pope Francis spoke of a "culture of comfort" and "the globalization of indifference" by which we become "used to the suffering of others." This danger is real enough in our self-saturated, info-addled world, but when things seem to be unravelling all around us, indifference can arise just as easily from overload and exhaustion as from luxury and ease.
St. Paul understood very well the vanity of this fragile, earthly existence. The difference for Paul, and the difference for all us, is an empty tomb and the promise of new life. Without such hope, who can counsel against indifference? If death has the last word, then let us live for today! St. Paul wasn't being flippant when he wrote to the Corinthians, "If the dead are not raised: 'Let us eat and drink, for tomorrow we die.'"
At Lampedusa, Pope Francis challenged us to make ourselves vulnerable to the suffering of others. Without indulging in sentimentalism (which is also a danger) we must fight the temptation to cynical indifference. We Christians are a people of hope and that hope grows from a love that makes us vulnerable. Cynicism smothers love, and with it, all hope. As C.S. Lewis once put it, "The only place outside Heaven where you can be perfectly safe from all the dangers and perturbations of love is Hell."
The murder of unknown migrants half a world away should move us, if not to action (for some this is actually possible) then at the very least to prayer and conversion, to an ever greater willingness to make ourselves vulnerable to the demands of love in our own lives, and to embrace the instrument of our only hope—the Cross.