June 5 – St. Boniface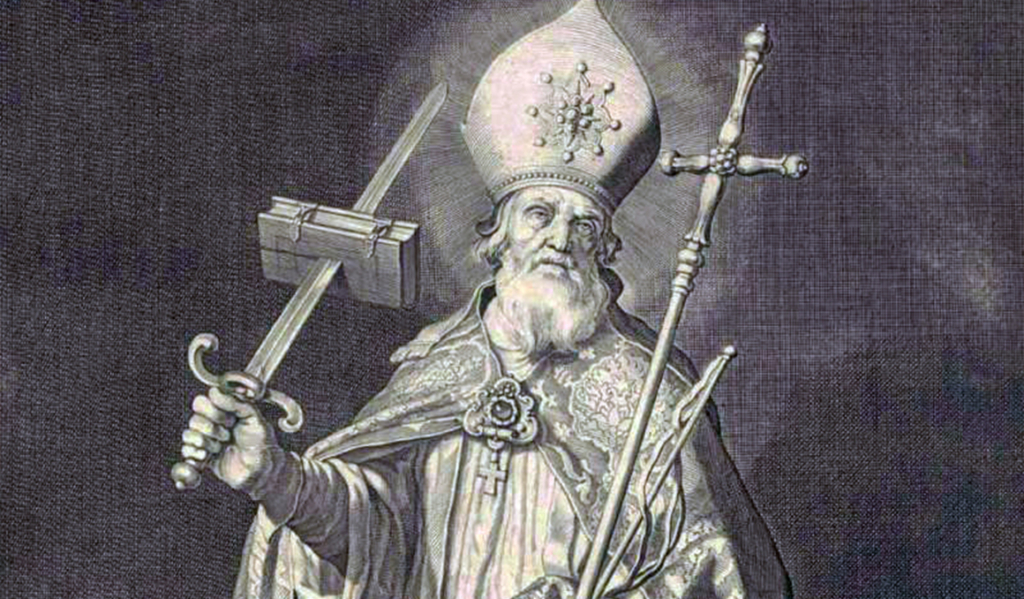 Patronage: brewers, tailors, Germany
St. Boniface was born to a wealthy Christian Anglo-Saxon family, but chose to become a monk at a young age. After his priestly ordination, Boniface set out to preach to the pagan Frisia (part of modern day Netherlands), where he was largely unsuccessful at first. Boniface was sent back to Frisia for a second mission that fared better and he was named a bishop soon after.
Boniface now ministered in several pagan, Germanic lands, where we get the famous story of him chopping down a "sacred" oak tree. Boniface told the stunned pagans who were worshiping at the tree, "How stands your mighty god? My God is stronger than he!" Many converted following this event. Boniface was martyred by a pagan mob in 754.
Commemorate
St. Boniface Tree Felling Co. t-shirt.
Celebrate!
To commemorate St. Boniface's ministry as Bishop of Germany, try these German apple pancakes.
June 13 – St. Anthony of Padua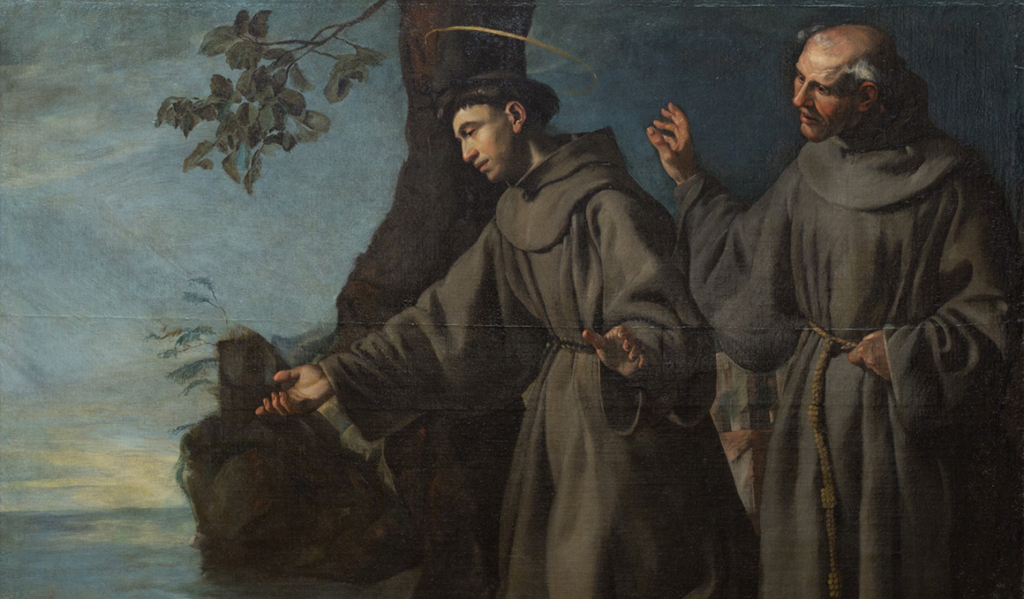 Patronage: finding lost items and people
Born in Lisbon, Portugal with the name Ferdinand, St. Anthony entered the Augustinian order at the age of 15 and devoted himself to prayer and studies. After hearing of the martyrdom of several Franciscan friars in Morocco in 1209, Ferdinand decided to follow in the footsteps of his contemporary St. Francis of Assisi and received the religious name "Anthony."
Now in his mid-twenties, Anthony desired to serve as a missionary but after falling sick was sent to Padua, Italy where he spent most of the rest of his life. Anthony was a gifted preacher with a generous spirit. He performed several reported miracles from preaching to fish, to raising children from the dead, to causing a mule to kneel in adoration of the Blessed Sacrament to rebuke some heretics.
Commemorate
St. Anthony with Jesus Bookends.
Celebrate!
There is an old tradition called "St. Anthony's Bread" where the faithful are given a small loaf of bread after the Feast Day Mass to remember the spirit of St. Anthony's generosity and in thanksgiving for favors heard by the saint.
On June 13, stop by a local bakery and grab a fresh loaf of bread or two to enjoy with family or friends or to share with your parish after Mass!
June 22 – St. Thomas More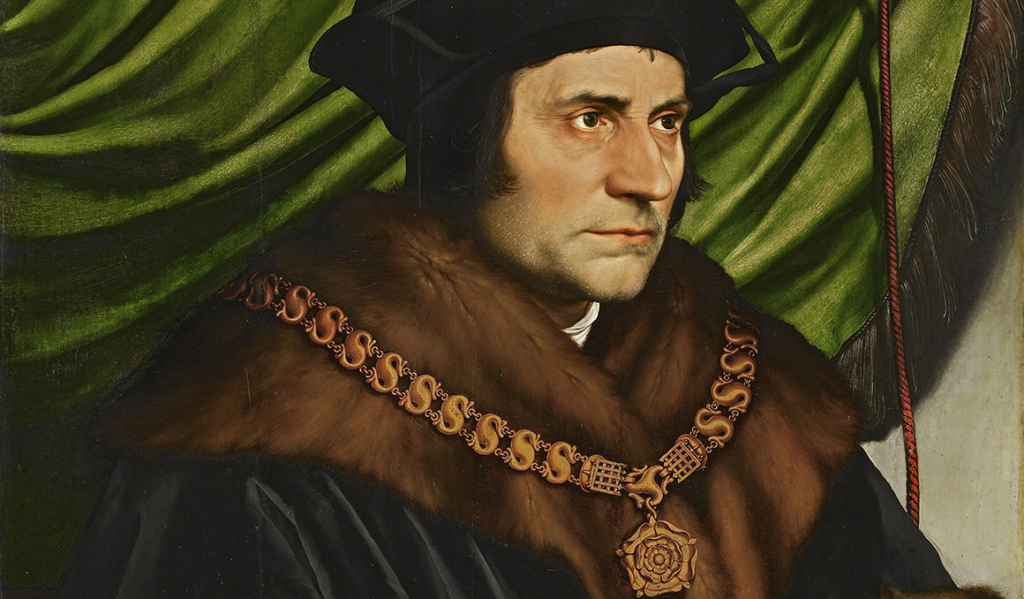 Patronage: politicians, statesmen, lawyers, CatholicVote
St. Thomas More was born in London, England in 1478. Thomas discerned religious life for a time, but ultimately decided God was calling him to serve in public life as a lawyer. Thomas was a gifted writer and philosopher as well as a devoted husband and father. He quickly rose through the ranks of English parliament, eventually becoming a political advisor to the second Tudor monarch, King Henry VIII.
Thomas was named Lord Chancellor of England in 1529, but resigned after only three years when the king decided to break from the Catholic Church to divorce his wife Catherine of Aragon to marry Anne Boleyn. Thomas refused to sign an oath declaring that the new marriage and the Church of England were valid, and was charged with treason. After a period of imprisonment in the Tower of London, Thomas was beheaded on July 6, 1535. His last words were, "I die the king's good servant, but God's first."
Commemorate
Holbein the Younger's famous "Sir Thomas More" painting on ceramic tile.
View from the Catholic Company
Celebrate!
These traditional English Orange Scones are a tasty way to celebrate St. Thomas's Feast Day. The scones are cut into the shape of the Tudor Rose in the center of the livery collar the saint is portrayed as wearing.
June 23 – St. Ethelreda (Audrey)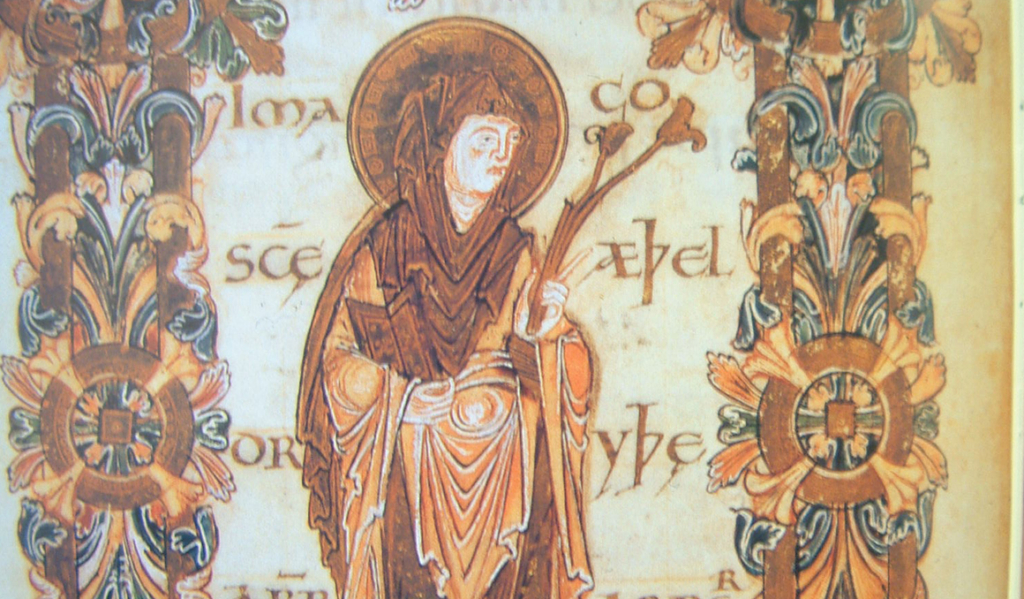 Patronage: throat ailments
St. Ethelreda, also known as St. Audrey, was an Anglo-Saxon princess. As a teenager, Ethelreda made a personal vow of virginity but was later required to marry a prince from a neighboring kingdom for political reasons. Her husband,Tonbert, gifted her the inland island of Ely, and respected her desire for celibacy.
A few years later, Tonbert died and Ethelreda once again was married off in a political alliance. Now Queen of Northumbria, Ethelreda ruled alongside her second husband for several years and maintained her vow. With the help of her spiritual director, St. Wilfrid, she finally convinced her husband to allow her to join the convent. Ethelreda eventually founded the great abbey of Ely where she lived out the rest of her days in prayer and austerity.
Commemorate
St. Audrey (Etheldreda) Wood Plaque & Holy Card gift set.
Celebrate!
Celebrate St. Ethelreda with this simple tea-time Red Currant Cake.
June 26 – St. Josemaría Escrivá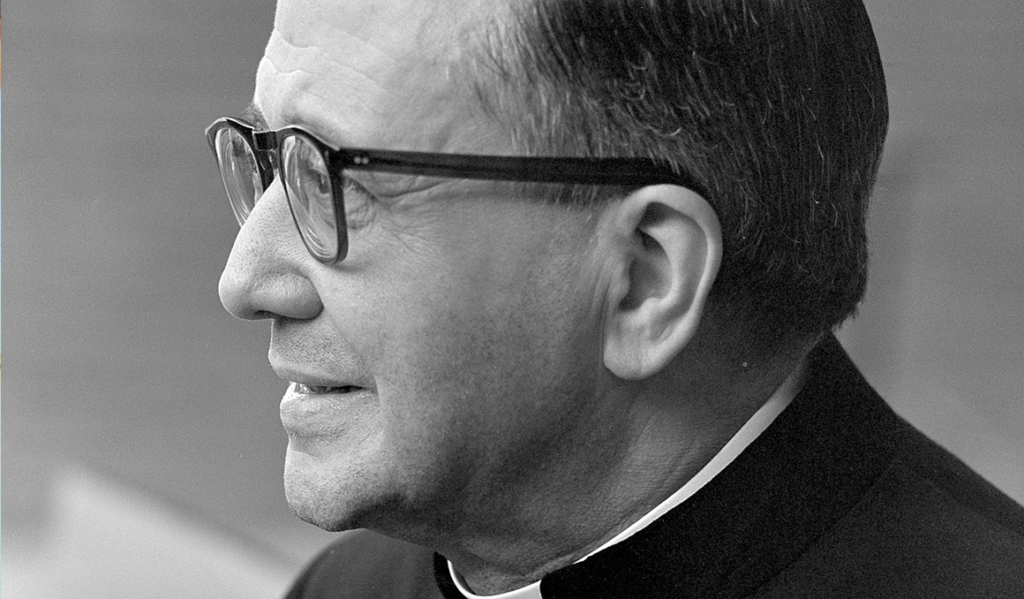 Patronage: ordinary life, people with diabetes, Opus Dei
Born in Barbastro, Spain in 1902, Josemaría Escrivá felt the call to the priesthood as a teenager. He studied civil law while he was in seminary and was ordained at 22-years-old. He soon found his calling was to spread the universal call to holiness, and began preaching among the laity of various working professions.
This inspired him to found the organization Opus Dei (Latin for "God's work"), where lay people and diocesan priests work together to grow in holiness in their respective jobs and responsibilities. Through Opus Dei, Fr. Josemaria spread the message to millions that sainthood is for everyone, not just priests and religious. Fr. Josemaria faithfully worked in ministry until the day of his death in 1975.
Commemorate
St. Josemaria Escriva coffee mug, with the quote: "Compromise is a word found only in the vocabulary of those who have no will to fight."
View From CatholicConnect Shop
Celebrate!
Here's a Spanish Crema Catalana dessert to feast on in remembrance of St. Josemaría Escrivá