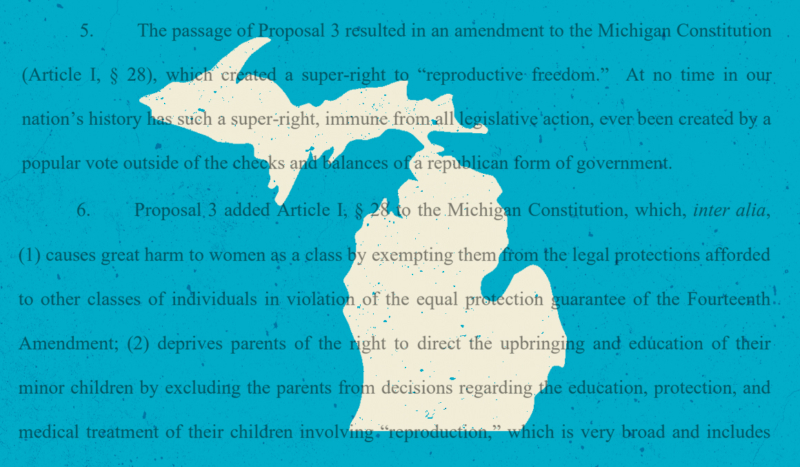 CV NEWS FEED // Right to Life of Michigan, along with 15 other pro-life organizations and individuals, filed a lawsuit against the state last week, challenging an amendment that added a right to abortion to the state constitution last year.
Commonly known as Proposal 3, the amendment passed overwhelmingly in Michigan's 2022 general election.
Proposal 3 guaranteed every person's "right" to reproductive freedom, including but not limited to decisions concerning sterilization, prenatal care, abortion, or infertility treatments. It also gave children the freedom to make "reproductive healthcare" choices without parental knowledge or consent.
"We are deeply saddened by the tragic passage of one of the most dangerous ballot proposals to face voters in Michigan history, Proposal 3," Right to Life of Michigan President Barbara Listing said in a statement last November.
Right to Life argued that Proposal 3 used vague and extreme language that opened too many possibilities for abortion and other actions violating the dignity of human life. It also claimed that Proposal 3 is unconstitutional, saying it violates the Fourteenth Amendment's guarantee not to deprive any person of life, liberty, or property without due process of law.
"The provisions [that Right to Life] asserted to be unconstitutional under federal law threaten legal protections for pregnant women seeking healthcare, the rights of physicians to care for patients, and the rights of parents already under attack on many fronts," Right to Life of Michigan President Barbara Listing said at the state capital on Wednesday, according to a press release. 
"Today, our message to all Michigan citizens now at risk from this extreme measure is – we stand with you. The plaintiffs in this case stand with you. Thousands of Michiganders here today are standing up for your rights," Listing continued.
Right to Life argued in the lawsuit that in addition to harming pregnant women and unborn babies, Proposal 3 deprives parents of their right to direct and educate children. Proposal 3 also overrides medical personnel's religious objections to so-called "reproductive healthcare," which violates the free exercise clause of the First Amendment.
Finally, the lawsuit claims that Proposal 3 creates a "super-right" to reproductive freedom that is immune from legislative action, violating the U.S. Constitution, which states that the branches of government have the ability to overturn and check laws.
According to Right to Life's attorneys, Proposal 3 also willfully ignores evidence that unborn babies are human and therefore deserving of legal protection.
Right to Life filed the lawsuit in conjunction with another pro-life organization, three medical associations, two Michigan House representatives and a Michigan state senator, one doctor, and seven pro-life individuals. The groups are represented by the American Freedom Law Center and the Great Lakes Justice Center.
Genevieve Marnon, Right to Life's legislative director, told CatholicVote that it's unclear how Michigan's courts will respond to the lawsuit.
"The courts may not completely strike the entire amendment but only parts of it, or they may reject the lawsuit altogether. You never know how a court will rule until it does," she said. "However, I believe the arguments put forth in the complaint are serious violations of the Federal Constitution and I hope the courts will review this and rule accordingly."The lawsuit also comes just days after the state House voted to approve the Reproductive Health Act, which will repeal several protections for women, lower health and safety standards for abortion facilities, and generally increase access to abortion statewide. The law is currently waiting for Democratic Gov. Gretchen Whitmer's approval.