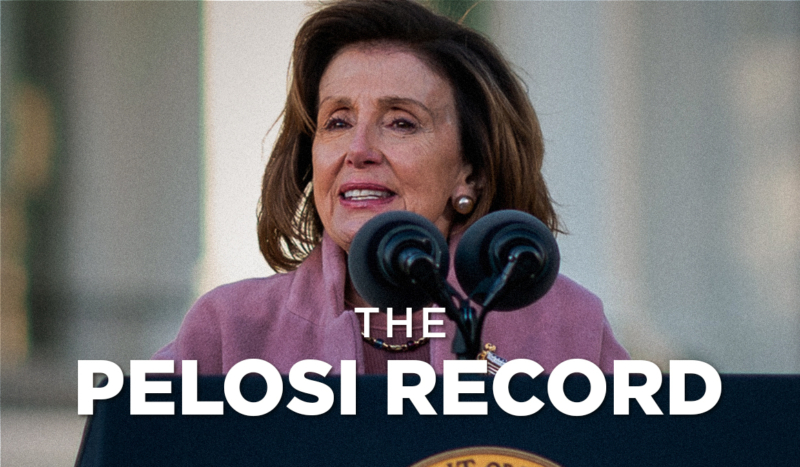 10 Times Nancy Pelosi Repudiated Her Catholic Faith
CV NEWS FEED // Archbishop Salvatore Cordileone of San Francisco announced on May 20, 2022 that Speaker of the House Nancy Pelosi, D-CA, is barred from Holy Communion in her home archdiocese. 
Speaker Pelosi has served in the United States House of Representatives for 35 years. Her pro-abortion position has garnered increased attention from both sides of the political aisle since she became Speaker in 2007. 
Pelosi self-identifies as a devout Roman Catholic from a pro-life Catholic family. And yet, she is also nationally known as an unbending supporter of abortion, and enjoys the endorsement of abortion giants such as NARAL and Planned Parenthood — which gave her its 2014 Margaret Sanger award. 
In fact, NARAL has noted that Pelosi has served them well, giving her a pro-abortion voting score of 100%.
Her congressional record, parliamentary maneuvering, and public statements all attest to her radical pro-abortion goals, including abortion on demand without any restrictions, publicly-funded abortions, and even abortion mandates for Catholic healthcare providers.
Pelosi also frequently invokes her Catholic faith to support her abortion stance. 
Here are the 10 most scandalous pro-abortion statements and actions from Pelosi's long public career.
---
Response to Dobbs vs. Jackson
Alarmed at the possibility of the Supreme Court overturning Roe vs. Wade, Pelosi spoke of her move to codify it into federal law through the Women's Health Protection Act, saying that the legislation was the greatest "weapon" for protecting the abortion industry: 
As I say to my colleagues, "When you have five children in six years and one week, we can discuss this issue." That was great for me; that's not necessarily great for other people. And it shouldn't be up to any of us to decide what a woman and her family, her husband and her partner decides is right for them and their family and their future child-bearing possibilities. So, it's scary. It's really scary… And I say that as a practicing Catholic.
Pelosi, Popes, and Prelates
Church leaders have been pleading with Pelosi for years, inviting her to repent and return to full communion with the Church. But she has been unwilling to let Catholicism inform her worldview. Even when personally corrected about her pro-choice views by Pope Benedict XVI in a private meeting in which he reminded her of her duty to protect life, the Speaker remained unmoved. 
In the press conference following their conversation, she argued that all males—implicitly placing the pope and male Congressional members on the same plane—should refrain from interfering with abortions: "I love the pope. I have the highest regard for the pope…. But I don't think that a lot of guys should be calling the shots."
In a May 2022 interview with The Seattle Times, she confirmed that she believes her own judgment trumps the Church when it comes to abortion:
The very idea that they would be telling women the size, timing or whatever of their family, the personal nature of this is so appalling, and I say that as a devout Catholic…. They say to me, "Nancy Pelosi thinks she knows more about having babies than the Pope." Yes I do. Are you stupid?
Archbishop? Whatever.
When asked if she finds it difficult to reconcile her faith and her role in public life, Speaker Pelosi responded:
When I speak to my archbishop in San Francisco and his role is to try to change my mind on the subject, well then he is exercising his pastoral duty to me as one of his flock. When they call me on the phone here to talk about, or come to see me about an issue, that's a different story. Then they are advocates, and I am a public official, and I have a different responsibility.
A 'Devout, Practicing' Catholic
In 2022, Speaker Pelosi insisted,
It isn't about what is your religious belief. It's what is the right of people to make their own decisions and the size and time or if they're going to have a family. This really gets me burned up, in case you didn't notice, because, again, I'm very Catholic — devout, practicing, all of that. They would like to throw me out, but I'm not going, because I don't want to make their day.
'Abortion on Demand' Act
In 2021, Speaker Pelosi brought to the House floor and voted for the "Women's Health Protection Act," which codifies the right to abort a baby up until the moment of birth for any reason. 
While delivering remarks to the House in support of WHPA, she condemned political forces that "don't want in vitro fertilization" and "stand in the way of reproductive health and guidance in terms of family planning, birth control and the rest," calling all efforts to limit such evils an "intrusion into the privacy of a family's life."
Additionally, Speaker Pelosi cited her Catholic faith as she voiced her support of this radical bill that directly contradicts Catholic moral teaching. She told the House of Representatives:
I come to this as a Catholic mother of five in six years and one week and with the joy that all that meant to us. But with the recognition that it was my husband and I – our decision. It was our decision. And we should not, in this body or in that Court, be making decisions for the women in America.
Anti-Hyde Amendment
In 2021, Pelosi brought to the floor and voted for an appropriations bill stripped of the Hyde amendment, a provision that had up until this point always been included in such bills on a bipartisan basis. The Hyde amendment prevents taxpayers from being forced to directly fund most abortions. When asked why she voted for taxpayer-funded abortions, Pelosi responded by citing her Catholic faith
[Overturning the Hyde Amendment] is something that has been a priority for many of us a long time. As a devout Catholic and mother of five in six years, I feel that God blessed my husband and me with our beautiful family, five children in six years almost to the day. But…it's not up to me to dictate that that's what other people should do. It's an issue of fairness and justice for poor women in our country.
NARAL Icon
In her remarks at NARAL's 50th-anniversary dinner, Pelosi was clear about her beliefs. "Every woman should have the freedom to make her own choices about her body and family, no matter her circumstances or means," she said. "It's about respect…. [People who seek to restrict abortions] ignore basic morality. They imperil the health and well-being of countless women."
No to Partial-Birth Abortion Ban
When the San Francisco District Court found the federal ban against partial-birth abortion unconstitutional, Speaker Pelosi praised the ruling. In her view, "The federal ban on abortion procedures is extreme," not the hideous procedure of partial-birth abortions itself.
No Pain, No Gain
In 2015, Members of Congress sought tp pass a bill that would ban abortion after 20 weeks, the point at which current science is certain babies can feel pain. Speaker Pelosi opposed the effort and, again, cited her faith.
"Let me say this; I'm a Catholic, a devout, practicing Catholic," she said:
I take great comfort in my faith, come from a very Catholic family, largely pro-life. I've had five children and the day my fifth child was born, my oldest turned 6, so I'm with the program in terms of the Catholic Church. However, if there's one issue that really — I try to be dispassionate about how we find solutions — if there's one issue that really is almost inflaming to women, is when politicians say we will influence the size and timing of your family; we will decide what is right for you.
No Protection for Abortion Survivors
Pelosi has for years blocked a House vote on the "Born-Alive Abortion Survivors Protection Act," which mandates healthcare for babies born alive during botched abortions. In a clear example of how Pelosi's views have become more extreme over time, in 2005 she condemned "China's appalling human rights record, and its practice of female infanticide, forced abortion, and the abortion of female fetuses." Yet by opposing the Born-Alive Abortion Survivors Protection Act, she has blocked efforts to prevent infanticide. She has also voted against legislation that would make it illegal to seek an abortion solely because of the baby's sex.
---
Please join CatholicVote in praying for Nancy Pelosi and for Archbishop Salvatore Cordileone. This is no small matter for her, the Church in the United States, and the world.