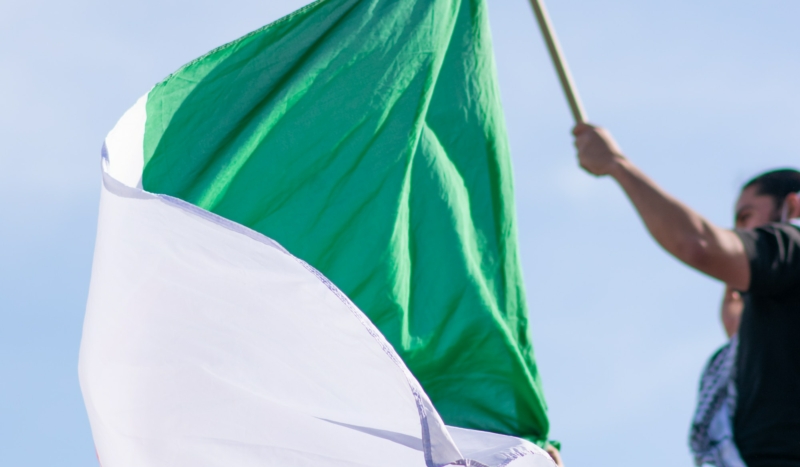 CV NEWS FEED // Pro-Palestine protesters swarmed an airport in the Muslim- majority southern region of Russia on Sunday night after news broke of an incoming flight from Tel Aviv, Israel.
Searching for an incoming flight from Tel Aviv, over a hundred young men infiltrated the main airport in Makhachkala, the capital city of the Dagestan region, carrying Palestinian flags and chanting Islamist slogans, according to the New York Times' report.
Russian authorities confirmed the incident had taken place after videos of a mob began circulating on social media.
Nine police officers sustained injuries from the riots, and two had to be hospitalized. Authorities reported 20 injuries total, including civilians.
A report from the Moscow Times cited videos where other protestors carried signs that read "Child killers have no place in Dagestan," and "We are against Jewish refugees."
Protestors were also "stopping cars outside Makhachkala's airport to check the personal identification documents of drivers and passengers as they searched for Israeli citizens among the motorists," the report added.
Head of Dagestan, Sergei Melikov, spoke out against the rioters, saying "there was no honor in swearing at strangers, reaching into their pockets and trying to check their passport."
The rioters were "possibly spurred on by a Telegram messaging channel that urged them to 'catch' the passengers of the incoming flight from Israel."
According to the Israeli Prime Minister's Office and Foreign Ministry, there were no Jewish people or Israeli nationals onboard the 7 pm flight.
Israeli Prime Minister Benjamin Netanyahu said in a statement that Israel "expects the Russian law enforcement authorities to protect the safety of all Israeli citizens and Jews wherever they may be and to act resolutely against the rioters and against the wild incitement directed against Jews and Israelis."
Ukrainian President Vladimir Zelenksy also responded to footage of the attack in a post on X, calling it "appalling," before using the incident as a platform to denounce Russia's "deeply rooted antisemitism and hatred towards other nations."
"Hatred is what drives aggression and terror," he said. "We must all work together to oppose hatred."