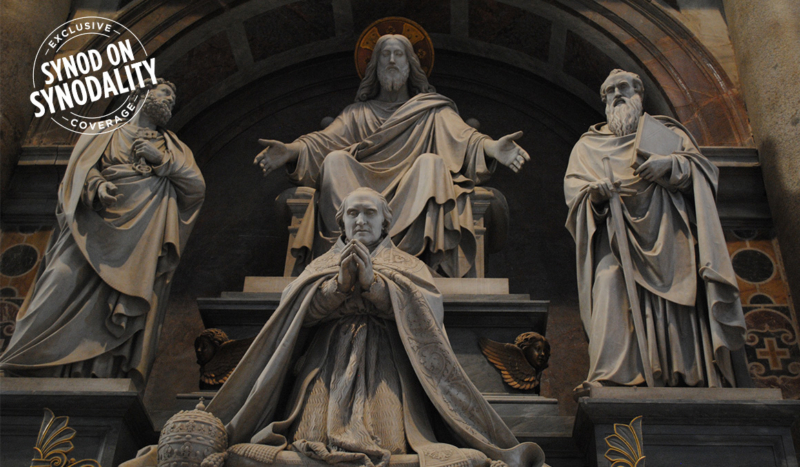 Gathered in St. Peter's Square on Saturday, thousands of Catholics and members of other Christian churches took part in an ecumenical prayer vigil led by Pope Francis to prepare for the upcoming Synod on Synodality.
The prayer service included hymns, scripture readings, eight minutes of silence for personal prayer, testimonies from young adults from around the world, and prayers led by leaders from various Christian churches and ecclesial communities.
The congregation stood in front of St. Peter's Basilica, facing a large San Damiano Cross and an icon of Our Lady, entitled "Salus Populi Romani (Protectress or Health of the Roman People)."
Twelve non-Catholic Christian leaders participating in the prayer service include Primate of the Anglican Church Archbishop Justin Welby of Canterbury, Ecumenical Patriarch Bartholomew I of Constantinople, and Syriac Orthodox Patriarch Ignatius Aphrem II. Other Christian leaders in attendance represented the Lutheran World Foundation, World Evangelical Alliance, World Methodist Council, World Baptist Alliance, and the World Pentecostal Fellowship.
The nearly three-hour-long prayer service began with an introductory video by Pope Francis, where he said, "Mission is at the heart of the Church. And even more, when a Church is in Synod, this synodal dynamic alone carries its missionary vocation forward–that is, her response to Jesus' mandate to proclaim the Gospel."
Pope Francis continued:
I would like to recall that nothing ends here. Rather, we are continuing an ecclesial journey here. This is a journey we are on, like the disciples of Emmaus, listening to the Lord, who always comes to meet us. He is the Lord of surprises. Through prayer and discernment, the Holy Spirit helps us carry out the "apostolate of the ear," that is, listening with God's ears in order to speak with the word of God… the heart of mission is to reach out to everyone, to seek everyone, to welcome everyone, to involve everyone, without excluding anyone. Let us pray for the Church that she may adopt listening and dialogue as a style of life at every level, allowing herself to be guided by the Holy Spirit towards the world's peripheries.
After the video, representatives of the synod laid out a long blue cloth, a symbolic "river" streaming from the foot of the San Damiano cross. According to the event's website, the "river"
..is this year's symbol for the Season of Creation (inspired by Amos 5:24): a river flowing as a sign of our common work for justice and peace with all creatures and, as people, among ourselves.
Several intercessory prayers followed, including one by Rev. Dr. Thomas Schirrmacher from the World Evangelical Alliance, who prayed, "Christ Jesus, look upon your family. We implore you because you have entrusted the planet to us as a gift."
Schirrmacher was followed by Rev. Dr. Marco Fornerone, a Waldensian, who prayed: "For the victims of climate change and pollution, for those who work to safeguard biodiversity and the creation, for those who strive to keep the earth habitable for all living things, we pray to you!"
At the end of the prayer service, Pope Francis' representatives gave a packet of seeds to each of the twelve Christian leaders standing near him.
As the seeds were given out, an English translator said, "Church and Christian leaders, receive now some seeds, as a sign of unity and synodality. The seeds will be planted at home when they will grow as St. Paul told the Corinthians: 'I planted, Apollo watered, but it was God who made it grow.'"