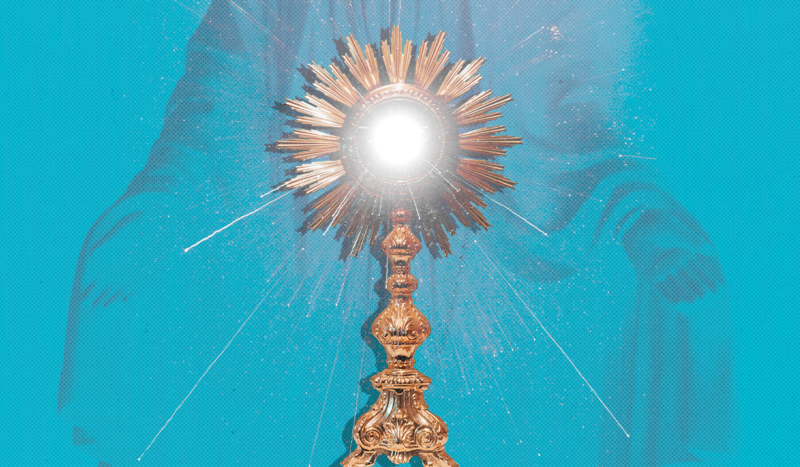 CV NEWS FEED // Reports of a eucharistic miracle at a retreat in California spread after an attendee shared an image of the reported miracle on social media.
The theme for the sixth Marian Conference near San Francisco this year was "With Mary, We Transform the World Through the Eucharist."
Fewer than 10 people witnessed the reported miracle, an image of Our Lady on the host, which occurred at overnight adoration. The image on the Eucharistic host reportedly appeared for no longer than a minute on October 14, a little past six in the morning.
A photograph of the eucharist with an image of Our Lady went viral after it was shared on a Divine Mercy Facebook page.
Fr. Chris Alar, a priest in the order of the Marian Fathers of the Immaculate Conception, served as a leader at the retreat. While about 800 people attended the retreat, only a small number were in adoration at the time. Alar said he had just left the room before the miracle reportedly took place. 
On October 24, Alar spoke about the alleged miracle in his homily. He said that although local bishops have not examined or verified the image, a group of people did witness it at the retreat.
"Mary appeared in a very large monstrance and all the people present saw her," Alar said in his homily at the National Shrine of Divine Mercy.
'There's still a question about the authenticity," he continued. "This has not been approved by the bishop. It has not been analyzed."
In the Catholic Church, miracles go through an approval process under the Vatican, which often involves bishops requesting scientific evidence.
"I don't know if the origin is natural or supernatural, but we can very clearly see the Blessed Mother in that picture," Alar continued, saying he wanted to share "the joy of what everybody saw."
"The picture is authentic in the sense that the event really happened, but I'm not going to claim I know the origin," he added.
Alar noted that the picture of Mary looks like Our Lady of Akita, who reportedly appeared in Japan in 1973. He noted that she emphasized the need for humanity to "stop sinning" because sin offends God. He observed that San Francisco, where last week's miracle reportedly took place, is at the heart of some of the nation's issues with sexuality. 
"She's in the heart of Jesus," said Alar, noting the position of the image on the Eucharist. "Jesus, to me, was showing us that Mary is in his heart."
"What is the message San Francisco needs to hear—not just San Francisco, the whole world? Stop sinning and offending our Lord," he said.