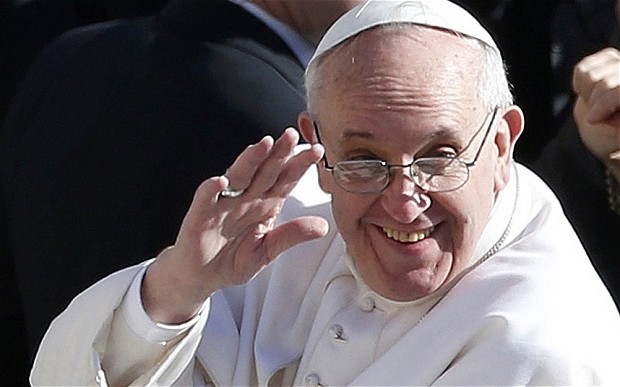 Earlier this week, a story made the rounds on the inter-webs that Pope Francis had counselled an Argentine woman who had married a divorcee to go ahead and receive Communion. The story, as reported here, was based on an Italian report of an Argentine report based on a Facebook post by the husband of the woman with whom Pope Francis had a private telphone conversation.
A great many sensible Catholics panicked whigged out freaked expressed concern.
Then today, the leader of the Catholic Church (who shares an identity with Pope Francis) threw a bit of cold water over all the wild and unseemly speculation that he's some sort of apostate controversy by stating the following. (N.B., the following report from Catholic News Agency is based on things the Pope actually said–in public–and is in no way based on thrice recycled reports of some Argentine dude's Facebook status.):
The holiness and indissolubility of Christian matrimony, often disintegrating under tremendous pressure from the secular world, must be deepened by clear doctrine and supported by the witness of committed married couples.
He also said this:
Christian matrimony is a lifelong covenant of love between one man and one woman; it entails real sacrifices in order to turn away from illusory notions of sexual freedom and in order to foster conjugal fidelity.
Then, for good measure, he said this:
We also observe with great concern, and can only deplore, an increase in violence against women and children….All these realities threaten the sanctity of marriage, the stability of life in the home and consequently the life of society as a whole.
All on the way to saying this:
Abortion compounds the grief of many women who now carry with them deep physical and spiritual wounds after succumbing to the pressures of a secular culture which devalues God's gift of sexuality and the right to life of the unborn.
That's all. Enjoy this weekend's canonizations!