CV NEWS FEED // On September 16, about 300 Korean pilgrims, religious sisters, and clergy gathered at St. Peter's Basilica in Rome for the unveiling of a statue of the first Korean Catholic priest, St. Andrew Kim Taegon.
Korean Catholics wearing brightly colored hanboks, gray religious habits, and red stoles representing St. Andrew Kim's martyrdom eagerly awaited the statue's unveiling.
Fr. Michael Kong, a young priest studying in Rome, attended the dedication ceremony.
"It was joyful, overwhelmed, actually," Kong told CatholicVote, recalling the atmosphere of the day. "Even Cardinal You almost cried during his homily. I saw all the people were so honored and joyful [at] what had happened."
It was Cardinal Lazzaro You Heung-sik who first proposed the building of the statue to Pope Francis. Installed on the outside of St. Peter's Basilica, the statue honors the patron saint of Korean clergy.
Baptized at 15, St. Andrew Kim Taegon embraced the legacy of his father and grandfather, who were killed for their Christian faith, by ultimately becoming a priest at 25 and a martyr at 26.
Kong recalled looking up while the statue of St. Andrew Kim was unveiled. He said there was "something spectacular" and "awesome" in the reveal.
The 6-ton marble statue, crafted by Korean Catholic artist Han Jin-Seo, depicts Kim wearing a traditional Korean "dopo" and a flat hat, called a "gat," with his arms outstretched.
"His hands [are] open wide to receive everyone," Kong said, recalling looking up at the great statue.
"Seeing his big statue looking at us with his hands wide open at the Vatican [reminded me that] we as priests are not only for a particular nationality, but for the whole people," the young priest reflected.
Kong said he enjoyed the traditional Korean music at the event, where he danced and celebrated with his fellow priests. It was the first time even the statue's artist, Han Jin-Seo, saw it displayed.
Kong described the patron saint of Korean clergy as "my shield or my bodyguard."
"He's there, always," he said. "I feel like he's my bodyguard, praying for all the priests in the world."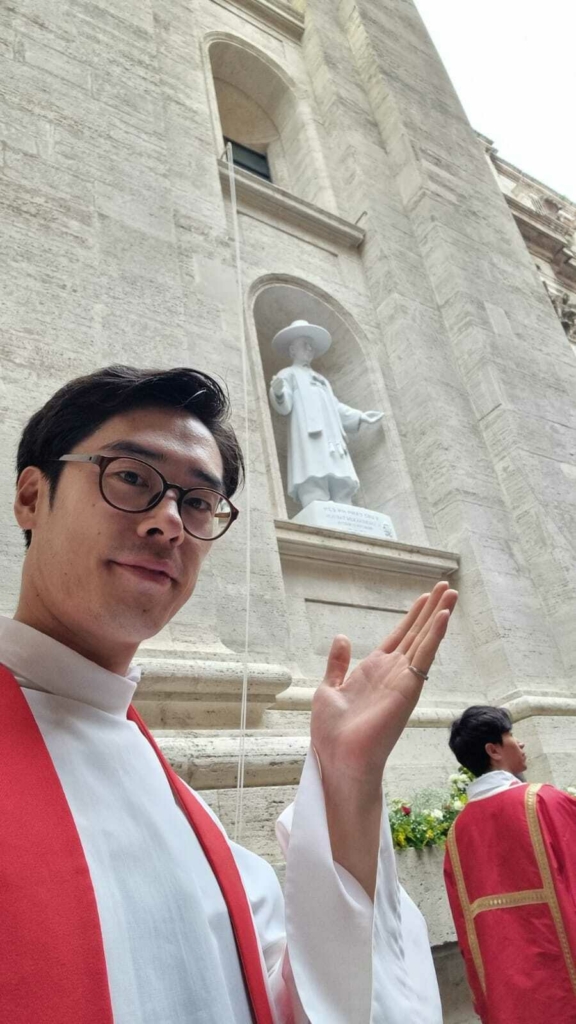 Kong says the ceremony gave him "a mixture of emotions," as he was born in Seoul, ordained in Australia, and now studies in Rome. He reflected that St. Andrew Kim must have had "a tough time" as he studied in China and then was martyred soon after his return to Korea.
"Even if it was [for] a very short time, he wanted to proclaim the word," said Kong. "He tr[ied] to convert the security guards in the prison. They were convinced, but they were afraid to believe in God."
He admired St. Andrew Kim's bravery for having "stood very strong" in the face of persecution, reflecting, "I wish [to] be brave like St. Andrew Kim."
Kong hopes that St. Andrew Kim "can give us the strength to stand up for Faith and stand up for the Truth so that we can proclaim the Truth of the Lord to the people."
The statue is not only a symbol of courage but also a reminder of the universality of Catholicism.
"It's very significant for me to see [the statue's installation] as a Korean priest," Kong said. "But at the same time, it is not only for a particular or specific chosen nation, but it's for all."
Kong observed that this may be a "stepping stone for other nations" to propose statues of their own saints around the basilica.
Though St. Andrew Kim was the first Catholic priest in Korea, he was not the nation's first martyr. Kim's father, Ignatius Kim Che-jun, is also a Saint, while his grandfather, Pius Kim Jin-hu, is a Blessed. Both were martyred for their Catholic faith.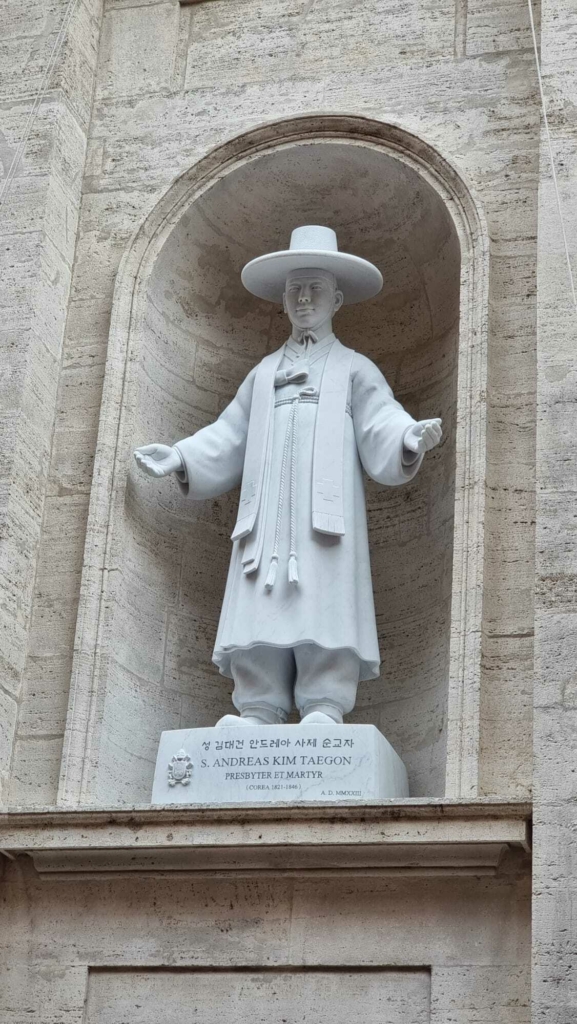 The Church in Korea has the fourth highest number of saints in the world, though it is still relatively young, partly because of the many persecutions. .
Kong found that those in Korea who attend church are "very strong in their faith."
"The Korean Catholics have a very strong devotion to Our Lady," he added. "People respect our Mother Mary as we respect our mothers," noting the influence of Confucian philosophy on Korean Catholicism.
"[They are] very respectful [of] the eucharist, the priests, and each other," he continued. "Even if the churches in Korea look very modern these days, the people, their behavior, their attitude … are very respectful."
During St. Andrew Kim's lifetime, the Korean monarchy saw Catholicism as a western, colonizing influence. With his last words, he assured those present of his loyalty to his nation and to God:
"This is my last hour of life, listen to me attentively: if I have held communication with foreigners, it has been for my religion and my God. It is for him that I die. My immortal life is on the point of beginning."
Pope John Paul II canonized St. Andrew Kim in 1984, along with more than 102 other Korean martyrs.