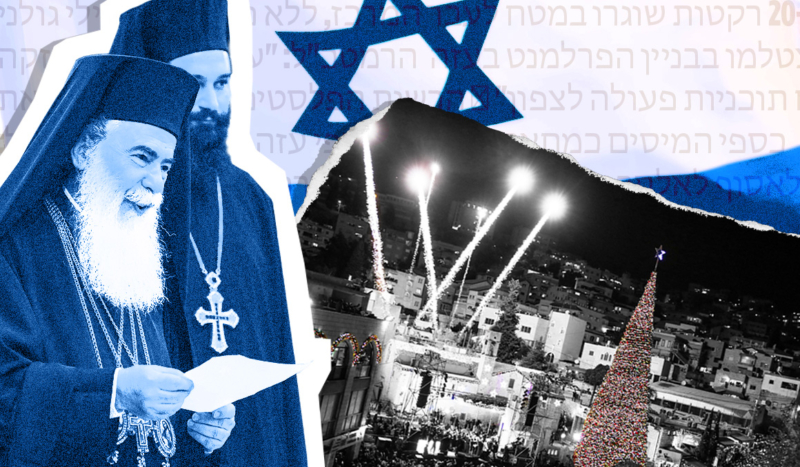 CV NEWS FEED // The Patriarchs and Heads of the Churches in Jerusalem instructed their congregations to scale back Christmas festivities amidst the ongoing war in Gaza.
In a November 10 news release, Church leaders in Jerusalem called upon their congregations to "fore[go] any unnecessarily festive activities," in solidarity with those afflicted by the ongoing war between Israel and Hamas.
"Each year during the sacred seasons of Advent and Christmastide, our Christian communities throughout the Holy Land take great delight in their preparations for the commemoration of the birth of our Lord and Savior Jesus Christ," the leaders said in their statement.
They pointed out how Advent and Christmas celebrations "normally involved participating in numerous public festivities and large-scale display of brightly lit and expensive decorations."
Israel is widely known as "the city of three Christmases," as it hosts elaborate celebrations for the occasion on the feast day designated by Catholics and Protestants, Orthodox, and Armenian Christians.
Usually, the city of Haifa lights a 40-foot-tall Christmas tree and hosts the "Feast of Feasts" shared between Christians, Jews, and Muslims together. The Church of Nativity in Bethlehem celebrates a midnight mass, and Christmas carolers flood the streets of Manger Square. In Nazareth, the Arab Christian congregation of Jesus the King Church gives gifts to impoverished children.
However, the Patriarchs of Jerusalem wrote, "these are not normal times."
Since the start of the War, there has been an atmosphere of sadness and pain. Thousands of innocent civilians, including women and children, have died or suffered serious injuries. Many more grieve over the loss of their homes, their loved ones, or the uncertain fate of those dear to them. […] Yet despite our repeated calls for a humanitarian ceasefire and a de-escalation of violence, the war continues.
In a televised address on Saturday, Israel's Prime Minister Benjamin Netanyahu continued to reject calls for ceasefire, "unless it includes the release of all the nearly 240 hostages captured by Hamas" during the October 7 attack.
"We invite the faithful to advocate, pray, and contribute generously as they are able for the relief of the victims of this war and for those in dire need, as well as to encourage others to join them in this mission of mercy," the Patriarchs said.