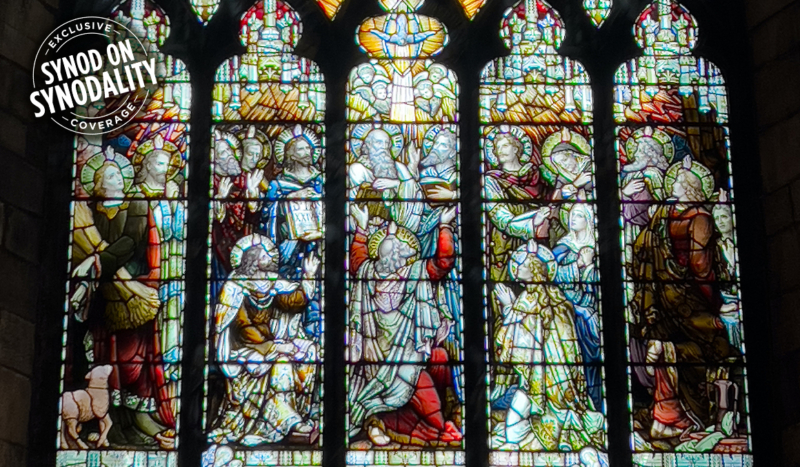 CV NEWS FEED // Two Synod participants sidestepped a question about the importance of apostolic tradition and divine revelation during Monday's Vatican press briefing, choosing instead to emphasize "synodality" and "listening."
Fr. Vimal Tirimanna, a professor of moral theology from Sri Lanka, and Sr. Patricia Murray, IBVM, the executive secretary of the International Union of Superiors General, said in a press conference that divine revelation and apostolic tradition are present and taken into consideration when discussing issues facing the Church.
However, both Tirimanna and Murray added to their initial answers, saying that some issues—like the ordination of women or the blessing of same-sex couples—require a synodal mindset and lifestyle.
"Of course, different people have different issues," Tirimanna said. "I can assure you, once the firm foundation of the synod life is laid, those things [particular political or controversial issues] can be built up on that."
"In one sense, the most important thing is not to address whether women can be ordained, or that LGBTQ+ [individuals] should be accepted or gay marriage should be blessed," he continued. "Not that they are not important, but if we are serious about the universal church, a church that is worldwide, we have to lay a firm foundation that includes everybody's interest. So first we lay the foundation—the foundation of a synodal way and listening culture. Automatically, these issues are bound to come sooner, if not later."
Sr. Murray also agreed that revelation and tradition make up the fundamental basis of discussion at the synod, but then added that it's important to learn how to be "a synodal person."
"One of the key aspects of being a synodal person in a synodal church is to learn to have freedom," she said. "Yes, I have my own inclinations and things I would like to see happening, but if I really am truly training in the synodal process, I leave those aside. I pray for freedom; I pray for the grace to be truly open to what my brother and sister are sharing and saying; I pray to God's Spirit to give me the enlightenment and insight into where we're being drawn as a body, as this communion of people."
"I know that's a complicated answer," she said. "You may say 'you didn't answer my question' but I think unless we learn the importance of formation for this way of life, we'd be frustrated and we won't understand what's actually happening or what we're being called to."
At Synod press conferences, journalists from all over the political spectrum continue to ask about the role of the Catholic Magisterium in the Synod on Synodality, including synodal discussions of LGBTQ+ "inclusion" and the ordination of women.