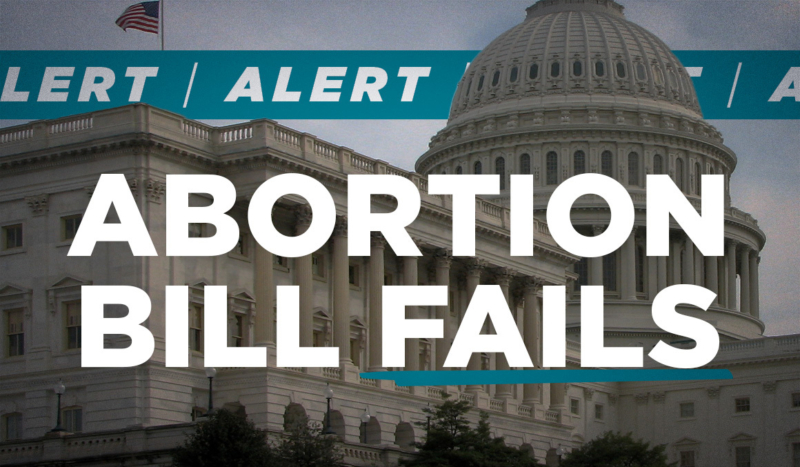 The most extreme abortion bill ever introduced…
…LOST.
We predicted it would. Democrats held the vote last night to rally their troops in preparation for the coming Supreme Court decision that could topple Roe. v. Wade. They knew it was a gamble, and did it anyway to keep the dirty abortion lobby happy.
But this isn't over.
OUR TIME TO ACT: Democrats are hoping this vote will quickly be forgotten. Why? Because every pro-abortion senator is now on the record. Each of them voted to legalize abortion up to the moment of birth, for any reason. Each of them voted to to repeal parental rights, and to gut laws that provide women counseling, abortion alternatives, ultrasound images, and more.
Senators in highly competitive races are now on the record supporting the killing of children with disabilities. They voted for the right to kill unborn children who feel excruciating pain.
Days before the vote, Senator Schumer boasted that the bill would affirm five "sacred" words: "abortion is a fundamental right." Sacred? There is nothing sacred about ripping apart an innocent child just before he or she is born.
This is the Party of Death. And it must be stopped.
We've got new ads in production – and plan to begin airing them this week!
They are aimed at pro-abortion "CATHOLIC" senators that voted FOR this repulsive law.
No surprise: some of our self-professed "Catholic" senators went right along with Schumer. They are radically out of touch with the Church and the American public. It's been said 1,000 times, but how can they continue to call themselves "Catholic" and vote for this monstrous law?
These senators include:
"Catholic" Senator Mark Kelly in Arizona (backed by NARAL)
"Catholic" Senator Catherine Cortez-Masto in Nevada (endorsed by Planned Parenthood)
And then there is "Catholic" Senator Lisa Murkowski in Alaska, who voted NO, but then introduced a new bill to do nearly the same thing, codifying Roe. v. Wade.
We can't deny them Communion. That's not our job. But we can deny them their place in the United States Senate.
Our political team has cited these three races as among the most hotly contested Senate races this November. In fact, the outcome of these three races will likely determine control of the Senate. These senators are hoping nobody will realize what they just did.
Every dollar donated this week will be used to fund as many ads as possible calling on Catholics and every voter with a conscience to hold these senators accountable.
I'll have our new ads to show you tomorrow.
Right now, I need your support to make this happen.
---
Yesterday I published a commentary in RealClearPolitics. As I wrote:
The move reveals Democrats' ultimate endgame – an extreme abortion regime, stripped of all moderation and restraint, beyond what any country has previously decreed.
At CatholicVote, we believe that this bill is so abominable and such an affront to our faith and blight on our nation that the only possible silver lining would be sweeping losses for these senators in the midterm elections.