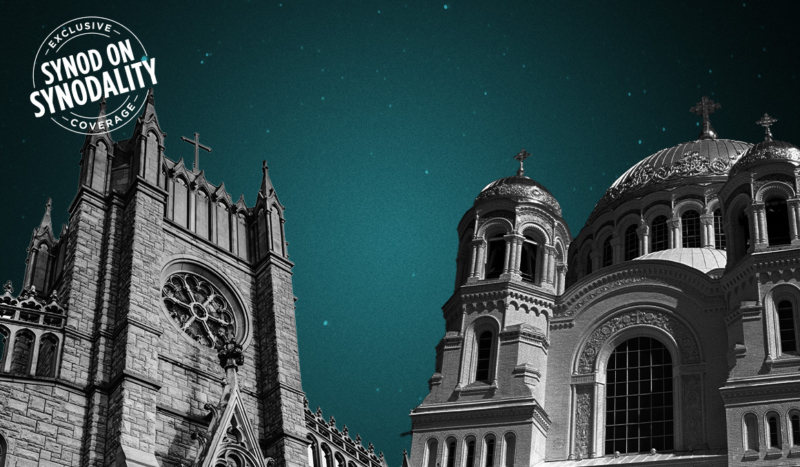 CV NEWS FEED // An Eastern Orthodox delegate to the Synod on Synodality observed that Orthodox practice "differs greatly" from the ongoing Synod on Synodality in a testimony at the synod's General Assembly on October 9. 
Job of Pisidia (born Ihor Wladimir Getcha), an Eastern Orthodox Metropolitan of the Ecumenical Patriarchate, outlined the Orthodox church's historical practice for synods on Monday morning.
"For the Orthodox, synodality corresponds to the practice established by the First Ecumenical Council (the Council of Nicea in 325 A.D.) of gathering the bishops of a region at least twice a year under the presidency of their protos," he explained.
"A synod is a deliberative meeting of bishops, not a consultative clergy-laity assembly," he said.
"In light of this, we could say that the understanding of synodality in the Orthodox Church differs greatly from the definition of synodality given by your present assembly of the Synod of Bishops," he observed.
Job of Pisidia noted that in some cases, however, laity involvement has occurred, including during the Ottoman Empire, in the 17th century in Kiev, and in the modern-day Church of Cyprus.
"[I]n the Church of Cyprus, until today, bishops are elected not exclusively by the episcopate, but also by the clergy and the laity: at the first stage, the entire population of the Island votes from the list of all the candidates, then, in a second step, the synod of bishops chooses one from the three candidates having obtained the majority of votes."
Job of Pisidia says that the laity's involvement in a selection of bishops is a rare case, however.
"Nevertheless, the case of the Church of Cyprus constitutes an exceptional case in contemporary Orthodoxy, where, otherwise, the practice of synodality implies exclusively an assembly of bishops," he clarified. "Thus, the Holy and Great Council (Synod) of the Orthodox Church which gathered in Crete in 2016 was made up of 162 delegated bishops, while the 62 advisors (clergy, monastics and laity) that were present did not have the right neither to speak, nor to vote."
"It is through this practice of synodality, as described by the Apostolic Canons and the canons of the First Ecumenical Council, that the Orthodox Church has been administered over the centuries until the present day," he added, continuing, "although the frequency and constitution of the synods may vary from one local autocephalous Church to another."