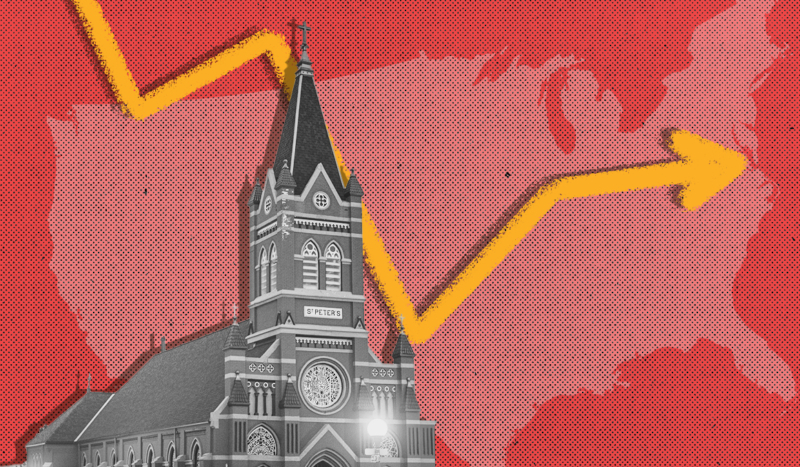 CV NEWS FEED // Ryan Burge, a political scientist and statistician, analyzed data that revealed Catholicism's decline in northern states that he said were once "Catholic strongholds," and showed increases in southern states.
According to Burge's analysis, published on October 12 of this year, there are over 60 million Catholics in the United States. Since 2008, Catholicism has declined in Massachusetts, Pennsylvania, and Connecticut but has grown in the south.
"The Catholic population in the United States has grown by about 2 million people in the past 10 years. Much of that growth has been concentrated in the South — today, the South has more Catholics than any other region. Fifty years ago, 71% of U.S. Catholics were in the Northeast and Midwest; in 2020, 45% were," reported Jonah McKeown in the Catholic Times on January 1, 2023.
According to Burge, since 2008, Catholicism in Massachusetts has declined an average of 11%, and in Connecticut, it has declined by 16%.
In New Haven, CT, too few priests and shrinking numbers of parishioners led to eight churches merging to form one, "to create a stronger, more unified parish that can help spread the Catholic faith in New Haven."
In several Pennsylvania counties, Catholicism has declined by 11% or more since 2010 to 2020. One southeastern county saw, since 2010 to 2020, a 17% decline in Catholicism.
"In Philadelphia and the surrounding suburbs, the Catholic Church has lost tens of thousands of members," Burge wrote.
The diocese of Erie, PA, announced that 30 parishes will partner or merge by next summer in response to a decline in mass attendance, which has decreased 45% since 2010.
Burge noted that while many northern states are declining in Catholic residents, southern states, such as Florida, are seeing the opposite. He wrote,
There were 42 counties in the state that saw an increase in the share that are Catholic – that's certainly a counter narrative when it comes to the decline of the Church. Additionally, another 17 counties reported no substantial change in the share that were Catholic. That means that almost all of Florida saw an increase in Catholicism.
Other states, such as Texas, Arizona, and New Mexico, also increased in Catholicism, Burge noted.
Due to the increase in certain states, and the sharp decline in formerly-Catholic stronghold states, Burge said that the Church's trajectory in the U.S. is "definitely inconsistent."
Burge concluded that the Catholic Church in the United States "certainly faces challenges going forward in regard to worship, theology, race, politics, and regionalism."
"But for Catholics," he added, "this data provides an incredibly mixed portrait. Reasons for hope and reasons for despair. That seems to be where most of the data about American religion is pointing to right now, as well."