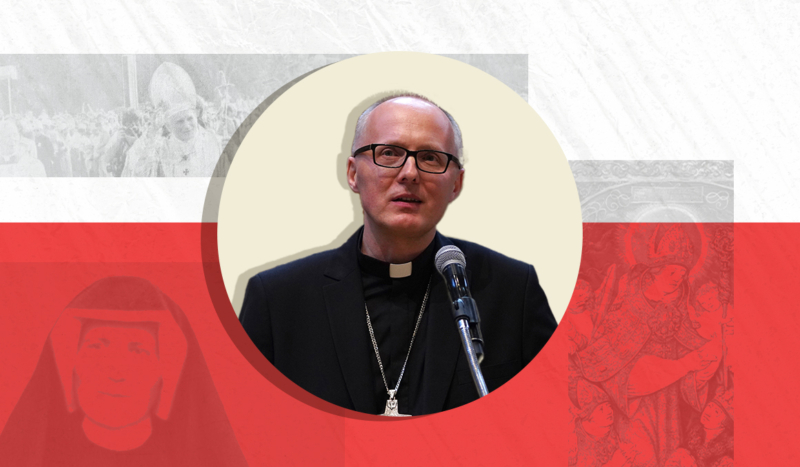 CV NEWS FEED // The new auxiliary bishop of Los Angeles, Bishop Slawomir Szkredka, shared his devotion to prominent Polish saints, several of whom have feast days in October. 
Szkredka began his ministry as auxiliary bishop by calling upon three Polish saints. For his episcopal ordination mass on September 26, he personally selected several Polish saints for the Litany of the Saints, including St. John Paul II, St. Faustina Kowalska, and St. Stanislaus.
Szkredka, born in 1974, grew up in Bielsko-Biała, a city in southern Poland. His home parish is named after St. Stanislaus, a bishop of Kraków who was martyred in the 11th century.
The feast days of both St. John Paul II, on October 22, and St. Faustina Kowalska, on October 5, occurred during his first month as auxiliary bishop. 
"I feel a strong connection with all three of them," Szkredka told CatholicVote. "St. Stanislaus, bishop and martyr, is the patron saint of my home parish in Bielsko-Biała, Poland. The scenes from his life adorning the walls and the main altar of my home parish, a gothic church, are etched in my memory. St. John Paul II was the pope during my childhood, youth, and the first years of priesthood. St. Faustina and the devotion to Divine Mercy have been integral to my spiritual journey for many years."
Szkredka spent the first four years studying to be a priest at the same seminary in Kraków where Karol Wojtyla, who later became Pope St. John Paul II, studied. He then transferred to a seminary in Michigan. He went on to earn a Master's degree in philosophy and a PhD in Religious Studies in the U.S.
In 2008, Szkredka was asked to study at the Pontifical Biblical Institute in Rome. While in Rome, Szkredka attended the beatification and canonization of Pope St. John Paul II. He returned to LA in 2015 after earning a Doctor of Sacred Scripture degree.
He learned of his appointment as auxiliary bishop of Los Angeles while he was in Poland on a walking pilgrimage to the shrine of Our Lady of Czestochowa. The shrine houses a painting that is associated with many miracles. The painting is traditionally credited to St. Luke the Evangelist and was brought to Poland in 1382. 
When asked about what part of St. John Paul II's life had the biggest impact on Szkredka, he began, "St. John Paul II was a priest, poet, sportsman, philosopher, statesman, actor, and professor of ethics. He had a rich personality and wide-ranging interests."
He added, "However, for me, the most impactful aspect of his character was his prayer life. He was able to ground all his activities in a living relationship with God. The depth of his intimacy with God was noticeable to those around him."
Father Miroslaw Frankowski, a pastor in LA and friend of Szkredka, also admired St. John Paul II. He told Angelus News, "Those who had a vocation in those days, we are all inspired by the teaching, the posture, the personality, the leadership of John Paul… We all wanted to be like him."
Frankowski recalled that while living in Poland under communism, "we had to be very strong in preserving our faith, because everybody wanted to destroy the faith."
St. John Paul II actively opposed communism throughout his pontificate. His first pilgrimage to Poland as pope is credited as a major turning point in the downfall of communism in Poland. 
"[John Paul II] was our national hero in some sense," Szkredka told Angelus News. "Everyone was convinced that he was a 'living saint,' as we would call him. And I think that's what impressed me the most, his authenticity, his holiness."
Szkredka also grew up with a devotion to St. Faustina Kowalska, who recorded her conversations with Jesus in a famous diary, which promulgated the image of the Divine Mercy. 
He first came across St. Faustina's diary as a teenager. "While reading it, I learned that Sister Faustina was going to be beatified." He explained that he decided to visit her tomb in Kraków the day of her beatification in 1993. 
"I would pray there [at her tomb] on many other occasions, seeking her help," Szkredka recalled. "I have found her to be a powerful intercessor."
"During my theology studies, I gained a deeper appreciation for her message," he said. "Her emphasis on Divine Mercy brings us to the heart of the Gospel."