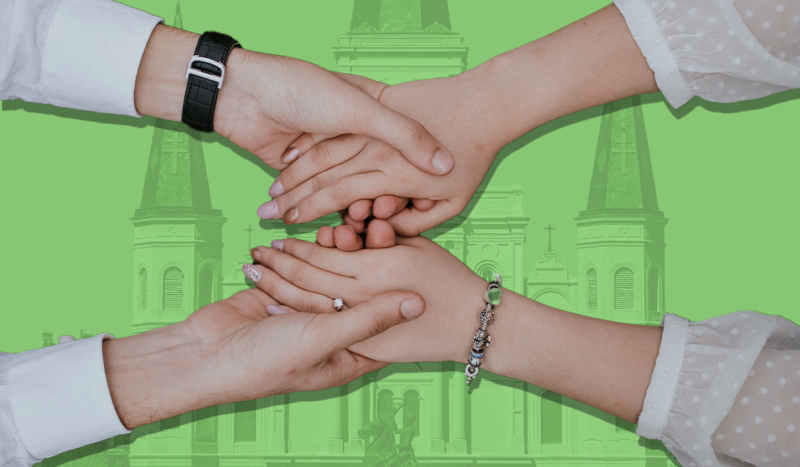 CV NEWS FEED // Recognizing the crucial role marriage has at every level of society, marriage ministries such as the Domestic Church Movement and Communio are working to equip husbands and wives with spiritual resources to strengthen their marriages. 
As an international ministry, Domestic Church Movement partners with parishes to provide married couples with resources to learn to better pray and communicate with one another, especially by practicing a "rule of life."
"It's probably one of the most important things we can do in the life of the church. If couples in our diocese are strong, the life of the church in the diocese will be strong," one participant, Chris O'Neill, told the New Orleans diocesan newspaper Clarion Herald. 
J.P. De Gance, the president of Communio, another marriage ministry, shared similar insight about the correlation between healthy marriages and church attendance.
De Gance recently published an extensive study on faith and marriage that found that 80% of church attendees come from two-parent households. He told CatholicVote, "the entire collapse of the Catholic faith in the United States is wrapped up in the collapse of resident fatherhood. And that is the bad fruit of the collapse of marriage."
The Domestic Church Movement hosts yearly retreats for couples, and local organizational meetings, called circles, to provide attendees with a helpful "rule of life" to follow.
The "rule of life" is a part of Catholic tradition that dates back all the way back to the Desert Fathers in the third century AD. Perhaps the most famous rule of life is St. Benedict's, created about fifteen hundred years ago for the monks who lived with St. Benedict. Put simply, a rule of life is a structure of daily spiritual disciplines to help a community, monastic or familial, orient the day toward God.
In a Domestic Church circle, couples make a commitment to "daily individual prayer, Scripture study, couple prayer, family prayer, a monthly married couple dialog that results in positive changes for their family's 'rule of life' and attending a yearly retreat as a Domestic Church couple or as a family," Timmy McCaffery, director of the Catholic Charismatic Renewal of New Orleans, told Clarion Herald.
"Each circle has a priest chaplain, offering a fatherly presence and spiritual direction. It also gives priests direct insight to family life," McCaffery added. McCaffery and his wife are active participants in their local Domestic Church circle.
"[Domestic Church] unified us spiritually (in Christ) as a couple and eventually as a family in a way we weren't able to do," McCaffery said. "It takes time and work, but in the end, as the work is done … it guides the conversation in the home and child raising and builds true unity which helps families move forward in faith."
Venerable Fr. Franciszek founded the Domestic Church Movement in the early 1970's with the help of his friend and local bishop, Karol Wojtyla, who later became St. Pope John Paul II.
Currently, there are more than 13,000 couples in the Domestic Church Movement in Poland and more than 5,000 around the world.
Twelve dioceses in six states work with Domestic Church Movement. The first retreat in the United States was in Louisiana in 2011. Since then, Louisiana has grown to be the largest Domestic Church movement in the United States.
The term "Domestic Church" comes from the Catechism of the Catholic Church (CCC), which states, "In our own time, in a world often alien and even hostile to faith, believing families are of primary importance as centers of living, radiant faith. For this reason, the Second Vatican Council, using an ancient expression, calls the family the ecclesia domestica [the domestic church]" (CCC. 1656). 
Despite the Church's continual emphasis on the importance of family life, De Gance told CatholicVote, "There's a cognitive disconnect in church life, which is, almost every priest and bishop will tell you that the family is the building block for church and society, and that idea is held, at the same time, where we spend almost no money and resources on marriage and relationship ministry."
Eight-two percent of Catholic parishes, and 85% of all churches in America, reported spending zero dollars each year on marriage and relationship ministry, according to a separate study De Gance conducted.
De Gance continued, "We need to have congruency between what we know to be true–that marriage and the family are the fundamental building block for society and the Church–and therefore, our ministry and our dollar should reflect that."
Communio works with parishes and churches to encourage the renewal of family life and marriages. In 2021, Communio partnered with the archdiocese of Kansas City. Within a year, the archdiocese' newspaper reported the ministry was already showing "positive, tangible results."
Ministries like Domestic Church Movement and Communio are growing across the U.S. to help save and improve marriages. For more information about Domestic Church Movement retreats, click here.