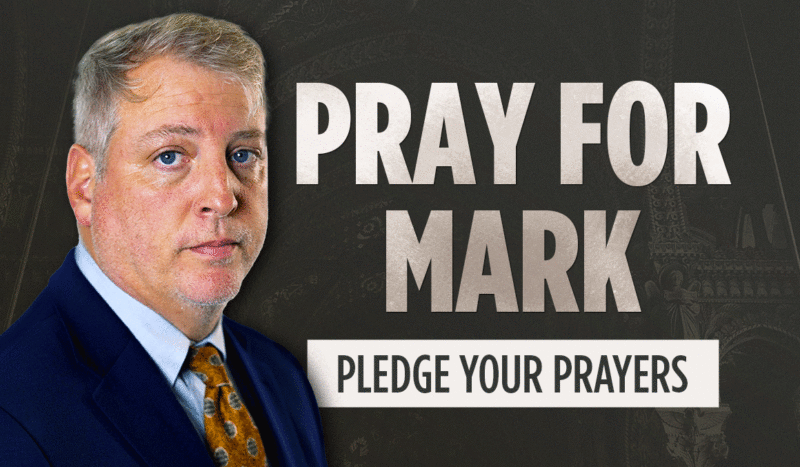 "No deal."
That was Mark Houck's response when the Department of Justice offered him a "get out of jail free card" if he would only plead guilty to a crime he didn't commit.
Not only did Mark refuse to bend the knee, but now he's going on the offense to hold the FBI accountable for its malicious and retaliatory prosecution of American pro-lifers and Catholics.
He's suing the Biden administration's entire Department of Justice.
This is David v. Goliath all over again.
>> SEND MARK A MESSAGE OF SUPPORT! <<
Just over a year ago, Mark was arrested at gunpoint by dozens of agents in front of his weeping children. And the Houcks headed into the holidays facing the possibility of losing their dad for eleven years to a federal prison.
Mark recently told me how much their spirits were lifted last year knowing that across the country the people of CatholicVote were voting them "Hero of the Year." That's you he's talking about. That kind of solidarity and brotherly support you offered the Houcks is something money can't buy – it is the palpable grace of God at work to encourage a family suffering for the truth.
And that's why I'm asking you to pray for Mark and his family one more time.
I'll be frank.
This is an uphill battle.
After all, who wants to sue federal law enforcement agencies? Not only is it intimidating… it's not exactly easy to win.
But that doesn't mean the fight isn't worth it.
Together, you and I have been supporting Mark all the way. And we both know that they could really use your prayers and the might of the heavenly host in this battle.
>> PLEDGE YOUR PRAYERS FOR MARK TODAY <<
It takes enormous courage and grace to fight back when it would be so much easier to just let the sleeping dogs lie. Take the win in court. Move on.
But the Houcks are doing this for us.
Will you join us in prayer for them?
P.S. When you pledge your prayers, you'll see an option to leave a personal message for Mark or his wife, Ryan-Marie. I'll be collecting these to share with Mark – let's give them a real boost going into the Advent and Christmas seasons!