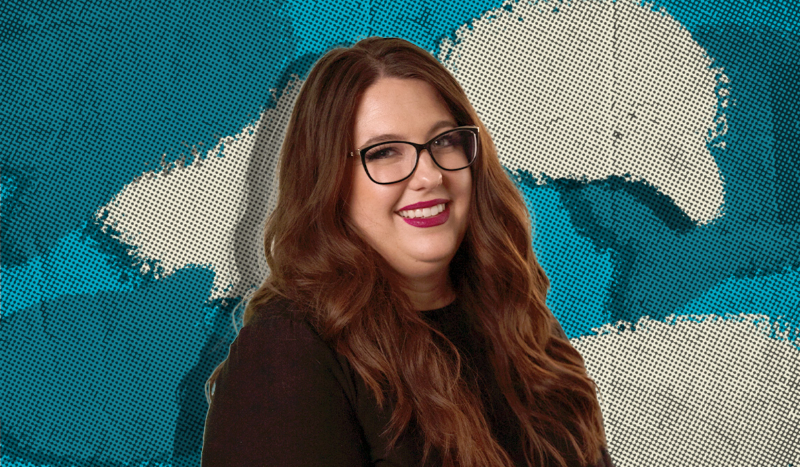 CV NEWS FEED // Students For Life America (SFLA) President Kristan Hawkins shared her experience of announcing the fall of Roe v. Wade, as well as her thoughts on how the pro-life movement can win over Generation Z.
Hawkins, a Catholic convert and longtime pro-life icon, chronicled the events that led up to the unveiling of the Dobbs decision in June of last year. She said that the night before, "all the signs were there [the ruling] was coming down."
"I was not supposed to be in D.C.," she recounted:
I was supposed to come in later that night. Four booked flights later, canceled flights, me driving four hours, barely making my flight, I'm up all night going from Salt Lake City to D.C. I'm up writing an email to our supporters telling what's happening.
Hawkins said she wanted to ensure "that the moment the decision came down, America would see joyful, smiling young women celebrating."
"I knew the shot that the media was going to try to paint," she said. "I was not going to allow that because that is the shot we know will be in history books forever."
The SFLA president added that "it was not planned who was going to read the decision."
My VP, Tina [Whittington], hands me her phone and says, "Read it now." And I had no idea what it said. And I start reading, our cameraman gets assaulted, CNN, FOX News, all those cameras push at me… It was a very surreal moment.
She said that having the chance to read the decision gave her "a lot of personal responsibility."
"I'm there, standing on the shoulders of giants, saints in heaven," Hawkins said. "All these people who sacrificed for so long who got us to that point."
The pro-life activist said she realized that Dobbs "isn't the end game," however. "Now it's this generation, the people that I'm training, that are responsible for carrying this on."
Hawkins gave a shout-out to Lydia Taylor, a 20-year-old pro-life activist she is mentoring. A few weeks ago, Taylor led a peaceful protest against a pro-abortion speech Vice President Kamala Harris gave at a North Carolina university. While witnessing for the unborn, Taylor and her fellow SFLA protestors were repeatedly accosted by a mob of pro-abortion activists.
Hawkins calls her young mentees "the pro-life generation" and is confident that if the movement puts in the requisite work, Generation Z can be won over to the cause of life.
"Keep speaking truth," she urged when asked about the best way to change the hearts and minds of young Americans.
She also stressed the importance of talking "about the critical appeal of families" when making the case for life to Generation Z. "They understand the important role families play. Keep speaking fundamental truths that we all know – that families matter, moms and dads matter."
Hawkins believes that doing all this would "eliminate the need for abortion" in the minds of young people.
Hawkins spoke Tuesday at the Women's Help Center Gala for Life in St. Augustine, FL, where she was received with a massive standing ovation for her continued efforts in securing a right to life for the unborn.
In her speech, she compared the pro-life movement's fight against the abortion lobby to the Biblical account of David and Goliath in the First Book of Samuel. "Be David-like," she encouraged the hundreds in the crowd.
She said people have a false impression that "Davids" face one-in-a-million odds when up against "Goliaths." This is not true, she pointed out, referencing the book The Tipping Point by Malcolm Gladwell. In fact, "Davids" win 60% of the time, but only if certain conditions are met.
For the pro-life "David" to defeat the pro-abortion "Goliath," the movement has to be "willing to believe," she said. She mentioned that years ago, many had thought Roe being overturned in the first place was "impossible."
The movement must be "undeterred" and able to "substitute effort for ability," she said. And finally, pro-lifers have to be "innovative" and willing to "think of a different approach."
Hawkins made another analogy to make her point. In the 19th century, engineers in the Alps decided to build train tracks connecting the cities of Vienna and Venice – despite the fact a steam engine able to navigate the steep and perilous mountain terrain had yet to be invented.
However, years after the tracks were completed, the engine was eventually built.
She said the joyous moment she unveiled the Dobbs decision was when, after many decades of hard work and perseverance, the metaphorical "train" was finally completed.
"And now we begin the journey," she said.
The Women's Help Center has three locations in Northeast Florida – two in Jacksonville and one in Callahan. It is the only pro-life pregnancy resource center in the region to be located adjacent to an abortion facility.
Executive Director Nancy Basham described the center as "the last line of defense between life and death."
"We fight, we get beat, we rise, we fight again," Hawkins declared. "We will not go away, we are always undeterred."
For more information on the Women's Help Center, click here.

To learn more about Kristan Hawkins and her Unapologetically Pro-Life mission, click here.