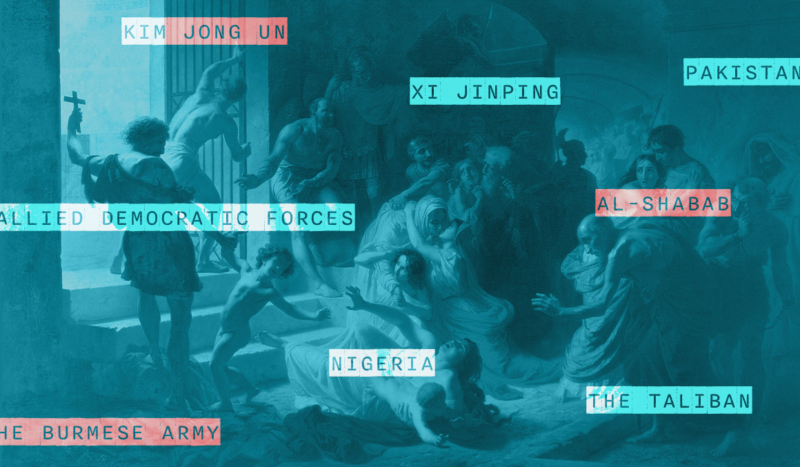 This week, International Christian Concern released its 2023 Persecutors of The Year report, an 88-page document highlighting perpetrators of religious persecution worldwide.
"We expose the evils of the persecutors in this report to awaken the West and encourage legislators to take action against those that jail, torture, and assassinate individuals for their religious beliefs," said Jeff King, president of the ICC, an international advocacy group. "The 2023 Persecutors of the Year Report is a resource designed to support and protect Christians regardless of denomination or sect, but it also supports all religious peoples that are denied their God-given right to religious freedom."
The report profiled what the ICC deemed the worst persecutors, including countries such as North Korea and groups such as the Allied Democratic Forces, a group in the Democratic Republic of Congo; Al-Shabab, a Sunni-Muslim militant group; Fulani Militants, a terrorist organization in the Middle East, and many others.
Individual persecutors, according to the report, included Yogi Adityanath, chief minister of Uttar, Xi Jinping, president of China, and Kim Jong Un, the Supreme Leader of North Korea.
The report noted two major areas of concern this year: Pakistan and Nigeria, where thousands of Christians continued to suffer persecution at the hands of Muslims.
In Pakistan, a group of 5,000 Muslims burned down over a dozen churches and attacked hundreds of Christians' homes.
Governments and media outlets frequently use the ICC's reports to understand the religious freedom crises happening abroad.
"Across the globe, our brothers and sisters can be imprisoned or killed simply for identifying as a follower of Jesus. They are legally prevented from telling others about their faith, and anti-conversion and blasphemy laws are used to falsely charge Christians with crimes," said King.
ICC provided examples of how Christians are responding to persecution, sharing their stories within the report in order to highlight the suffering individuals continue to endure.
"We also want to shed light on how the Lord is working through the lives of the persecuted," says King. "After 20 years at the helm of International Christian Concern (ICC), I am inspired by the courage of Christians on the geographical fringes of our faith. They boldly witness and stand up to the persecutor. They are the very engine of the worldwide church. Our 'glimmer of hope' section highlights their stories and the growth of the underground church."