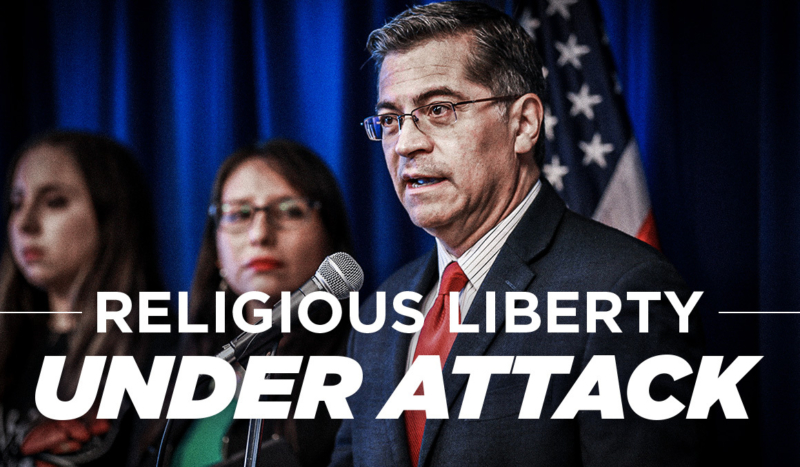 Remember when health care workers were heroes?
Then they had to face potentially career-ending vax mandates.
And now, on top of it all, they might lose their First Amendment rights too!
Health and Human Services (HHS) Secretary Xavier Becerra is moving forward with a plan to erase Trump-era religious freedom protections for health care workers.
TIME FOR ACTION: Use the CatholicVote Action Center to contact your senators and your representative in Congress.
Tell them: Stop the Gutting of the Office of Civil Rights at HHS
As you likely know, Catholic health care workers and Catholic hospitals were already facing attacks on their religious freedom and conscience rights in the first place.
That's why the Trump administration established the Office of Civil Rights at HHS, to investigate attacks on the religious liberty of health care professionals.
In 2019, the HHS Office of Civil Rights put the University of Vermont Medical Center on notice after several nurses reported being forced to help with abortions against their moral objections. Roger Severino, who once led the OCR, said at the time: "Our investigation has uncovered serious discrimination by UVMMC against nurses and staff who cannot, in good conscience, assist in elective abortions."
But according to news reports, a recent internal memo at HHS shows that this crucial step to ensure First Amendment rights is on the chopping block under Secretary Xavier Becerra.
We warned the Senate not to confirm Becerra, who has a long record of pro-abortion radicalism. His record on religious liberty was so bad when he was attorney general of California that he was repeatedly smacked down by the Supreme Court.
It's time to stop him again.
And we don't have to wait on the Supreme Court.
If we create enough heat in Congress, Becerra's latest attack can be slowed down or halted.
Please take just a few moments to contact your representatives in Congress.
Tell them: Stop the Gutting of the Office of Civil Rights at HHS
Politicians were quick to call our health care workers "heroes."
The least they can do is protect their First Amendment rights.