CV NEWS FEED // If you feel safe enough from the virus and you want to work, move to a red state. If you want to stay masked-up indoors and depend on government bailouts to pay your bills, move to a blue state.
Statistically, this is the picture that has emerged more clearly with each passing month of the Covid-19 pandemic. New data from the Bureau of Labor Statistics now shows that Republican-led states are recovering jobs faster and are seeing lower unemployment rates than Democrat-run states from the start of the pandemic through the end of last month.
According to an analysis of these numbers that the Republican National Committee published Aug. 20 on its website, 16 of the top 20 states for jobs recovered since the pandemic hit are led by Republican governors. Additionally, the 10 states with the lowest unemployment rates for July are all led by Republicans.
"Red states are leading the way in getting Americans back on the job, while blue states continue to pay Americans not to work," the RNC analysis concluded, referring to the different attitudes of governors toward extending federal relief benefits.
The analysis includes a comparison of Covid-19 job losses, jobs recovered through July, and the percentage of lost jobs recovered. Nathan Brand, RNC deputy communications director, tweeted out the following two tables showing the top states for pandemic job recovery and the top states for unemployment through July: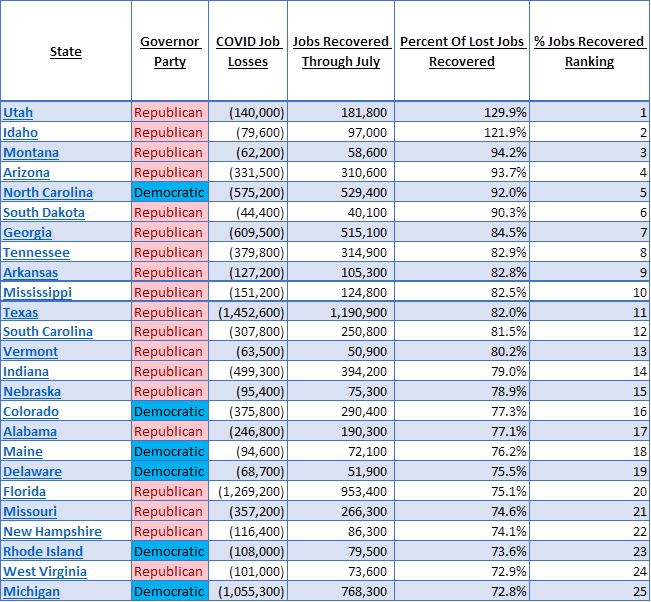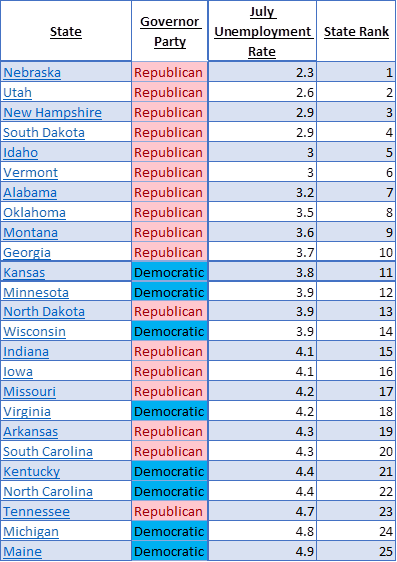 Notably, the two largest red states of Texas and Florida both appear on the first list, despite constant national media criticism of their popular governors Greg Abbott and Ron DeSantis for their handling of the pandemic.
But neither list mentions the two largest blue states of California and New York, where the unpopular Gavin Newsom faces a recall vote in a few weeks and former pandemic media darling Andrew Cuomo recently resigned in disgrace. Both California and New York have implemented highly restrictive health policies, forcing businesses to close and driving mass waves of migration from California to Texas and from New York to Florida.
But both New York (second worst) and California (fourth worst) do appear in the bottom ten states for unemployment, all of which are blue states.
The RNC analysis also noted that the average unemployment rate for the nation's 27 states with GOP governors is just 4.3 percent; Democrat-led states have an average unemployment rate 1.6 percentage points higher at 5.9 percent; and the unemployment rates in GOP-led Nebraska, South Dakota, and Montana are lower than or at the same level they were when the pandemic began
New York and California also rank in the bottom ten for job recovery since the pandemic started, as follows.
The RNC analysis further noted that the top four states for jobs recovered are all led by Republicans; 25 out of the 27 Republican-led states gained jobs in the last month; the GOP-run states of Idaho and Utah have more jobs than when the pandemic hit; 23 Republican-led states have recovered at least two-thirds of their lost jobs; 13 Democrat-run states have recovered at least two-thirds of their jobs lost; and the three Democrat-run states of Louisiana, New Mexico, and Hawaii have failed to recover even half the jobs lost due to the coronavirus pandemic.
Meanwhile, USA Today reports that red states are ending the federal unemployment benefits earlier than blue states, to motivate people to get back to work.
The RNC analysis said at least 25 Republican-led states have announced they will stop paying Americans extra money not to work, and 24 of them have already done so.
"The extra benefits are discouraging people from looking for work, with unfilled job openings at a record high," the RNC analysis said.
The analysis cited several recent statistics to support this claim, including a Morning Consult poll that showed "1.8 million out-of-work Americans have turned down jobs" because the federal unemployment payments are too high. Also, a July survey of small businesses showed 63 percent are hiring yet 89 percent of those small businesses said there were few or no "qualified job applicants."
Finally, another July survey showed that about 53 percent of small and medium-sized businesses missed out on revenue opportunities due to staffing issues, causing them to lose money and raise prices after an 11 percent revenue drop for many of them.
"American workers, families, and small businesses are paying more for "just about everything," yet Biden and Democrats want to slam Americans with even more reckless taxes and spending, the RNC analysis said. "Rapidly rising prices for everyday goods have completely swamped any wage growth, with paychecks actually shrinking last month when inflation is factored in."
These numbers reflect not only the different approaches to Covid-19, with Democrats favoring stricter health measures and broader government deficit spending than Republicans, who favor letting individuals make their own decisions about masks and vaccines while getting back to work. They also illustrate the strong divisions among U.S. citizens, who tend to prefer or at least receive one of the two approaches, depending on the political majorities in their home states.

Photo by Enrique Macias on Unsplash