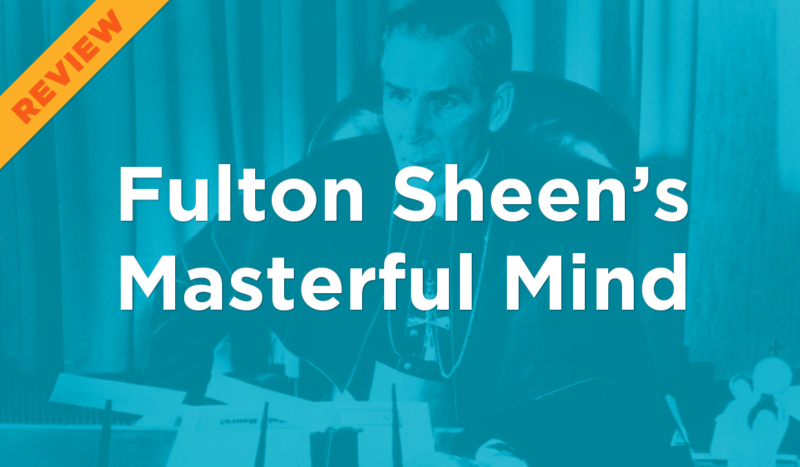 A review of War and Peace: An Anthology, by Ven. Fulton Sheen, ed. Al Smith
"Hold fast to your God, your Faith, your Church. The time is now five minutes to twelve. We are in the valley of decision."

Venerable Fulton Sheen
War and Peace (Sophia Institute Press, 2022) showcases Archbishop Fulton Sheen's Catholic Hour radio addresses, portions of his many books, and short essays from the darkest days of World War II (1941 – 1945).
The anthology is more than just a history buff's dream or a Sheen-groupie must-have. The selection captures the arch of the archbishop's central argument –and lifelong project – against Communism and the corruption of the West and his relentless call to repentance, prayer, and the divine path to victory.
Given the radio-address form, the selections are short, readable, and eminently quotable. Al Smith, the book's editor, has laboriously identified and cited the hundreds of quotes Sheen used in his addresses – making this the perfect resource for students and biographers of Sheen.
Relevant Today
While video footage of Sheen – with his dramatic gestures, long capes, and stilted, Mid-Atlantic accent – tends to exacerbate the historical distance between him and us, reading him makes his thoughts absolutely present and relevant to our current American landscape.
In "The Four Columns," a radio address given in 1941 Sheen spoke to a nation on the brink of war. Even as the United States was officially trying to stay out of the conflict in Europe, Americans were increasingly aware that it was only a matter of time before war was upon them.
Sheen saw this, too, but reminded his listeners that "the graver danger facing individuals and nations is from within rather than from without." America's greatest threat was not Germany, Japan, or even the Soviet Union – it was the moral rot in the hearts of Americans themselves.
He saw – even in the 1940's – that America was beset by an interior decay. He also saw the cause:
"[I]f we had not adopted the stupid moral philosophy that freedom means the right to do what we please, even to destroy freedom," America would fear no external threat from a "Fifth Column." 
The Central Threat to America
He then incisively walks his listeners through what he calls the "Four Columns" that constitute the central danger to America – but also to any civilization or nation in history.
The first column is a cohort of "educators and philosophers who reject a universal norm of morality" in favor of "personal morality" or relativism. They are joined by the second column, those who abuse the capitalist system not only by perpetuating injustice against workers, but also by promoting "anti-Semitism, anti-Catholicism, bigotry, atheism, and immorality" and "slaughter souls." (Sound familiar?)
The third column is reserved for the lawyers, judges, and teachers "who by divorcing civil authority from the dependence on the law of God, make law only an instrument for action." In other words, a majority of "public servants" who see law only as a political instrument for maintaining power, rather than as a rule of reason by which human beings can flourish in community.
Finally, and perhaps most relevant to us today, the fourth column of civilizational decline are those who "adhere to the philosophy of 'self-expression' and reject the necessity of discipline, authority, and self-sacrifice." 
Self-Expression & Selfishness
We see the idol of "self-expression" today in extreme manifestations that Sheen may never have envisioned – children's drag shows, Pride parades, and pro-abortion demonstrations in the 2022 "Summer of Rage." The choice between the way of the world and the way of God may be even starker now than it was in 1942, but his articulation of that choice is spot-on.
"The 'things of God' imply a cross as a prelude to glory. The 'things that are of men' on the contrary, seek to avoid the cross, to escape the law of sacrifice, or, in the language of the modern psychologists, they seek to be 'self-expressive' – which is less euphemistic language means 'selfishness.' That to our Divine Lord is 'scandalous.'"
He pinpoints the key to America's internal threat as a growing belief that Americans "should get everything for nothing… and still have a right to complain about the quality."
For Sheen, a nation that prizes self-expression over sacrifice and entitlement over service is a nation already engaged in its own self-destruction.
But all is not lost. 
The Way of Peace
Sheen follows his every condemnation of modernity's lies with better option. His utter confidence in Christ, the Church, and the ability of people of goodwill to choose the good thereby infuses the entire anthology with an iron-clad joy.
Yes, we are in a war. And we have the peace of Christ.
The final section includes Sheen's short book Seven Pillars of Peace, which he wrote in 1944 in anticipation of the fall of Nazism. He lays down seven conditions for world peace accessible not only to Catholics but to all men of goodwill.
Sheen's prescriptions are infused with a healthy Thomistic understanding of the role of law and government in human flourishing, as well as the need for reason to set down guardrails against the human tendency to be selfish. His genius, of course, is not so much in any originality as in his ability to communicate those principles in a fresh, new way accessible to all.
His work is a profound testament to two pillars of peace: man's need to be ruled by principle and a true respect for the role of religion in the public square. Catholics working in public policy should take both encouragement and formation from his analysis of the ills plaguing American society.
Signs of Hope
In a way, given that 80 years ago Sheen was already lamenting generations of immorality and hatred of God, it's surprising that America is still functioning at all in the mid 21st-century.
Had no one heeded his warnings or taken to heart his prescriptions for renewing America, we would certainly be in much worse straits now.
Since Sheen's heyday, however, America has seen signs of hope and renewal. An entire pro-life movement was born in reaction to Roe vs. Wade, struggled valiantly for 50 years, and finally won victory through legal means in the 2022 Dobbs decision. Education, while clearly a disaster in many state schools, has also seen a renewal in the rise of homeschooling and a robust renaissance of classical learning. 
Even as Sheen's warnings are still absolutely relevant, it is also clear that many Americans – including Catholics – are not just circling the wagons in despair but actively building a civilization of peace. 
War and Peace is a must-have for every Catholic home and should be a go-to resource for Catholics active in public service, education, and journalism.
---