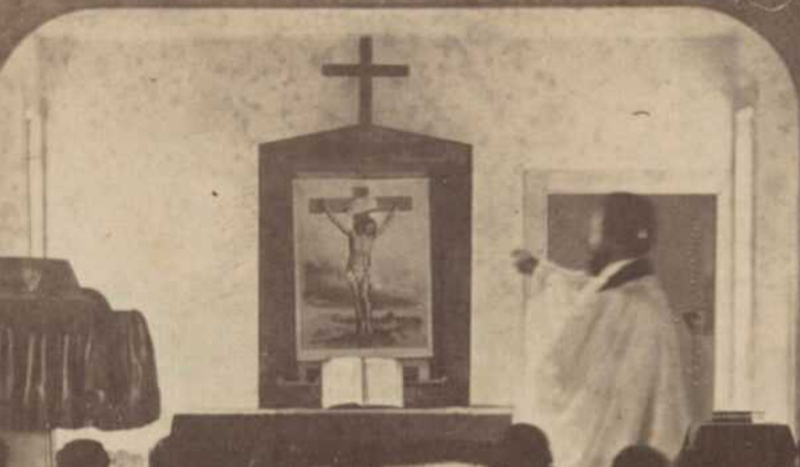 CV NEWS FEED // Father Pascal Salisbury, the first African-American Dominican priest in the United States, passed away at the age of 95 this past August.
Donald Salisbury, who later took the name Father Pascal Salisbury, was a priest for 56 years and served as a hospital chaplain, where he ministered at many hospitals, hearing confessions and giving last rites.
He was born in Kansas on June 6, 1928. Just two generations before him, his grandfather, George Salisbury, was born into slavery in Missouri. On New Year's Day in 1865, George's owner set him free. George moved to Kansas, married, and had 14 children.
Donald Salisbury joined the Catholic Church after many years as a Protestant. He became a priest at age 39.
His conversion was inspired in part by organ music and by Bishop Fulton Sheen's radio program, "The Catholic Hour," but an experience in the military served as the catalyst for Salisbury's conversion.
After graduating from Liberty Memorial High School in 1946, he enlisted in the Army, which was segregated at the time. He later joined the Air Force and was eventually promoted to staff sergeant.
Salisbury played the organ during Protestant services at his Air Force base chapel and sometimes practiced in the Catholic chapel, where he got to know the Catholic chaplain, and eventually began playing at Mass.
Salisbury's friend, Father Joseph Sergott, told Oregon Live that Salisbury's "experience playing the organ for Mass went deep within. He became Catholic. He was proud of his Catholic faith and eager to live it."
Salisbury eventually left the Air Force to study business at the University of San Francisco. He graduated second in his class in 1957.
After converting to Catholicism, Salisbury "sang in the choir at St. Dominic's Church and began to discern a call to priesthood. He attempted to enter many religious communities, but because of [racial] discrimination, he was turned down or told to become a lay brother. His desire was finally realized when he was admitted to the Dominican Order on the West Coast," according to his obituary.
Salisbury "was openly discouraged from following what he felt in his heart. Back in the day, people were not comfortable with the idea of a Black priest. They told him, 'You don't really want to do that. There's plenty of other things for you to do.' Basically, it was a 'no' because he was Black," Sergott told Oregon Live.
Salisbury persevered and continued to pursue the priesthood. In 1961, he applied and was accepted into the Western Province of the Dominicans. He was ordained a priest six years later, becoming the first African-American priest of the U.S. Dominican Order.
He served as a hospital chaplain at a number of hospitals.
Sergott told Oregon Live, "As a hospital chaplain, [Salisbury] sat by the bedside of many people who were on their deathbed. He was the one who anointed them, heard their confession, gave them the Holy Eucharist, reassured them. Probably the last thing they saw on Earth was the smiling face of Father Paschal, in total reassurance that they would be OK on the other side."
Salisbury retired in 2008 and moved to Portland to the Holy Rosary Catholic Church, where he grew tomatoes, celebrated Mass, and heard confessions. He is especially remembered for his devotion to the priesthood, his kindness, and his talent for gardening and music.