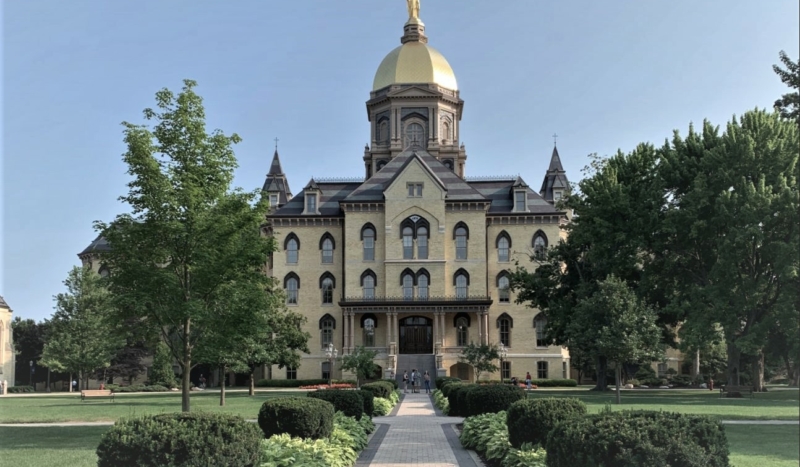 CV NEWS FEED // After serving nearly 19 years as Notre Dame University's president, Fr. John Jenkins, C.S.C., will resign at the end of the 2023-2024 academic year, prompting many to reflect on his legacy.
Jenkins became president of the university in 2005 after serving as a member of the Notre Dame Department of Philosophy since 1990. He will return to the department following his resignation, according to the university's press release.
"Serving as president of Notre Dame for me, as a Holy Cross priest, has been both a privilege and a calling. While I am proud of the accomplishments of past years, I am above all grateful for the Trustees, benefactors, faculty, staff, students, alumni and friends who made them possible," Jenkins said in his statement.
"There is much to celebrate now, but I believe Notre Dame's best years lie ahead," he added.
Although Jenkins' rise to the position signaled an attempt by the university to strengthen its original Catholic identity, many remain dubious of his legacy, according to an article published by the university's student-run paper, The Irish Rover.
"Fr. Jenkins' presidency has not been without its controversies," the article noted, "as all sides of the political spectrum have criticized him at different moments in his tenure."
Citing the 2008 decision to invite President Barack Obama as commencement speaker, as well as the university's 2018 decision to cover "simple contraceptives" in their insurance, the article calls attention to left-leaning policies made during Jenkins' tenure.
In December 2022, however, Fr. Jenkins responded to an article in the Chicago Tribune by two Notre Dame professors who advocated for abortion access.
"I write to state unequivocally that their essay does not reflect the views and values of the University of Notre Dame in its tone, arguments or assertions," he wrote.
In the most recent controversy, Jenkins defended allowing a drag show on campus, citing "academic freedom" as grounds for allowing the performance.
"We defend [academic] freedom even when the content of the presentation is objectionable to some or even many. The event you reference is part of a one-credit course in Film, Television and Theater on the history of drag, and the principle of academic freedom applies," he said in a statement.