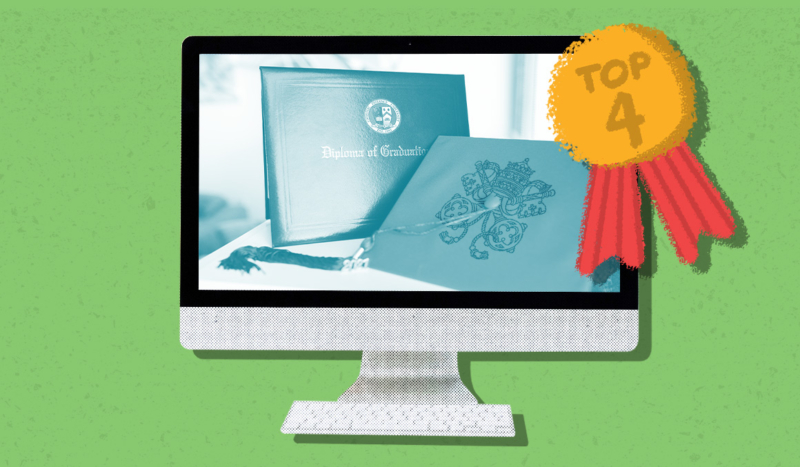 CV NEWS FEED // A remote degree program inspired by Pope St. John Paul II recently received a top rating from Forbes for its successful student outcomes, affordability, and more.
Forbes ranked Catholic Distance University (CDU) in the top four best options for earning a theology degree online in 2023.
In determining its list, Forbes analyzed credibility, affordability, student outcomes, student experience, and the application process. Forbes weighted the categories with student outcomes as the most important.
Catholic Distance University was one of four remote universities that met all of Forbes' criteria, along with the Baptist College of Florida, the University of Fort Lauderdale, and Reformed University. CDU is the only listed university that is rooted in St. John Paul II's vision of a holistic, Christian, liberal arts education.
"CDU follows the vision of a Catholic university according to St. John Paul II in Ex corde ecclesiae, which stresses the unity of all truth and the integration of faith and reason," Mary Kate White, CDU's Director of Communications, told CatholicVote.
CDU was the first university to offer accredited online theological degrees and faith formation in the United States with its online theology graduate degree program.
"All courses are designed to enhance the study of theology while providing a broad, liberal arts education that stimulates a desire for lifelong learning, a continuing sense of wonder, and the courage to live an authentic Christian life in and through specific vocational career paths and in our common vocation as Christians who serve the common good," White said.
Forbes' extensive criteria included affordability. Forbes noted that one course at CDU is $1,110 (excluding a tech fee). Students pursuing a bachelor's degree can transfer up to 60 credits from other accredited schools to help reduce costs.
"While more institutions are offering online classes, many do not have fully integrated systems to support students working remotely like CDU does," White said. "Our Student Life Center serves as a hub for academic resources, support, community engagement, and even offers an online chapel. The online library is staffed by a supportive librarian who is available for one-on-one support."
CDU prioritizes small class sizes.The average online classroom has 10 to 20 students.
"Our small class sizes ensure that students receive personalized attention from caring faculty and staff," White noted. "CDU courses nurture interaction, discussion, and collaboration with classmates and faculty that enriches the whole person."
"CDU began offering its MA in Theology degree online in 2000," White explained. "Students in our MA in theology program study the sacraments and liturgy, scripture, moral theology, Church history, philosophy, christology, and take elective courses in a number of subjects ranging from sacred architecture to the thought of Thomas Aquinas as well."
Forbes measured student outcomes, noting CDU's high graduation rate. Several notable alumni have graduated from CDU's theology program, including Dr. Angelo Giardino, MD, PhD, MPH, who is the Wilma T. Gibson Presidential Professor and Chair of the Department of Pediatrics at the University of Utah's School of Medicine, and Chief Medical Officer at Intermountain Primary Children's Hospital in Salt Lake City, Utah.
Another CDU alum is Dr. Araceli V. Lardizabal-Carnazzo, MD, MA, a forensic psychiatrist, who is active in parish ministry in the Diocese of Monterey, California.
"CDU has also educated a number of deacons," White added.