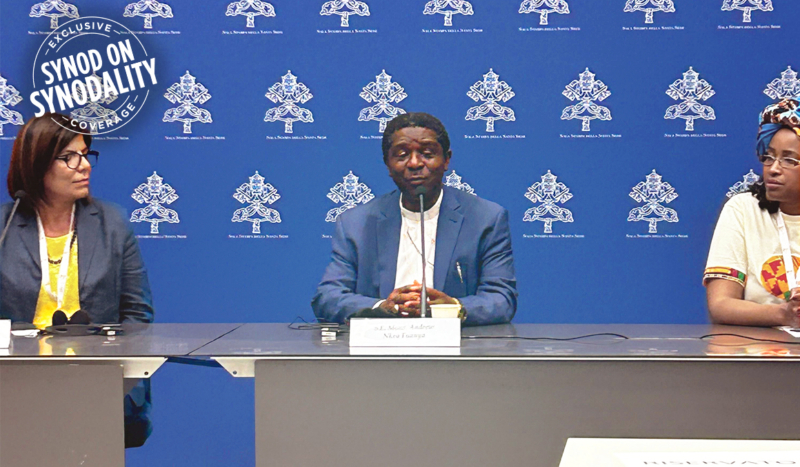 An African archbishop shared how people are flocking to perpetual adoration chapels in Africa and called on other dioceses to encourage Eucharistic Adoration when asked a question concerning how the Synod on Synodality is addressing evangelization.
Archbishop Andrew Nkea Fuanya shared that his diocese, the Archdiocese of Bamenda, Cameroon, declared this year the "Year of the Eucharist". As an initiative, Fuanya asked each parish to build a perpetual adoration chapel to promote devotion to the Blessed Sacrament.
Perpetual adoration is going on in all the parishes. It is incredible. I cannot explain it here how much time the young people spend before the blessed sacrament.
Fuanya was one of three synod delegates to participate in the Vatican's daily press briefing. He was joined by Sister Caroline Jarjis, and Margaret Karram, a lay woman.
Throughout October, synod participants are addressing questions centered around communion, participation, and mission. According to Vatican spokeswoman Sheri Pires, today the synod discussed the ongoing formation of young people.
When questioned by CatholicVote about how the synod was addressing ongoing formation, evangelization, and the Eucharist, the panelists provided a variety of answers. Fuanya suggested that dioceses follow the Archdiocese of Bamenda's lead.
"I think if all the dioceses around the world have these chapels of perpetual adoration where the young people go to adore Jesus, it will be an incredible experience," said Fuanya.
No other panel member addressed the Eucharist or mentioned whether the synod was addressing the Eucharist. However, each spoke to the importance of addressing the evangelization and formation of young people.
"Formation is a topic that has come up during all of our discussions these days," said Karram. "Formation at all levels, not just for young persons, but also seminarians and priests, and I would even say ongoing formation for the entire Church."
Panel members proposed methods to continue to reach out to young people, including by inviting young people to partake in the social work of the Church.
"After confirmation, many just walk away—they no longer participate in the life of the Church," said Pires. "Ongoing formation needs to teach more about the social actions and social works of the Catholic Church. It is important to incorporate those social works at an early age so that people learn not just about the sacraments of the Church."
Addressing the ongoing formation of young people, Funanya shared that in his diocese, there are a variety of movements that have programs developed for young people.
"The Charismatic renewal movement and others all have programs written for young people," said Funanya. "We have these programs within the parishes where the young people have mission programs that guide them, especially in the choices they make in life. This is a very important aspect."
The panelists explained that ultimately, the synod has to focus on proposing ways to keep evangelization and formation centered on Jesus Christ.
"Unless our faith is centered on Jesus and the Gospel, then our theological formation is not sufficient," said Karram.