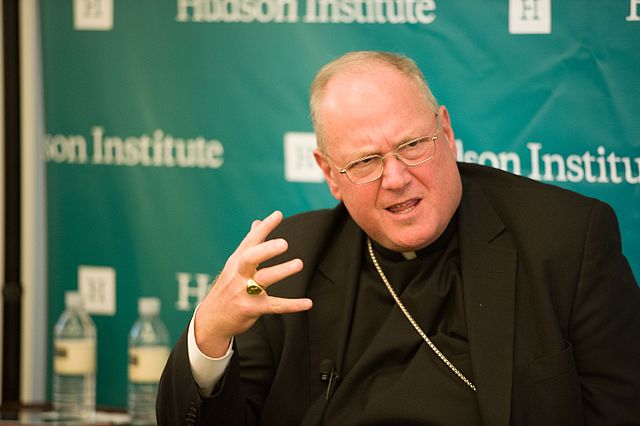 CV NEWS FEED // Cardinal Timothy Dolan condemned Hamas' actions against Israel during a panel discussion with Jewish leaders at a recent event in New York's Carnegie Hall.
Dolan, the Archbishop of New York and chairman of the United States Conference of Catholic Bishops Committee on Religious Liberty, has made multiple statements in recent weeks calling for peace and condemning Hamas' actions.
The Sacks Conversation, an annual event in memory of the late Rabbi Lord Jonathan Sacks, invited Dolan to be a panelist this year. 
This year's theme centered on the question of how to heal a broken world. Dolan joined Imam Abdullah Antepli and Rabbi Meir Soloveichik for a panel discussion. 
Dolan said that healing begins through cultivating a relationship with God and happens in communities. "To show that warm, gracious face in times of turmoil, destruction, violence, and bitterness is beautiful," said Dolan. "Rabbi Sacks just spoke so poetically about the human and divine not being that far apart. God has bridged those human divides, and I see that in moments like tonight, being with you, I feel like one of you, like part of the family. I feel close to you through human interaction."
Imam Abdullah Antepli spoke about the need for peace in Israel, condemning the attacks by Hamas. In response, Dolan said: "Islam is a religion of peace, and it would help if more often, respected leaders would say that message of peace as they speak out against atrocities. And you just did that, so thank you."
Dolan has condemned Hamas' attacks and the rise in religious persecution in the last month. In a USCCB statement released on November 1, Dolan decried the rise in religiously-motivated violence occurring across the United States.
"In recent days here in America, where for hundreds of years many have sought refuge from religious persecution, we have seen outbreaks of religious hatred that shock the conscience," Dolan said.
Dolan specifically referenced the recent stabbing of a 6-year-old Muslim child in Chicago. He called for a return to truth and the need for peace and understanding in America.
"In the face of such base hatred, we must affirm certain fundamental truths. Every human life is of equally incalculable worth. Hating your neighbors is a grave sin against God, who created us all in his image and likeness. Violence only begets more violence, not justice," said Dolan.