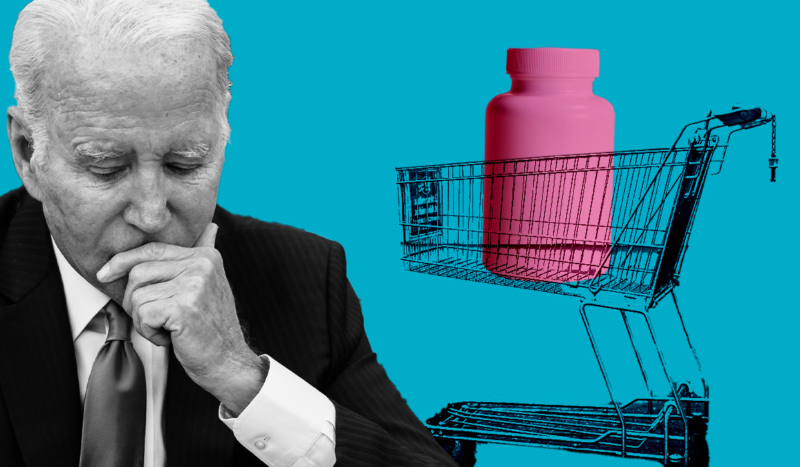 A letter signed last week by 48 Democratic senators – including 13 self-identified Catholics – urged the Biden administration to require insurance companies to cover over-the-counter (OTC) hormonal birth control.
The letter, addressed to Health and Human Services Secretary Xavier Becerra, Department of Treasury Secretary Janet Yellen, and Acting Secretary of Labor Julie A. Su, comes nearly four months after the Food and Drug Administration (FDA) announced its approval of Opill (norgestrel) for nonprescription use to prevent pregnancy.
"We urge you to improve health insurance coverage, both public and private, of the full range of FDA-approved, granted, or cleared contraceptive products—including birth control that is available over-the-counter (OTC) without requiring a prescription for coverage," the Democratic senators wrote, arguing that OTC hormonal birth control would allow greater access to "consistent contraceptive use" by "uninsured populations."
"The FDA's approval of Opill is a milestone," the senators added. "[H]owever, for an OTC birth control pill to meet its potential and be truly accessible, federal departments must ensure that it is covered without cost-sharing and without the need for a prescription as a condition of coverage."
The Catechism of the Catholic Church states that while "methods of birth regulation based on self-observation and the use of infertile periods" are "in conformity with the objective criteria of morality," contraception is a "morally unacceptable" and "intrinsically evil" form of birth regulation. 
The U.S. Conference of Catholic Bishops condemned the FDA's approval of OTC Opill in July. 
Winona–Rochester Bishop Robert Barron, chairman of the bishops' Committee for Laity, Marriage, Family Life, and Youth, said in the statement the FDA's move "violates the Hippocratic Oath by putting the health of women at grave risk."
"This action by a government entity flies in the face of responsible medical practice and concerns for women's health," Barron said, noting the "strong evidence of the many harmful risks of hormonal contraception to women's health."
While the FDA states Opill is "safe and effective" when used properly, the regulatory agency also says the drug's "most common side effects" include "irregular bleeding, headaches, dizziness, nausea, increased appetite, abdominal pain, cramps or bloating."
Additionally, the FDA warns that women with a history of breast cancer should not take Opill since the drug contains progestin, a substance that can increase the risk of a recurrence of tumors:
Opill should not be used by those who have or have ever had breast cancer. Consumers who have any other form of cancer should ask a doctor before use. Opill also should not be used together with another hormonal birth control product such as another oral contraceptive tablet, a vaginal ring, a contraceptive patch, a contraceptive implant, a contraceptive injection or an IUD (intra-uterine device).
In May, prior to the FDA's approval of OTC Opill, drug-maker HRA Pharma had requested the regulatory agency's approval of its hormonal drug in July 2022 – just two weeks after the U.S. Supreme Court's decision in Dobbs that overturned Roe v. Wade. CNBC reported at the time:
However, FDA staff have raised concerns that some consumers who should not take norgestrel — or who need to consult their doctor first due to health conditions — did not understand the drug label warning in a study …
An FDA briefing document, for example, highlighted the concerns about women with "current or previous breast cancer" taking Opill. The agency's reviewers of a "targeted breast cancer study" concluded that while most women with a prior or current diagnosis of breast cancer "would appropriately deselect from taking norgestrel tablet," results of the study also show some of these women who do not consult a "healthcare intermediary" would "incorrectly consider it 'appropriate to use' for themselves."
MedPage Today also reported that studies found understanding of the drug's warning label "did not approach the prespecified target threshold, with some participants failing to correctly deselect."
The briefing document raised significant questions about the accuracy of the HRA Pharma study:
The extent of this potential issue and the resulting implications in the general nonprescription setting are difficult to estimate from this study because: (1) they were not presented with the option of actually being able to use norgestrel tablet, and (2) there was a very limited number of limited literacy participants and, as such, there are real concerns as to the generalizability of the findings of this study to a real world setting.
FDA staff also observed that one-third of study participants reported taking more norgestrel tablets than were actually distributed in the study, a situation the agency referred to as "improbable dosing."
"The underlying reasons for these errors are unclear but raise substantial questions about the accuracy of the study's results, according to the FDA," CNBC reported.
Researchers have also recently reported links between oral contraceptive use and depression.
A study from the UK published in June in Epidemiology and Psychiatric Sciences by Cambridge University Press found women who began using oral contraceptives as teenagers increased their risk of depression by up to 130%.
The study, which utilized data from more than 250,000 UK Biobank women, also found women who began oral contraceptive use after the age of 20 showed a 92% increased risk of depression.
The researchers concluded that, compared to those who never used oral contraceptives, the first two years of their use were associated with a higher rate of depression. Though the risk was not observed as severe after the first two years, use of the pills at any time was still linked to an increased lifetime risk of depression.
The authors of the study called for further research into the relationship between oral contraceptives and depression rates in women.
Catholic Signatories
The Democratic senators' letter had 13 signatories who self-identify as Catholics:
Maria Cantwell, D-WA
Robert P. Casey, Jr., D-PA
Catherine Cortez Masto, D-NV
Dick Durbin, D-IL
Kirsten Gillibrand, D-NY
Tim Kaine, D-VA
Mark Kelly, D-AZ
Ben Ray Luján, D-NM
Ed Markey, D-MA
Patty Murray, D-WA
Alex Padilla, D-CA
Jack Reed, D-RI
Peter Welch, D-VT