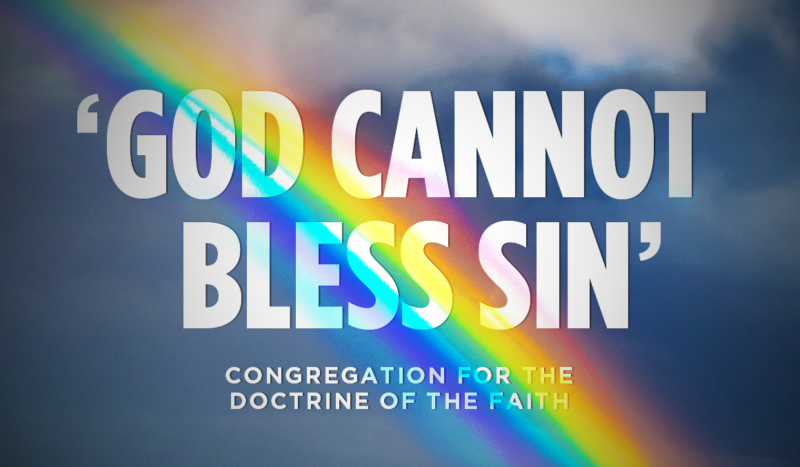 Pope Francis said something recently…
And I want to offer you my thoughts.
Just before the synod in Rome got underway, the Vatican decided to release a letter by Pope Francis in response to five prominent Cardinals who had submitted dubia (questions) seeking clarity, among other things, on certain established Church teachings related to marriage and women's ordination.
In response, Pope Francis signaled the Church could be open to "blessing" same-sex unions.
While the pope was clear that Catholic teaching holds that marriage is between a man and woman, he said, "When you ask for a blessing you are expressing a request for help from God, a prayer to be able to live better, a trust in a father who can help us live better." He also wrote that the Church cannot "lose pastoral charity, which must be part of all our decisions and attitudes."
No surprise, so-called "progressive Catholics" pounced.
For the last two years, the Synod on Synodality has been touted by organizers as a triumph of a new way forward for the Church. And as meetings commenced in Rome earlier this month, left-wing ideologues have openly pursued a path of radical upheaval.
Deja vu all over again?
It's been said, it feels like we are back in 1968 again, with promises of women's ordination, a complete reversal of Catholic teaching on core doctrines, and a general softening of the Church's sexual ethics. The promises were impossible, but those seeking to transform the Church under the guise of "being pastoral" haven't given up.
Should we be worried?
Pope Francis named Cardinal Hollerich of Luxembourg to be the main manager of the Synod, compounding the feeling that the Church bureaucracy is actively working to bring about a radical reversal of Church teachings. Cardinal Hollerich famously commented about traditional Judeo-Christian teaching on homosexual acts: "I believe that the sociological-scientific basis of this teaching is no longer correct."
While there are (and must be) conversations and debates on how best to minister to those who express same-sex attraction, no synod, bishop, or even pope can change biology, or the truth about the human person that informs the Church's moral teachings on human sexuality.
But there's something else…
It's been said that the Church "thinks in terms of centuries, not decades." That is, the Church doesn't conform itself to the latest fads or the spirit of the age. Further, the Church is not a democracy in which the majority determines what we believe.
If this is still true, then it's also important that lay people speak up when the Church is being undermined – even from within.
And there is no more pressing issue that threatens the integrity of Church teaching than the issue of "LGBT rights" and the agitation now underway to redefine not just our understanding of human sexuality but Catholic moral theology itself.
So what special insight does CatholicVote have?
Remember "civil unions?"
In the early 2000s, same-sex advocates called for "civil unions" promising they would never be confused with "marriage." In 2004, Barack Obama said: "I am a fierce supporter of domestic-partnership and civil-union laws. I am not a supporter of gay marriage … I think that marriage, in the minds of a lot of voters, has a religious connotation."
In 2012, Obama began to backpedal: "I've stood on the side of broader equality for the LGBT community. And I had hesitated on gay marriage — in part, because I thought civil unions would be sufficient."
Three years later, the White House lit up in rainbows to celebrate Obergefell.
Today the very same thing seems to be afoot in our own Church.
How could we deny them just a simple blessing? This will never be confused with marriage, they say.
Yet the pattern is too similar to ignore.
Fr. Timothy Radcliffe preached to the Synod participants earlier this month saying: "Often people's erratic sex life is a fumbling after their deepest thirst, for God."
We've heard this all before.
It's just a blessing! Why are you so obsessed with excluding gays?
A blessing of what exactly?
And what comes next?
P.S. When I consider the Synod, I'm reminded that throughout history God has raised up the greatest preachers and saints in the times of greatest confusion. When most Catholic bishops were Arians, he gave us Athanasius. When the Manichees ruled Europe, he gave us Ambrose and Augustine. When the Albigensians had almost eradicated Catholicism in southern France, he sent Dominic and his band of preachers.
And when the sexual revolution began, he gave us the great Pope St. John Paul II.
We pray that God will raise up new prophetic voices to defend what the Church has long taught and believes. And given our greater appreciation for the role of the laity, that prophetic voice may in fact be you!