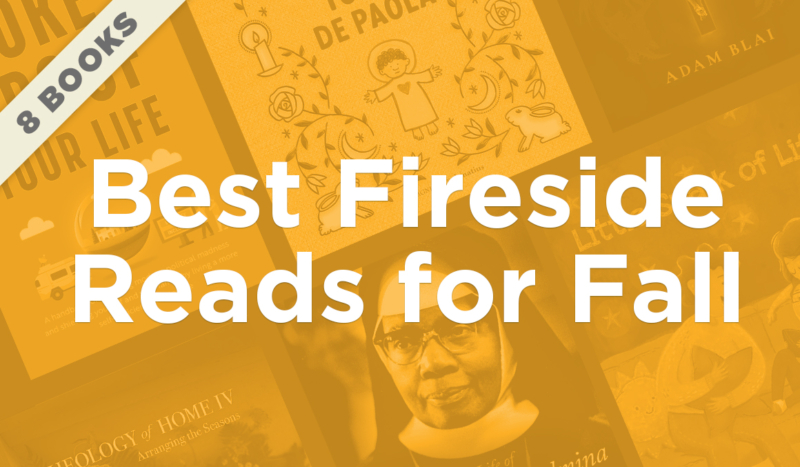 Fall is upon us and there's no better time to cozy up indoors with a good book!
So grab a mug of apple cider, take in the ambience of your crackling fireplace (authentic or via YouTube), and get ready to venture into CatholicVote's best fireside reads!
---
Theology of Home IV: Arranging the Seasons
This fourth installation of the Theology of Home series is sure to get you in the seasonal mood for Fall, with its emphasis on incorporating the glory of God's creation in your home. Through descriptions paired with beautiful photographic visuals, learn how the practical art of floral and nature arrangements can invite us to worship the Lord while also evoking deeper questions on life, family, and love.
The Life of Sr. Mary Wilhelmina
As we prepare to commemorate the Holy Souls this season, now is the perfect time to examine the story of America's newly discovered incorruptible from Missouri – Sr. Mary Wilhelmina. Discover the beautiful life of this humble woman of God who founded the Benedictine Sisters of Mary, Queen of Apostles in 1995 – after 50 years of religious life.
How To Woke-Proof Your Life 
Before we know it, the holidays are approaching and amidst celebrating with family can come a reminder of the loss of America's values and mutual respect caused by widespread progressive wokeness. "Woke-Proof Your Life" is a handbook for how to shield yourself and family from an agenda that tries to make everything a radical social cause. Catholic author Teresa Mull outlines practical ways to live a "woke-proof" life and restore America's culture.
BONUS! Click here for Mull's exclusive LOOPcast interview! 
Available from Sophia Institute 
Meditations on Death: Preparing for Eternity
Tis the season to memento mori (Latin – "remember your death") and this spiritual work from the late-medieval period invites you to do exactly that. Available now for the first time in English, Thomas à Kempis' "Meditations on Death" reminds us of the necessity for Christians to meditate on our final end. This is not just because death's inescapability requires us to prepare our souls, but also since the joy of eternal beatitude that can follow deserves proper contemplation. 
The History of Exorcism 
You could keep gawking at your neighbor's spooky Halloween decor or pick up a copy of "History of Exorcism," a new release from Church-decreed demonology expert Adam Blai. This book provides an in-depth overview of the Church's powerful sacramental to combat evil. Blai's historical context breaks right through the overdone Hollywood depictions and shares how the rite of exorcism has developed through the ages.
BONUS: Learn more about spiritual warfare here in our special LOOPcast interview with exorcist Fr. Carlos Martins! 
Through the Year with Tomie dePaola
This season is already full of fantastic Feasts and Holy Days, so what better time to add to your bookshelves a unique work that travels through the liturgical year. Through a collection of sacred artwork by the late, highly acclaimed children's book illustrator Tomie dePaola, readers journey through the various seasons and Feast Days of the Church year. The vibrant, yet delicate linework accompanied by a month-by-month format provides charming inspiration for the whole family.
Confessions
The spiritual autobiography of St. Augustine of Hippo's journey from sin to sainthood is a classic that every Catholic should read. The Fall presents a fitting time to read his personal conversion account as we perform our own self-examinations of the fragility of our mortality and move towards Advent to prepare for the holy Christmas season. This 4th century work gains new life through a translation by Anthony Esolen. In its description, Esolen tells TAN Books that "Confessions," "is closer to the Gothic cathedrals that would grace Europe eight hundred years later than to anything that you or I might write about ourselves and our lives."  
Little Spark of Life 
As the leaves take on bold colors before falling from the trees, we're reminded of life's passing beauty, but also await the hope of new life that each Spring brings. "Little Spark of Life" is a new pro-life children's book that captures the wonder of that profound miracle. This heartwarming story provides vibrant illustrations of a father and mother walking their child through the pregnancy of their preborn sibling. Balancing whimsy with scientific facts, this book thoroughly details the many milestones achieved during the weeks of pregnancy – from cells dividing, to perceiving light and sound. This is a must-have-read for parents and children, whether welcoming a new sibling or just wanting to explore the beauty of life in the womb!
Available from Paraclete Press