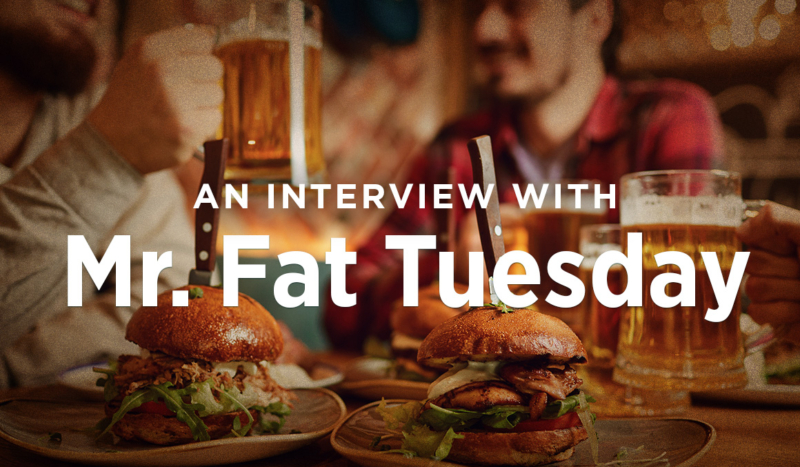 Continuing its series of groundbreaking interviews, CatholicVote recently sat down with Fat Tuesday. We asked about his roots, why people celebrate him, and his current status in Catholic culture.
CV: Good morning, Mr. Tuesday. Thank you for sitting down with us.
FT: Thank you for having me. And please, call me Fat.
CV: You're fat.
FT:
CV:
FT:
CV: Okay, so Fat, it's your big day today. The day before Lent starts. Tell us how you got started on this whole gig.
FT: Sure. So, as you know, Fat Tuesday comes from the French phrase Mardi Gras, which means "Fat Marty."
CV: Isn't Mardi Gras just French for "Fat Tuesday"?
FT: This is the old way of thinking.
CV: Go on.
FT: When I was growing up in Louisiana, there was this guy in our neighborhood called Fat Marty. Everyone loved him. He had this tradition every year on the day before Lent started, where he would set up a big table in the middle of the street, sit himself down, and eat the biggest mountain of crawfish you've ever seen. He told us kids that it would last him for forty days and he wouldn't eat again until Easter. I think we believed him. Great guy. He's no longer with us.
CV: It's fun to call them crawdaddies.
FT: So I decided that I would go by the name "Fat Tuesday" in memory of Fat Marty.
CV: I'm confused. You're a day of the week, but you're talking about when you were growing up as a kid in Louisiana. Is any of this actually the truth?
FT: I don't know, maybe "truth" is too rigid. This is my lived experience.
CV: Tell us what Fat Tuesday is all about. Why do Catholics celebrate you?
FT: Well, as you know, Lent is supposed to be a time for fasting and abstinence. People usually give up certain comforts or pleasures as a way of preparing for Holy Week and Easter. Oftentimes, it's a specific food or drink, like sweets or alcohol. So they like to have a sort of—how do I say this politely?—a "last hurrah" before they start on their Lenten mortifications.
CV: And that's where you come in.
FT: Exactly. People see Ash Wednesday on the calendar and they start to panic. Then they see me there, right in front of Ash Wednesday, and they say, "Hey look—Tuesday! Quick, get some cake! And bourbon!"
CV: You're a popular guy.
FT: I give people what they need.
CV: You mentioned Ash Wednesday. Is there tension between you two?
FT: It's funny actually. People always assume that Ash Wednesday and I would hate each other, but it's not like that at all. It's true that we're very different, but we complement each other and depend on each other. I mean, if it weren't for Ash Wednesday, I would just be another Tuesday. And I think Ash Wednesday appreciates me as well, because I help people get to a point where they wake up consumed with regret over their bad decisions. When I'm done with them, they're all ready to repent and believe in the Gospel. So it all works.
CV: What about the other days of the week? Do you get along during Lent?
FT: For the most part. Sunday has a hard time deciding if he's even part of Lent, which I never really understood, but I stay out of it. Saturday and Sunday usually hang out together and keep to themselves. Monday is who he is, and everyone knows to leave him alone. Thursday is pretty chill, we've always gotten along. So, yeah, things are mostly cool. I mean, there's always going to be that one guy who thinks Lent is all about him and takes it way too far, like, "Hey, everyone look at me, I'm super extra Lenteny! I'm important every week of Lent, not just at the beginning like you guys. I'm special. This bread and water is so delicious! Oh, did you notice my new sackcloth? Look at me!"
CV: You're talking about Friday.
FT: [Nodding]
CV: We'll move on. How do you respond to people who want to change your name to "Body Positive Tuesday"?
FT: Body positive chance. Ain't happening.
CV: I see what you did there. What about recent debates within the Catholic Church over Fat Tuesday?
FT: This has been very concerning. The German Bishops Conference is currently embroiled in controversy over me. One group is proposing that Fat Tuesday is too restrictive and that it should be changed to "Fat Lent" to include the entire forty days before Easter. Of course, this would essentially abolish the entire season of Lent, but they deny that this is their intention. Another group suggested that they should go even further and abandon the word "Lent" altogether because people of different faith traditions, such as devoutly anti-Catholic pagans, could find it offensive. The debate has been going on for weeks.
CV: What is the latest news?
FT: Last I heard, a third group was proposing that we get rid of Easter entirely and have a month-long celebration of unhealthy behavior while pretending it is normal and good.
CV: What are they going to call it?
FT: Fat Donut Single Malt Pride Solstice.
CV: That sounds terrible.
FT: It sounds even worse in German.
CV: No, I mean it really sounds disgusting.
FT: They prefer "differently gusting."
CV: But you're opposed to this, right?
FT: Yes, absolutely. I'm a traditionalist, and I think Fat Tuesday should remain exactly as it was meant to be: fat and tuesdy.
CV: "Tuesdy" isn't a word.
FT: Neither is "synodality."
CV: Okay… I think that concludes our interview. Thank you, Mr. Tuesday.
FT: See you next year.