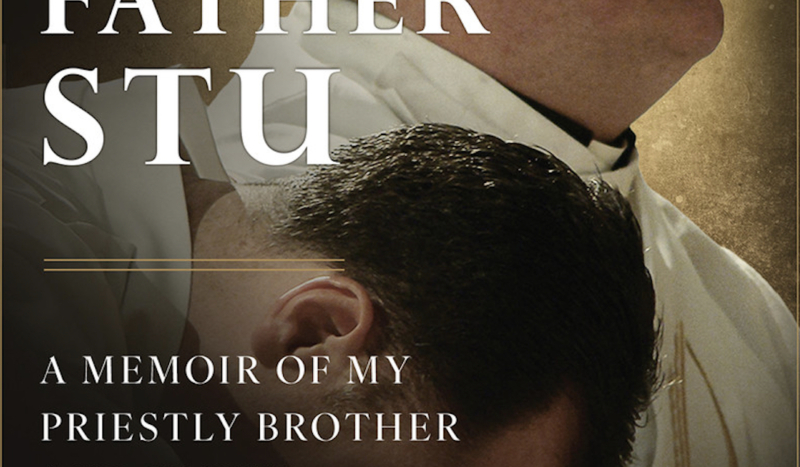 CV NEWS FEED // A new biography tells the real life story of Fr. Stuart Long, "Father Stu" in Mark Wahlberg's recent film.
Told by Long's close friend, Fr. Bart Tolleson, "That Was Father Stu: A Memoir of My Priestly Brother and Friend" expands on Long's life and the physical suffering he endured after his ordination to the priesthood.
In an interview with CatholicVote, Fr. Tolleson said he began writing Long's memoir in 2020 when it seemed the movie, which had been in the works since 2015, might not come to fruition.
"There's a bigger game playing here than a movie or a book," said Tolleson, "and it's trying to draw people into hope."
"Stu always wanted to lead people with hope," he added. "I think he's always kind of been telling me to 'give them hope' because that's what the Lord wants to give the world, especially right now."
Long, a convert, wanted to become a priest immediately after his baptism, Tolleson recounted. While in seminary, however, Long was diagnosed with a rare degenerative disease that quickly handicapped him.
The disease almost prevented Long from becoming a priest. However, as Tolleson detailed in the book, Long's call to the priesthood was so apparent that the bishop of Helena, Montana, ordained him despite the seminary's doubts about Long's physical ability.
Long went on to serve his diocese for many years, even as his health continued to deteriorate. Tolleson recalled watching the effect of suffering on his friend's ministry, saying, "It was really the last year of his life that his ministry was so powerful."
"It was always beautiful and powerful, but especially that last year, because he had gone through so much growth, so much humbling. And yet, he kept his personality. It was like he didn't change," he said.
According to Tolleson, Long's character remained the same, despite requiring assistance to perform his priestly duties and eventually to attend to his personal needs.
"He still laughed and made crass jokes, but it was just God starting to work through him," Tolleson said, adding that "it was a magnificent way which allowed him to connect with so many different people."
In the book, Tolleson detailed Long's dedication to ministry in the face of suffering. Tolleson revealed several points where he encouraged Long to continue even when the disease made celebrating the Mass nearly impossible.
"I always felt like there was a way he could keep going," he said, "because he always pushed people to keep going; and I think in our friendship, he would want me to push and keep going."
Tolleson said, "I hope that people will read the book and be challenged."
In honor of Long's dedication, several of his family members and friends founded a nonprofit organization called Beyond 227, named after the room number in which Long lived and from which he continued his ministry even as his condition worsened.
Beyond 227 supports seminarians from the diocese of Helena and does charity work. A portion of the book's proceeds will go towards the nonprofit.
This interview has been edited for clarity and concision.