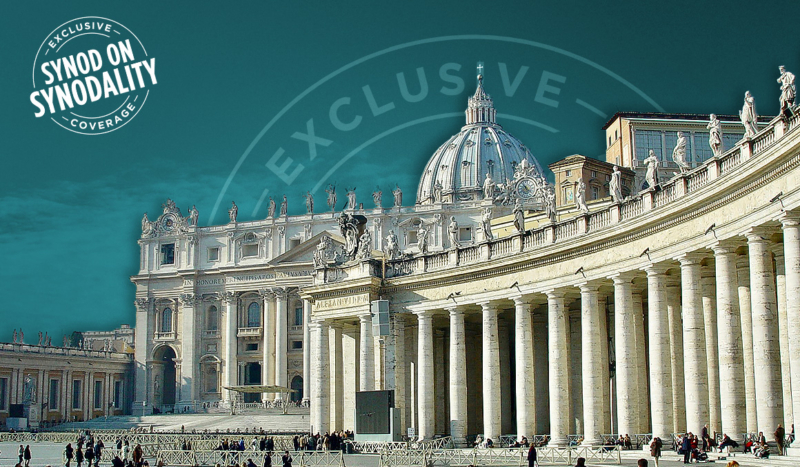 CV NEWS FEED // At Tuesday's Vatican press conference, a panel of Synod delegates said they have discussed the possibility of revising canon law and ordaining women to the diaconate during the Synod, though an Australian theology professor on the panel said that focusing on equality for women in the Church is a "niche" issue that detracts from women's real concerns.
Changing Canon Law?
Paolo Ruffini, the Prefect for the Dicastery of Communications, announced that members at the Synod discussed changing parts of canon law, but did not specify which sections. One of the panelists, Bishop Anthony Randazzo from Broken Bay, Australia, clarified the distinction between the procedural or situational canon laws and other laws that are more deeply rooted in the Second Vatican Council and Sacred Scripture.
"It's one very large, ongoing process," he said. "The law itself of course can change with the needs of the Church… [procedural] law can be adapted according to the needs of particular communities and situations and circumstances. But if you're talking about changing the law, for example, of canon 204, that talks about baptism, that canon and the ones around it are almost directly taken from the teachings of the Second Vatican Council, which are based upon scripture and the tradition of the Church."
Randazzo added that certain portions of laws apply to specific time periods or situations, and noted that the Church has updated canon law as needed throughout its history. However, he said that there are still many considerations to make while changing canon law.
"It's not just a matter of changing them to accommodate the changing circumstances of the world," he said. "We have to first ask what was in the mind of the legislator, what was the mind of the council, what were the theological, spiritual, pastoral fruits that led to those being prepared, not just in the 1960s but over the last 2000 years of the community of the Church."
What do Women Actually Want from the Church?
After being asked about whether Synod participants have addressed equality for women in the Church, Reneé Köhler-Ryan, a philosophy professor from Notre Dame University in Australia, said that she doesn't focus on the fact that she's not a priest. She also added that too much focus is currently being placed on women's ordination.
"What happens when we place too much emphasis on this question is we forget about what women need throughout the world," she said. "What do I, as a professional woman, want for my husband and family? I want them to be educated and I want them to be educated in the faith; I want them to have a house; we need to have food on the table; they need to be clothed; I want them to have a future and a future where they are welcomed into the Church, where everyone they know and love is welcomed in the church… that isn't possible for every woman across the world."
"Some people are very focused on the idea that only if women can be ordained will they have any kind of equality," she continued. "We can become too distracted by this particular issue and it detracts from all the things we could be doing. We could be making sure that professional women are not forced to choose between having families and being out there in the workforce; we could be doing more to make sure that families are supported in all kinds of ways…I think that's a far more interesting conversation for more women than this "niche" issue [of women's ordination]."
Digital Evangelization
Bishop Randazzo also spoke about digital evangelization and how that affects different cultures.
"When we talk about the synodal way of walking together, we really should be talking about how we might swim or boat together," he joked. "There are people in the Church and communities of Oceania who are miles and miles away from anyone else, and they live in deep isolation and so communication can be a real challenge."
"This raises for us even deeper questions with regards to the way we speak, the way we act, the way we involve various people in the community of the Church and in the society in which we live," he said.
Discussion on Role of Bishops
Sheila Leocádia Pires, Secretary of the Synod Information Commission, said participants at the Synod discussed the role of bishops in dioceses, and in particular, the amount of assistance that bishops should receive from the laity.
"One point that was also stressed was that a bishop needs to understand that he alone is not the diocese," Pires said. "He cannot do everything by himself and he needs assistance, especially when it comes to expertise in areas of legal or economic matters. It was advised that bishops should seek expertise from professionals."
Journalist Speaks Out Against Vague Information
Over the last few weeks, Synod participants have spoken vaguely about women's ordination, LGBTQ+ Catholics, and other controversial issues within the Church, choosing to answer instead with repetitive references to synodality and "listening."
One reporter pointed out that questions such as women's ordination are not invented by journalists to sell stories, but are rather genuine questions from Catholics from all over the world.
"Readers want to know that the issues they raised and that are listed in the Instrumentum Laboris [the Synod's working document] are being taken seriously and passionately," she said. "Those aren't just journalistic inventions, those are issues that were raised repeatedly at the local, diocesan, national, and continental level, and to write it off as a journalistic question isn't very nice."
Ruffini called the reporter's comment "false and inaccurate" while the panelists reiterated that these questions are being taken into deep and prayerful consideration.
"Why are you saying that there will be no response from the Synod?" he asked the reporter. "The Synod will end with a final synthesis report which will then be sent back to those who have invested time and effort and faith… and it will be given to the people of God."
He also added that the purpose of the Synod is for discernment "to answer the requests of the people of God."