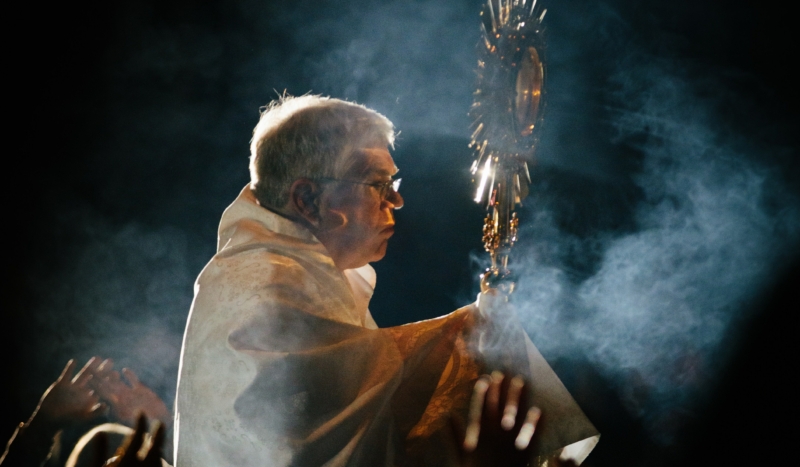 CV NEWS FEED // As an increasing number of American Catholics believe that Jesus is not truly present in the Eucharist, a lay apostolate is working hard to reverse that trend.
The apostolate, Fullness of Truth, provides resources for uninformed Catholics, families, and Catholics striving to know more about their faith through evangelization committees, events, and conferences.
Ken Zammit, a cradle Catholic who fell away from the faith in college and returned years later, founded the organization in 2001. According to the Diocese of Baton Rouge, where Fullness of Truth is hosting an upcoming conference, Zammit's lapse of faith was because he didn't understand why he believed in Catholic teachings.
"With many Catholics, we tend to know what we believe but we're not exactly sure why we believe," Zammit said.
Zammit said that knowing why is important for Catholics, since it creates a foundation to stand on when faced with the secular world.
"[In college] I was challenged with so many things – in the culture and the world and subjective thinking. I really didn't have a foundation that withstood the pressures of the world. I was doing what I wanted to do and not so much what the Lord wanted me to do," Zammit said.
"I did not find the answers readily, so I gave up. I figured the Catholic faith doesn't have the answers to my questions, so it must not be real. It must be some sort of cultural phenomenon I was born into," Zammit said.
Zammit came back into the Church in 1995, and he launched Fullness of Truth six years later to promote the New Evangelization and provide education for American Catholics.
The group's latest outreach program is a conference in Baton Rouge at the beginning of November, where participants and families will learn about the Eucharist and deepen their spiritual lives.
David Lukinovich, a layman who works behind the scenes for several lay apostolate foundations in Louisiana, is helping Zammit plan the Baton Rouge conference as well.
"These Fullness of Truth conferences bring in devout, joyful priests that put together incredible liturgies, and you have these families that are so devout, joyful. And they're meeting like-minded people. And this is a way to create an opportunity for people to get together, and learn about the faith in a very orthodox, correct manner that is loyal to the Magisterium," he said.
Lukinovich's wife, Kim, said that the Fullness of Truth conferences are unlike anything she's ever seen before.
"It's wonderful to see whole Catholic families together praising God, to worship and learn about their faith," she said. "It's wonderful to see men there and to see them become the spiritual leaders in their families and put everything in order and the right perspective."