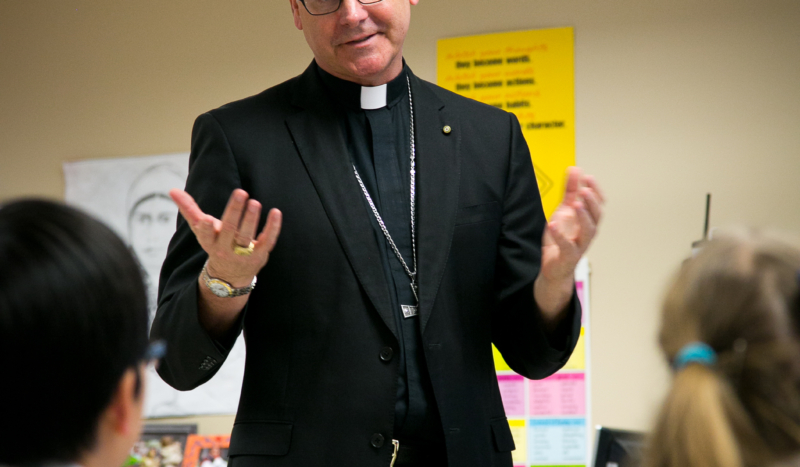 The Most Reverend Paul S. Coakley, Archbishop of Oklahoma City, wrote a pastoral letter recently on the importance of recognizing the suffering felt by persons experiencing gender dysphoria, and how Christians, grounded in love and truth, can walk with them towards healing.
Coakley, who also serves as the Secretary for the USCCB, published a revised adaption of his pastoral letter issued in April. The adaptation, published in August, is entitled, Love-in-Truth: Accompanying Those Suffering Gender Dysphoria.
As the transgender movement grows, especially among the youth, and continues to divide society, the Church needs to be ready to speak about gender dysphoria in both an informed and pastoral way, Coakley wrote.
It is important to acknowledge the suffering that persons experiencing gender dysphoria go through in order to properly accompany them, he said. "What tremendous suffering to feel a lack of congruity between one's sex and gender! We must tread lightly and with great compassion as we seek truth related to situations filled with so much pain," he wrote.
"Accompanying someone who is facing her pain can be healing in itself," Coakley wrote, noting that people often underestimate the impact of simply "being seen and loved" in vulnerable circumstances. "However she may view herself, we must always hold in view the fullness of her personhood. None of us is reducible to our sexual identity, and we all have a God-given vocation to love in truth."
"Accompaniment," he wrote, "requires us 'to love and accept all people in a way that invites each person to a deeper relationship with Christ and a greater alignment of their lives with his teachings.'"
The archbishop said that no human being is without woundedness, and sharing one's own story of Christ's ongoing healing in one's life should be a part of the walk with transgender persons.
Forty percent of transgender persons in the United States have attempted suicide at least once, Coakley highlighted. They are also more likely to suffer from substance abuse, eating disorders, and dissociative disorders. Over half of transgender persons in the U.S. (54%) have experienced verbal harassment, and 47% have been sexually assaulted. "This picture is alarming," the archbishop wrote, "and as Catholics we must be concerned for the welfare of transgender persons and categorically condemn all forms of violence and discrimination against them."
Given these statistics, Coakley advised Catholics to avoid two "extremes" as they care for transgender individuals. First, Catholics must avoid "ignoring the pain of the person and dogmatically asserting that biological sex is the end of the conversation," and second, avoid "jettisoning the truth of the body in the hopes of relieving pain."
He added that surgical interventions and chemicals such as puberty blockers are not the long or even short-term solutions.
Society's notion of permanent surgical interventions, referred to as "gender-affirming care", places the child suffering from gender dysphoria in grave danger, Coakley asserted. "About a dozen studies show that for the vast majority of children—a whopping 73–94%—gender dysphoria resolves itself in adolescence," he highlighted. Long-term studies following those who have surgically transitioned revealed rates of suicide and suicide attempts "vastly higher" than their peers.
Coakley noted that the long-term side effects of more "temporary" solutions such as puberty blockers remain unknown–especially in how they impact fertility, brain development, and bone mass. "Experimental treatments on children are not the solution," he said.
Instead of medical intervention, Coakley suggested compassionate engagement, which "fosters an openness to truth, but it requires that we seek first to understand." To set groundwork for understanding, Coakley explained the differences in anthropology according to the Church and the transgender movement. Such differences in understanding the human person have led to wide gaps in the understanding of sex and gender, he explained.
The transgender movement's anthropology is rooted in a dualistic view of the human person, which sees body and soul as entirely separate entities. In this view, the human person is the soul, who merely inhabits the body, thus making the body subject to gender change.
The Catholic anthropology of the human person is rooted in Divine revelation and reason, Coakley recalled, and understands the human person to be a unity of body and soul. "We don't have bodies," the archbishop wrote. "We are bodies enlivened by souls."
Acknowledging the goodness of the body is a crucial foundation for loving transgender persons, he continued.
God creating man and woman in His image and likeness gives human beings an extraordinary dignity. Citing the 1965 encyclical Gaudium et Spes, Coakley recalled that "This likeness reveals that man, who is the only creature on earth which God willed for itself, cannot fully find himself except through a sincere gift of himself." He continued:
This is why the very next verse, Genesis 1:28, is to be fruitful and multiply—man and woman most fully image God by their own self-giving love, a truth reflected in bodies that were designed for fruitful union. There are two sexes, made for each other for the sake of life-giving love. In other words, the givens of body and soul are gifted to us so we may give ourselves in love.
The Incarnation of Christ is God's definitive statement on the goodness of the human person, and the body in particular. "That God became fully man, even assuming a human body, is the ultimate affirmation of the entire human person," Coakley wrote. "Incredibly, after the Resurrection Jesus didn't shed His human body, but is and will be embodied for all of eternity, providing the final word on the dignity of the body."
Coakley asserted that freedom and healing is ultimately found in Jesus Christ. Thus, the best way to support transgender persons "entails inviting the suffering person to surrender to Truth Himself—Jesus. For it is through entrustment to Christ that all those struggling with gender dysphoria can receive assurance that despite the challenges and pain of bringing gender into alignment with one's God-given sex, it is ultimately the way to happiness, holiness, and peace."
Coakley concluded: "Transformation in Christ is often painful, but it's the path to wholeness and, ultimately, sanctity. What we need now is to seek personal holiness—encouraging others likewise as we come to embody St. Catherine of Siena's maxim: Be who God meant you to be and you will set the world on fire."