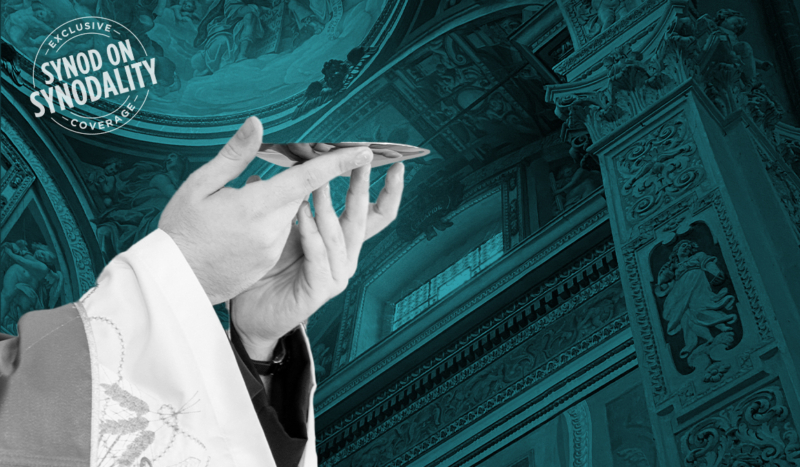 CV NEWS FEED // Two prominent members of the panel at Wednesday afternoon's synod press conference said that Apostolic Tradition prohibits the possibility of women's ordination.
In response to reporters' questions, both Cardinal Robert Francis Prevost, Prefect for the Dicastery for Bishops, and Archbishop for Military Services Timothy Broglio, President of the United States Conference of Catholic Bishops (USCCB), rejected the prospect of female ordination.
When a reporter asked whether the Church will ordain women in the future, Prevost said the Church is not going "to change 2000 years of tradition."
"In society, women can be president, and have many leadership roles in the world," Prevost said. However, he noted, Apostolic Tradition necessarily dictates that "our categories in the life of the Church are different, and need to be different."
Prevost mentioned two recent commissions instituted by Pope Francis that explored the issue of women's ordination in 2016 and 2020. The pope found the results of the first commission "inconclusive" and went on to institute the second. Prevost pointed out that neither commission has published its findings.
Addressing the so-called lack of female representation in governing roles within the Church, Broglio said "Ordaining women doesn't necessarily solve the problem. It might even make a new problem."
"We shouldn't pretend that women haven't had an influence in the Church," Broglio added. "The assumption that because all roles at all levels aren't occupied by women, they have no influence, is false."
Citing the importance of women in the Church, Broglio said of the Catholic school system in the U.S.: "If you talk to most diocesan priests, they will trace their first inkling of vocation to the sisters in the schools."
Broglio also answered a question regarding the inclusion of more conservative Latin Mass Catholics in the synodal process, saying "the Church is big enough for everyone."
"Certainly their fervor, devotion to family life, intent to pass on the teachings of the Church to their children, can enrich all of us," said Broglio. "I hope there can be a way to bring that richness into this whole synodal experience."